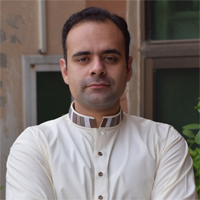 Mr. Fahad Khan Tareen
Lecturer
PROFILE SUMMARY
Mr. Tareen completed M.Phil. in Pharmaceutics from Department of Pharmacy, Quaid-i-Azam University, Islamabad, Pakistan. He had worked on nanogel as a carrier for psychiatric drug. During his M.Phil. studies, he held a good academic record and secured university fellowship. He had a brief working experience as a Quality Assurance Inspector in a pharmaceutical industry. He has a keen interest in academics and seeks a professional career in education to serve at the best of his knowledge and skills.
QUALIFICATION
M.Phil
Pharmaceutics
Quaid-i-Azam University, Islamabad, Pakistan
2019
Pharm.D
Pharmaceutical Sciences
Quaid-i-Azam University, Islamabad, Pakistan
2016
TEACHING EXPERIENCE
Lecturer
Capital University of Science and Technology (CUST), Islamabad
Since – 2019
PROFESSIONAL EXPERIENCE
Quality Assurance Inspector
Bio-Labs (Pvt.) Ltd.
Sept 2016 – Jan 2017
RESEARCH AREAS / INTERESTS
Drug Delivery Systems;
Nanomedicines;
Pharmaceutical Technology.
JOURNAL PUBLICATIONS
1.
I. Ahmad, M.F.A. Khan, A. Rahdar, S. Hussain, F.K. Tareen, M.W. Salim, N. Ajalli, M.I. Amirzada, and A. Khan. "Design and Evaluation of pH Sensitive PEG-Protamine Nanocomplex of Doxorubicin for Treatment of Breast Cancer", Polymers, vol. 14(12), pp.2403, 2022.
2.
F. Ullah, S. Ullah, M.F.A. Khan, F.K. Tareen, N.H. Khan. "Enhancement in aqueous solubility of sulindac medicine by using the micellar solution of ionic and non-ionic surfactants." Biomedical Letters, vol. 8(2), pp.170-176, 2022.
3.
F.K. Tareen, K.U. Shah, N. Ahmad, A.U. Rehman, S.U. Shah, and N. Ullah, "Proniosomes as a carrier system for transdermal delivery of clozapine", Drug Development and Industrial Pharmacy, vol. 46(6), pp.946-954, 2020.