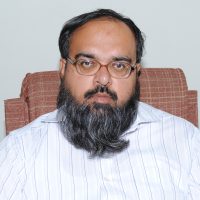 Dr. Aamer Iqbal Bhatti (PhD Leicester University, UK)
PROFESSOR/DEAN ORIC
PROFILE SUMMARY
Control Engineer with 22+ years of dynamic modeling, state/parameter estimation, controller design, controller/observer implementation/testing experience in automotive and aerospace industries. Worked on control of real life engineering systems and have produced four prototypes so far. Currenly, pioneering head of Controls and Signal Processing Research Group CASPR (www.caspr.com.pk) having more than 14 PhD students (19 PhDs produced) with strong research interests in automotive parameter estimation, automotive engine control and diagnostics, air vehicle guidance and control, radar system design, fuel cell control and diagnostics and nonlinear sliding mode controller/observer theory. Worked on idle speed control of Ford Mondeo engine during PhD. Devised novel algorithms for Perkins diesel engines during postdoctoral research. Also won four prestigious national research awards. Author and Co-author of 130 international refereed publications including 44 Impact Factor journal publications with collective I.F of 70..
QUALIFICATION
Ph.D.
Control Systems
Leicester Univeristy, UK
1998
MSc
Control Systems
Imperial College of Science Technology and Medicine, London
1994
BSc (Hons)
Electrical Engineering
U.E.T Lahore
1993
TEACHING EXPERIENCE
Professor
Capital University of Science and Technology (Formerly Mohammad Ali Jinnah University, Islamabad Campus)
Since 2007
Associate Professor
CASE, Islamabad
2001 – 2007
MANAGEMENT EXPERIENCE
Executive Director
Sir Syed Institute of Technology (SSIT) Islamabad
2003 – 2007
Founding Member Senate
CASE, Islamabad
2001 – 2007
Founding Chairman
Department of Electrical Engineering CASE, Islamabad
2004 – 2007
INDUSTRIAL EXPERIENCE 
Pioneering Head of Research Group
Controls and Signal Processing Research Group (CUST)
Since – 2007
Founding Senior Member, Islamabad, Pakistan
Center for Advanced Research in Engineering (CARE)
2003 – 2007
Manager, Algorithms, Islamabad, Pakistan
Communications Enabling Technologies
2001 – 2003
Consultant, Control Systems, Islamabad, Pakistan
Engineering Research & Design Company (ERDC)
1999 – 2001
Project Lead/Post Doc. Researcher
Leicester University
1997 – 1999
Researcher
Leicester University
1994 – 1997
MEMBERSHIP OF PROFESSIONAL BODIES
Senior Member
IEEE
Chair
IEEE Control Systems Society Pakistan.
Chair
Organizing Committee for ICET 2012
Chair
Local Arrangement Committee for INMIC 2009
Chair
Local Arrangement Committee for ICET 2005
HONORS & AWARDS
1.
IEEE CSS Outstanding Chapter of the year award.
2.
HEC Best Paper Award.
3.
HEC Best Paper Award.
4.
Representing Asian control association in Pakistan.
5.
Winner of Prestigious National Research and Productivity Award.
6.
Winner of Prestigious National Research and Productivity award.
7.
Pioneering Head of Department of Electrical Engineering.
8.
Active member of Founding Team of Center for Advanced Studies in Engineering (CASE) Islamabad.
RESEARCH AREAS / INTERESTS
1. Ground Surveillance Radar (GSR) development
2. ELINT Front End Development
3. Radar Signal Processor Design
4. Line Echo Canceller (LEC) Design
5. GSM Audio Codecs
6. H.263 based Video Codec
7. Dynamic System Modeling
8. Data Acquisition and DSP
9. Condition Monitoring of Large Diesel Systems
10. Robust Nonlinear Controller/ Observer pair design Designed, implemented and tested a highly robust nonlinear controller/observer pair in dSPACE.
RESEARCH PROJECTS
1.
Hybridization of a Mass Transit Bus., UET LAhore
6.0 Million
2.
LPI Radar Design, RWR Islamabad
1.2 Million
2008 – 2009
3.
Pulse Doppler Radar Signal Processor Design. Public Sector
0.3 Million
2009 – 2010
4.
FMCW Radar design and development, Public Sector
1 Million
2010 – 2011
5.
Early Fault Warning System for EFI Vehicles, ICT R&D Fund
Rs 14 Million
2009 – 2011
6.
Simulation and Control of the Underground Coal Gasification Process. ICT R&D
14.7 Million
2012 – 2014
7.
Modeling and Control of Underground Coal Gasification, Sindh Board of Energy
0.24 Million
2013 – 2014
8.
Design and development of Phased Array Radar, Governement of Pakistan
Rupees 12.6 Million
2009 – 2015

RESEARCH SUPERVISION
1.
PhD
Robust Smooth Model-Free Control Methodologies for Industrial Applications (Sohail Iqbal, M A Jinnah University, 2011)
2.
PhD
HOSM based Parameter Estimation and Control of a Reactor (Hameed Qaiser, CASE UET Taxila, 2011)
3.
PhD
Fault Diagnostics of Engine Air Intake Path System (Qadeer Ahmed, M A Jinnah University, 2011)
4.
PhD
Digital Signal Processing of Optical Systems (Irfan Ahmed, CASE UET Taxila, 2011)
5.
PhD
HOSM based Fault Diagnostic Schemes (Muhammad Iqbal, CASE UET Taxila, 2011)
6.
PhD
Hybrid Mode based Misfire Detection (Mudassar Abbas Rizvi, M A Jinnah University, 2011)
7.
PhD
Theory of Dynamic Integral Sliding Mode and its applications (Qudrat Khan, M A Jinnah University, 2012)
8.
PhD
HOSM based Automotive Engine Parameter Estimation (Qarab Raza, CASE UET Taxila, 2013)
9.
PhD
Parameter Estimation and Control of PWR, (Safder Hussain, M A Jinnah University, 2014)
10.
PhD
HOSM based Parameter Estimation of a PEM Fuel Cell (Ijaz Hussain Kazmi, M A Jinnah University, 2014)
11.
PhD
Sub-Riemannian problem on Lie Group of Motions of Pseudo-Euclidean Plane (Yasir Awais Butt, MA Jinnah University, 2015)
12.
PhD
Smooth Sliding Mode Control and its application to the Phase Locked Loops (Muhammad Asad, CASE UET Taxila, 2016)
13.
PhD
Mode Identification in a Hybrid System (Amin Akram, CUST 2016)
14.
PhD
Performance Parameterization of Smooth Sliding Mode Control (Imran Khan, CUST 2016)
15.
PhD
15) Hybrid Vehicle Engine Design (Ghulam Murtaza, CUST 2017)
16.
PhD
First principle Based Engine Modeling for Control and Fault Diagnostics (Ahmed Yar, CUST 2107)
17.
PhD
Electric Machine Control Design for Hybrid Electric Vehicles (Athar Hanif, CUST 2018)
18.
MS
Robust Control of Aircraft
19.
MS
Robust Control of Twin Rotor System
20.
MS
Radar Signal Processor using 2D CFAR
21.
MS
Parameter Estimation of Engine Coolant System
22.
MS
Kinematics of Stewart Platform Manipulator
23.
MS
Dynamic Analysis and Control of Stewart Platform Manipulator
24.
MS
HOSM control of PEM Fuel Cell
25.
MS
HOSM Control of Aircraft
26.
MS
Online automotive engine parameter estimation
27.
MS
Linear Robust Control of Underground Coal Gasifiers
28.
MS
Nonlinear Robust Control of Underground Coal Gasifiers
29.
MS
12. Smooth Controller Design for Underwater Vehicle
30.
MS
Mathematical Modeling of Wnt Pathways
31.
MS
Sliding mode control of PEM Fuel Cell
32.
MS
Motion Queueing using MPC
33.
MS
Sliding mode control of Ball & Beam
34.
MS
Sensitivity Analysis of Wnt Pathway
35.
MS
Integration of Cell Cycle with Wnt Pathway
36.
MS
Sliding Mode Observer based GPS/INS fusion
37.
MS
MPC based control of Ball and Beam System
38.
MS
HOSM based control of Magnetic Levitation System
39.
MS
LPV Control of Spark Ignition Engine
40.
MS
Modeling and Control of Breast Cancer Pathways

BOOKS AUTHORED / AUTHORED

Qadeer Ahmed, Aamer. Iqbal Bhatti, Sohail Iqbal, "Robust Control Algorithms for Twin Rotor System", Lambert Academic Publishers, ISBN 978-3-8443-8053-8, 2011.
A Chapter on Hybrid Engine Modelling, published in the book titled Internal Combustion Engine by Intech Publishers, Croatia. Edited by Kazimierz Lejda, chapter title is Modelling and Simulation of SI Engines for Fault Detection, ISBN:978-953-51-0856-6

JOURNAL PUBLICATIONS
1.
A.I. Bhatti, S.K. Spurgeon, C. Edwards and R. Dorey. Sliding mode configurations for automotive engine control, International Journal of Adaptive Control and Signal processing, 1999, Vol.13, No.2, pp.49-69
2.
A.I. Bhatti, S.K. Spurgeon, and X. Y. Lu. A nonlinear sliding mode control design approach based on neural network modelling, International Journal of Nonlinear and Robust Control, 1999, Vol.9, No.7, pp.397-423.
3.
A.I. Bhatti, S.K. Spurgeon and R. Dorey. Idle speed control of automotive engine using a Robust Nonlinear Controller Observer Pair, European Journal of Control, 2000, Vol.6, No.6, pp.525-539.
4.
J.P. Barbot, A.I. Bhatti, S.K. Spurgeon, R. Dorey. Discussion on 'Idle Speed Control of an Automotive Engine using a Robust Nonlinear Controller Observer Pair, European Journal of Control, 2000, 6, No.6, p. 540.
5.
Q. R. Butt; A. I. Bhatti., "Estimation of Gasoline-Engine Parameters Using Higher Order Sliding Mode," IEEE Transactions on Industrial Electronics, vol.55, no.11, pp.3891-3898, Nov. 2008
6.
S. H. Qaiser, A. I. Bhatti, Masood Iqbal, R. Samar and J. Qadir, "Model Validation and Higher Order Sliding Mode Controller Design for a Research Reactor" Annals of Nucl Energy , Vol 36, pages 37-45.
7.
S.H. Qaiser, A.I. Bhatti, M. Iqbal, and Javed Qadir, "Estimation of Precursor Concentration in a Research Reactor by using Second Order Sliding Mode Observer". Nuclear Engineering and Design, 2009-05-024.
8.
I. Ahmed and A.I. Bhatti, "A novel technique for spectral processing of gyroscope", published in Kuwait Journal of Science & Engineering, No 1B, Vol. 37, June 2010, ISSN: 1024-8684.
9.
M. Iqbal, A. I. Bhatti, S. Iqbal and Q. Khan, " Robust Parameter Estimation of Nonlinear Systems using Sliding Mode Differentiator Observer", IEEE Transactions on Industrial Electronics, Vol 58, Number 2, February 2011.
10.
Q. Khan, A. I. Bhatti, S. Iqbal and M. Iqbal, "Dynamic Integral Sliding Mode Control of MIMO Uncertain Nonlinear Systems", in International Journal of Control, Automation and System (IJCAS), Vol. 9 No. 1, February 2011.
11.
S. Iqbal, A. I. Bhatti, " Load Varying Polytopic Based Robust Controller Design in LMI Framework for a 2DOF Stabilized Platform", published in Arabian Journal for Science and Engineering (AJSE), Vol. 36 (2), March 2011, ISSN 1319-802.
12.
M A Rizwi, A.I. Bhatti and Q.R. Butt, "Hybrid Model of Gasoline Engine for Misfire Detection", published in IEEE Transactions on Industrial Electronics, August 2011, Vol 58, Number 8, pages 3680-3692.
13.
Q. Ahmed and A. I. Bhatti, "Estimating SI Engine Efficiencies and Parameters in Second Order Sliding Modes", IEEE Trans. on Industrial Electronics vol.58, no.10, pp.4837- 4846, Oct. 2011.
14.
Q. Ahmed, A. I. Bhatti and M. Iqbal, "Virtual Sensors for Automotive Engine Sensors Fault Diagnosis in Second Order Sliding Modes", IEEE Sensors Journal, Vol. 11, No. 9, September 2011, pp.1832-1840.
15.
Q. Khan, A. I. Bhatti, M. Iqbal and Q. Ahmed, "Dynamic Integral Sliding Mode Control for SISO Uncertain Nonlinear Systems", published in International Journal of Innovative Computing, Information and Control, Japan, Vol 8, No 7A, July 2012, page 4621-4633.
17.
I. H. Kazmi and A. I. Bhatti, Parameter Estimation of Proton Exchange Membrane Fuel Cell System using Sliding Mode Observer, published in International Journal of Innovative Computing Information and Control, Volume 8, No 7B, July 2012, pages 5137-5148
18.
Syed Hameed Qaiser, Masood Iqbal, Aamer Iqbal Bhatti, Raza Samar and Javed Qadir, "Estimation of Reactivity in a Research Reactor by Using a Second-Order Sliding Mode Observer", Nuclear Science and Engineering: 172, 1-10 (2012)
19.
Q. Ahmed, A I Bhatti, M A Rizwi and M R Naseem, Gasoline Engine Air Filter Health Monitoring by Second Order Sliding Modes, published in International Journal of Adaptive Control and Signal Processing, Article first published online : 26 JUN 2012, DOI: 10.1002/acs.2314, Vol. 27, Issue 6, pages 447-461, June 2013
20.
Q. Ahmed, A.I. Bhatti, Q. Khan and M. Raza. Condition Monitoring of Gasoline Engine Air Intake system using Second Order Sliding Modes, published in Special Issue on Variable Structure Systems in Automotive Applications, International Journal of Vehicle Design, Vol. 62, No 2/3/4, 2013
21.
Safdar Hussain, A.I. Bhatti, Abdus Samee, S.H. Qaiser, Estimation of Precursor Density of a Power Reactor using Uniform Second Order Sliding Mode Observer, published in Annals of Nuclear Energy, (2013), pp. 233-239 DOI information: 10.1016/j.anucene.2012.11.017, ISSN: 0306-4549
22.
Q. Raza, A. I. Bhatti, R. Mufti, M. A. Rizvi and I. Awan, "Modeling and Online Parameter Estimation of Intake Manifold in Gasoline Engines using Sliding Mode Observer", accepted for publication in "Simulation Modeling Practice and Theory", ISSN: 1569-190X.
23.
Yasir Awais Butt, Yuri L. Sachkov, Aamer Iqbal Bhatti," Parameterization of Extremal Trajectories in Sub-Riemannian Problem on Group of Motions of Pseudo Euclidean Plane", Journal of Dynamical and Control Systems, published by Springer, ISSN / EISSN : 1079-2724/ 1573-8698.
24.
Ali A Uppal, Aamer I Bhatti, Erum Aamir, Raza Samar and Shahid A Khan, Control Oriented Modeling and Optimization of One Dimensional Packed Bed Model of Underground Coal Gasification, Journal of Process Control, Vol 24, No 1, pp 269-277, 2014, ISSN: 0959-1524
25.
M Pervaiz, Q Khan, AI Bhatti, SA Malik, "Output Tracking via Adaptive Backstepping Higher Order Integral Sliding Mode for Uncertain Nonlinear Systems", published in Discrete Dynamics in Nature and Society, vol. 2014, Article ID 619010, 10 pages, 2014. doi:10.1155/2014/619010
26.
N. Mehdi, F. Hussain, R Ahmed, A I Bhatti, " A novel anti-windup framework for cascade control systems: An application to underactuated mechanical systems", ISA Transactions, DOI information: 10.1016/j.isatra.2014.01.007
27.
M. Z. Shah, R. Samar and A. I. Bhatti, "Lateral control of UAVs using the sliding mode approach: from design to flight testing", published in the Transactions of the Institute of Measurement and Control, doi: 10.1177/0142331214543093.
28.
Mahmood Pervaiz, Qudrat Khan, Aamer Iqbal Bhatti and Shahzad A. Malik, "Dynamic Adaptive Integral Sliding Backstepping Control of Nonlinear Nontriangular Uncertain Systems", published in Mathematical Problems in Engineering, vol. 2014, Article ID 492824, 14 pages, 2014. doi:10.1155/2014/492824.
29.
A. Akram, M. A. Rizwi and A I Bhatti, "Mode Identification for Hybrid Model of SI Engine to Detect Misfire Fault", published in Journal of Control Engineering and Applied Informatics, Vol.16, No.3 pp. 65-74, 2014.
30.
M. Asad, A. Bhatti., S. Iqbal, Y. Asfia, "A Smooth Integral Sliding Mode Controller and Estimator Design", Accepted for Publication in IJCAS, Digital Object Identifier (DOI) 10.1007/s12555-013-0544-4
31.
Khan, Qudrat, and Aamer Iqbal Bhatti. "Robust Dynamic Integral Sliding Mode for MIMO Nonlinear Systems Operating Under Matched and Unmatched Uncertainties." CONTROL ENGINEERING AND APPLIED INFORMATICS 16.4 (2014): 107-117.
32.
M. Z. Shah, R. Samar and A. I. Bhatti, "Guidance of air vehicles: a sliding mode approach", published in IEEE Transactions on Control Systems Technology, DOI .1109/TCST.2014.2322773, ISSN 1063-6536, Volume 23, Issue 1, Pages 231-244.
33.
A. A. Uppal, A. I. Bhatti, E. Aamer, R. Samar, and S. A. Khan, Optimization and control of one dimensional packed bed model of underground coal gasification, Journal of Process Control, vol. 35, pp. 11 – 20, 2015.
34.
I. Khan, Q. Khan and A. I. Bhatti, "Robustness and performance parameterization of smooth second order sliding mode control" accepted for publication in International Journal of Control, Automation and Systems (IJCAS) DOI: 10.1007/s12555-014-0181-6, Volume: 14, Number: 3, expected publication date June, 2016.
35.
Murtaza, G., A. I. Bhatti, and Q. Ahmed. "Control-Oriented Model of Atkinson Cycle Engine With Variable Intake Valve Actuation." Journal of Dynamic Systems, Measurement, and Control 138.6 (2016): 061001
36.
Yasir Awais Butt, Yuri L. Sachkov, Aamer Iqbal Bhatti," Cut Locus and Optimal Synthesis in Sub-Riemannian Problem on the Lie Group SH(2)", Journal of Dynamical and Control Systems, published by Springer, doi:10.1007/s10883-016-9337-4
37.
Q. U. Khan and A.I Bhatti, 'Robust stabilization of underactuated nonlinear systems: A fast terminal sliding mode approach', ISA Transactions 2016, Elesevier.
38.
Yar A, Bhatti AI, Ahmed Q. First Principle based Control Oriented Model of a Gasoline Engine. Journal of Dynamic Systems, Measurement, and Control.
39.
Muhammad Haseeb, Shumaila Azam, A.I. Bhatti, Rizwan Azam, Mukhtar Ullah, Sahar Fazal, On p53 revival using system oriented drug dosage design, Journal of Theoretical Biology, Volume 415, 21 February 2017, Pages 53-57, ISSN 0022-5193, http://dx.doi.org/10.1016/j.jtbi.2016.12.008.(http://www.sciencedirect.com/science/article/pii/S0022519316304167).
40.
Syed Ussama Ali, Raza Samar, M. Zamurad Shah, Aamer Iqbal Bhatti and Khalid Munawar. Higher-Order Sliding Mode based Lateral Guidance of Unmanned Aerial Vehicles. Transactions of the Institute of Measurement and Control, Published online, doi:10.1177/0142331215619972, SAGE Publications
41.
Syed Ussama Ali, Raza Samar, M. Zamurad Shah, Aamer Iqbal Bhatti, Khalid Munawar and Ubaid M. Al-Sggaf. Lateral Guidance and Control of UAVs using second-order sliding modes. Journal of Aerospace Science and Technology, vol. 49, pp. 88-100, 2016, doi: http://dx.doi.org/10.1016/j.ast.2015.11.033"
42.
Ali A. Uppal, Yazan M. Alsmadi, Vadim I. Utkin, Aamer I. Bhatti and Shahid A. Khan, "Sliding Mode Control of Underground Coal Gasification Process", IEEE Transactions on Control Systems Technology, 2017
43.
M. Asad, M. Ashraf, A. I. Bhatt, S. Iqbal, "Chattering and Stability Analysis of the Sliding Mode Control Using Inverse Hyperbolic Function", Accepted for publication in International Journal of Control Automation and Systems (IJCAS), 2017.
44.
Faryal Khatak, Muhammad Haseeb, Sahar Fazal, Mukhtar Ullah, Aamer Iqbal Bhatti, "Mathematical Model of E6-p53 interaction in Cervical Cancer", to be published in Asian Pacific Journal of Cancer Prevention, 2017
45.
G Murtaza, Y A Butt and A I Bhatti, "Super twisting controller based unified FDI and FTC scheme for air path of diesel engine using the certainty equivalence principle", accepted for publication in IMech.E, Proc D, Journal of Automobile Engineering
46.
Muhammad Rashad, Muhammad Ashraf, Aamer Iqbal Bhatti, Daud Mustafa Minhas, Bilal Ashfaq Ahmed, "Mathematical modeling and stability analysis of DC microgrid using SM hysteresis controller", Elsevier Journal of Electrical Power and Energy Systems 95 (2018) 507–522.
47.
Athar Hanif, A I Bhatti and Qadeer Ahmed, "Managing Thermally Derated Torque of an Electrified Powertrain through LPV Control", accepted for publication in IEEE/ASME Transactions on Mechatronics.
48.
G. Murtaza, A. I. Bhatti and Q. Ahmed, "Design, Development and Evaluation of a Control Framework for Atkinson Cycle Engine", Journal of Dynamic, Systems, Measurement and Control (Accepted), Paper No. DS-16-1604, 2017
50.
Muhammad Rizwan Azam, Sahar Fazal, Mukhtar Ullah, and A.I. Bhatti, "System based strategies for p53 recovery", accepted for publication in IET Systems Biology, 2018.
51.
Yar A, Bhatti AI, Ahmed Q. First Principle Based Control Oriented Gasoline Engine Model Including Lumped Cylinder Dynamics. ASME. J. Dyn. Sys., Meas., Control. 2018;140(8):081011-081011-7. doi:10.1115/1.4039195
52.
A. Jafar, A.I. Bhatti, S.M. Ahmad and N. Ahmed, "Robust gain scheduled control algorithm for lab helicopter: An LMI based approach," IMECH Journal of Systems and Control Engineering, 2018, IF=1.420.
53.
M.T. Khan, S.I. Malik, A.I. Bhatti,S.AL, A.S. Khan, M.T. Zeb,T. Nadeem and S. Fazal, "Pyrazinamide-resistant mycobacterium tuberculosis isolates from Khyber Pakhtunkhwa and rpsA mutations", accepted in Journal of BIOLOGICAL REGULATORS & Homeostatic Agents.
54.
Anum Munir, Shumaila Azam, Sahar Fazal, A.I. Bhatti, Evaluation of the whole body physiologically based pharmacokinetic (WB-PBPK) modeling of drugs, Journal of Theoretical Biology, Available online 26 April 2018, ISSN 0022-5193, https://doi.org/10.1016/j.jtbi.2018.04.032,(https://www.sciencedirect.com/science/article/pii/S0022519318302091)
55.
Murtaza G, Bhatti AI, Butt YA. Unified FDI and FTC scheme for air path actuators of a diesel engine using ISM extended with adaptive part. Asian Journal of Control. 2019
56.
Safdar Hussain, A.I. Bhatti, Abdus Samee, S.H. Qaiser, "Estimation of Reactivity and Average Fuel Temperature of a Pressurized Water Reactor using Sliding Mode Differentiator Observer", IEEE Transaction on Nuclear Science, Vol 60, No 4, pp 3025-3032, August 2013, ISSN=0018-9499.

CONFERENCE PUBLICATIONS
1.
A.I. Bhatti, S.K. Spurgeon, and C. Edwards. Multiburner furnace control using a nonlinear controller observer pair. In Proceedings of 1995 IEE colloquium on Adaptive Controllers in Practice, pages 7/1–7/4, London, 1995
2.
A.I. Bhatti, S.K. Spurgeon, and X.Y. Lu. Neural network model based indirect sliding mode controller design. In Proceedings of 1996 UKACC Control Conference, pages 418–423, Exeter, UK, 1996
3.
A.I. Bhatti, S.K. Spurgeon, and C. Edwards. Robust control of a high temperature multiburner heating plant. In Proceedings of 1996 UKACC Control Conference, pages 1022–1027, Exeter, UK, 1996.
4.
A.I Bhatti, S.K. Spurgeon, and R. Dorey. Robust nonlinear control of an automotive engine. In Proceedings of 1997 European Control Conference, page not available, Brussels, Belgium, 1997.
5.
A.I Bhatti, S.K. Spurgeon, and R. Dorey. Idle speed control using a nonlinear controller­observer pair. In Proceedings of 1997 IEE colloquium on Adaptive Controllers in Practice, pages 2/1–2/5, Coventry, UK, 1997.
6.
A.I Bhatti, S.K. Spurgeon, R. Dorey, and C. Edwards. Rapid prototyping of a sliding mode control for idle speed control. In Proceedings of 1997 IEE colloquium on System Control Integration and Rapid Prototyping in the Automotive Industry, pages 3/1–3/7, Birmingham, UK, 1997.
7.
A.I Bhatti, S.K. Spurgeon, and X.Y. Lu. Sliding mode based robust parameter estimation. In Proceedings of IFAC Workshop on Adaptive Control and Signal Processing, pages 279–284, Glasgow, UK, 1998.
8.
C. Edwards, S.K. Spurgeon, and A.I. Bhatti. Sliding mode control using only output information: Theoretical developments and practical applications. In Proceedings of 2nd IMACS International Multiconference on Computational Engineering in Systems Applications (CESA 98), Hammamet, Tunisia, 1998.
9.
A.I. Bhatti, S.K. Spurgeon, and R. Dorey. Sliding mode controller design and implementation framework for idle speed control. Technical Report 98­16, Dept. of Engineering, Leicester University, 1998.
10.
A.I Bhatti, S.K. Spurgeon, and R. Dorey. A sliding mode controller/observer pair for application to engine idle speed control. A report written for Ford motor company.
11.
A.I. Bhatti, J.A. Twiddle, S.K. Spurgeon, and N.B. Jones. Engine coolant system fault diagnostics with sliding mode observers and fuzzy analyser. In Proceedings of 1999 IASTED conference on Modelling, Identification and Control, Innsbruck, Austria, 1999
12.
Parikh, C.R., Pont, M.J., Jones, N.B., Twiddle, J.A., Bhatti, A.I., Li, Y.H., Spurgeon, S.K, Scotson, P. and Scaife, M, (1998), Towards an Application Framework for Condition Monitoring and Fault Diagnosis, Proceedings of: 'Workshop on Recent Advances in Soft Computing', De Montfort University, Leicester, July 1998, pp. 128-141. ISBN 185 721 2592
13.
M. Waseem, M. Omar, A.I. Bhatti and S. I. Shah. A new double talk detector with Fuzzy decision thresholding. In IEEE Proceedings of ISCON02, 16-17th August 2002, Lahore, Pakistan, Volume 1, pages 117-121.
14.
A. Khalid, A.I. Bhatti and R. Hafiz. A Low Complexity high Resolution time-stepped Stochastic ground Combat Simulation model. In Proceedings of INMIC 2003, 7th International Multi-topic Conference 2003, Islamabad, Pakistan, pages 490-494.
15.
M.S. Anwar and A.I. Bhatti. Real Time Simulation of Line Echo Canceller. In Proceedings of the 2nd IBCAST, Bhurban Pakistan, June 16 – 21, 2003, Page 563-572, Volume 2.
17.
A.I. Bhatti and S. I. Shah. Training of Line Echo Canceller with PRBS Signals. In Proceedings of INCC 2004, 1st International Networking and Communications Conference 2004, Lahore, Pakistan.
18.
S. H. Qaiser, A.I. Bhatti and M. Iqbal. H? Loop Shaping Robust Control System Design For Pakistan Research Reactor-2 (PARR-2), 4th International Science Conference, University of Azad Jammu & Kashmir, Muzaffarabad, 6th-9th October 2004.
19.
S. H. Qaiser, A.I. Bhatti and M. Iqbal. H? Loop Shaping Robust Control System Design For Pakistan Research Reactor-2 (PARR-2), Science International (Lahore), 17(1), 17-20,2005, ISSN 1013-5316, CODEN: SINTE 8
20.
S. A. Hassan, A.I. Bhatti and A. Latif. Emitter Recognition using Fuzzy Inference System, in Proceedings of 1st International Conference on Emerging Technologies, Islamabad, 17th-18th September 2005, p. 204 –208, ISBN 0-7803-9247-7.
21.
Y. Javed and A.I. Bhatti. Emitter Recognition based on Modified X-Means Clustering, in Proceedings of 1st International Conference on Emerging Technologies, Islamabad, 17th-18th September 2005, p. 352–358, ISBN 0-7803-9247-7.
22.
N. Iqbal, M. Waseem, M. Omer and A. I. Bhatti, A pitch detection based new doubletalk detector, in Proceedings of GSPx 2005, Santa Clara, CA USA, Oct 24 – Oct 27th 2005.
23.
S. Iqbal and A. I. Bhatti, Direct Sliding Mode Controller Design for a 6DOF Parallel Manipulator, Proc of 10th IEEE International Multitopic Conference 2006 (INMIC 2006), Islamabad, Pakistan, ISBN 1-4244-0794-X, December 2006, Pages 421-426.
24.
A. Iqbal and A. I. Bhatti, Development of Framework
for Structured Uncertainity For an Aircraft, Proc of 10th IEEE International Multitopic Conference 2006 (INMIC 2006), Islamabad, Pakistan, ISBN 1-4244-0794-X, December 2006, Pages 444-450.
25.
S. Iqbal and A. I. Bhatti, Robust Sliding Mode Controller Design for a Stewart Platform, Proceedings of 5th IBCAST International Multitopic Conference 2007 (IBCAST 2007), Islamabad, Pakistan, January 8th – 11th 2007.
26.
S. Iqbal, A. I. Bhatti, Saif-Ullah and N. Mehdi, Design and Robustness Evaluation of an H-infinity Loop Shaping Controller for a 2DOF Stabilized Platform, in the proceedings of European Control Conference 2007 held in Kos, Greece.
27.
S. H. Qaiser, A.I. Bhatti and M. Iqbal, "Robust Control System design for Pool Type Research Reactor using Hinf Loop Shaping Technique", in the proceedings of "The first International Conference on Physics and Technology of Reactors and Applications [PHYTRA 1]" held at Marrakech, Morocco 14-16 March 2007
28.
S.H. Qaiser, A.I Bhatti, M. Iqbal and Javed Qadir,, "System Identification and Robust Controller Design for Pool Type Research Reactor",13th IEEE/IFAC International Conference on Methods and Models in Automation and Robotics MMAR 2007, 27-30 August Szczecin Poland
29.
M. Iqbal, A.I. Bhatti and Q. R. Butt, "Controller design of an uncertain three tank system using polytopic approach", presented in IFAC World Congress 2008, held in July 2008 in Seoul Korea.
30.
S. Iqbal, A. I. Bhatti and Q. Ahmed, "Dynamic analysis and robust control design for Stewart Platform with moving payloads", presented in IFAC World Congress 2008, held in July 2008 in Seoul Korea
31.
S. Iqbal., A. I. Bhatti and Q. Ahmed, (2008),"Determination of Realistic Uncertainty Bounds for a Stewart Platform with Payload's Dynamics", Accepted for presentation in proceedings of IEEE International Conference on Control Applications (CCA), September 3 – 5, 2008, Hilton Palacio del Rio in San Antonio, Texas, USA.
32.
S.H.Qaiser, A.I.Bhatti, M.Iqbal, R.Samar, and J. Qadir, "Higher Order Sliding Mode Observer Based Estimation of Precursor Concentration in a Research Reactor", 4th IEEE International Conference on Emerging Technologies (ICET 2008),18 -19 Oct 2008, NUST Rawalpindi.
33.
M. Iqbal, A.I. Bhatti, Q. R. Butt and I. H. Kazmi, "LMI based Controller Synthesis of an Uncertain Three Tank System", presented in IBCAST 2009, held in January 2009, Islamabad Pakistan.
34.
S.H.Qaiser, A.I.Bhatti, M.Iqbal and J. Qadir, "LMI based Control System Design for a Research Reactor", presented in IBCAST 2009, held in January 2009, Islamabad Pakistan.
35.
Q.R.Butt, A.I.Bhatti, M.Iqbal, M.A. Rizwi, R.Mufti and I.H.Kazmi, "Estimation of Automotive Engine Parameters: Part I: Discharge Coefficient of Throttle Body", presented in IBCAST 2009, held in January 2009, Islamabad Pakistan.
36.
H.Z.Bukhari, A.I.Bhatti, M.F.Aftab and K. Shafiq "Multi Objective Controller for Control Moment Gyro (cmg) using LMI", presented in IBCAST 2009, held in January 2009, Islamabad Pakistan.
37.
K. Shafiq, M. Imran, H.Z.Bukhari, S.Ahmed and A.I.Bhatti, "LMI based Multi-Objective State Feedback Controller Design for Magnetic Levitation System", presented in IBCAST 2009, held in January 2009, Islamabad Pakistan.
38.
S.H.Qaiser, A.I.Bhatti, M.Iqbal, R.Samar, and J. Qadir, "Non Linear Model Validation and Second Order Sliding Mode Controller Design for a Research Reactor", International Conference on Industrial Technology (IEEE ICIT 09) 10-13 February, 2009 Churchill Victoria Australia.
39.
Q. Ahmed, A. I. Bhatti LMI Based Sliding Mode Control Design for Twin Rotor System to be presented in SIAM Conference on Control and Its Applications 2009, Colorado, USA.
40.
Q. Ahmed, A. I. Bhatti, S. Iqbal Nonlinear Robust control design for Decoupling of Twin Rotor System, to be presented in Asian Control Conference (ASCC'09), Hong Kong.
41.
Q. Ahmed , A. I. Bhatti, S. Iqbal, Robust Decoupling Control design for Twin Rotor System using Hadamard Weights, presented in CCA, MSC 2009, St. Petersburg, Russia.
42.
M. Iqbal, A. I. Bhatti, S. Iqbal and I. H. Kazmi,"Fault Detection and Isolation of Nonlinear Systems using Higher Order Sliding Mode Techniques", 7th Asian Control Conference (ASCC 2009) , 27-29 August 2009, Hong Kong
43.
I.H.Kazmi, A.I.Bhatti, S. Iqbal "Robust Controller using LMI framework for PEM fuel cell System," ICET09, Islamabad, Pakistan October 19-20, 2009
44.
M. A. Rizwi, A. I. Bhatti and Q. R. Butt "Fault detection in a class of hybrid systems", presented in ICET 2009, held in Islamabad, Pakistan.
45.
M. Iqbal, A. I. Bhatti, S. Iqbal and I. H. Kazmi, "Parameter Estimation of Nonlinear Systems using Higher Order Sliding Mode Techniques", accepted for presentation in The 7th IEEE International Conference on Control & Automation (ICCA'09), December 9-11, 2009, Christchurch, New Zealand
46.
M.A. Rizvi, A.I. Bhatti, " Hybrid Model for Early Detection of Misfire Fault in SI Engines", In Proceedings of International Multitopic IEEE Conference, December 2009, ISBN:978-1-4244-4873-9.
47.
M. Rafiq, S.U. Rehman, Q.R. Butt and A.I. Bhatti, "Power Efficient Sliding Mode Control of SR Motor for Speed Control Applications", In Proceedings of International Multitopic IEEE Conference, December 2009, ISBN:978-1-4244-4873-9.
48.
M. Iqbal, A.I. Bhatti and Q. Khan, "Dynamic Sliding Modes Control of Uncertain Nonlinear MIMO Three Tank System", In Proceedings of International Multitopic IEEE Conference, December 2009, ISBN:978-1-4244-4873-9.
50.
I. H. Kazmi, A.I. Bhatti and S. Iqbal, "A Nonlinear Observer for PEM Fuel Cell System", In Proceedings of International Multitopic IEEE Conference, December 2009, ISBN:978-1-4244-4873-9.
51.
Muddaser Abbas, A.I. Bhatti, Q.R. Butt, A. Nadeem, "Misfire Detection in IC Engines using Finite State", Automata 15th International Conference on Soft Computing (Mendel 2009) Czech.
52.
Qadeer Ahmed, Aamer Iqbal Bhatti, "Second Order Sliding Mode Observer for Estimation of SI Engine Volumetric Efficiency & Throttle Discharge Coefficient", International workshop on Variable Structure System VSS 2010, Mexico.
53.
Qadeer Ahmed, Aamer Iqbal Bhatti, Sohail Iqbal, Syed Ijaz Kazmi, "2-Sliding Mode Based Robust Control for 2-DOF Helicopter", International workshop on Variable Structure System VSS 2010, Mexico.
54.
I.H. Kazmi, A. I. Bhatti, M. Iqbal, "A Sliding Mode Observer for PEM Fuel Cell System using Super Twisting Algorithm", International workshop on Variable Structure System VSS 2010, Mexico.
55.
M. Z. Shah, R. Samar and A. I. Bhatti, "Adaptive sliding Mode Roll Control of a Canard Missile", Chinese Control and Decision Conference 2010 (CCDC).
56.
S. Iqbal, C. Edwards, A. I. Bhatti, (2010), "A Smooth Second-Order Sliding Mode Controller for Relative Degree Two Systems", present in Special Session of Variable Structure Control and Industrial Applications of 36th Annual Conference of the IEEE Industrial Electronics Society, Glendale, AZ, USA, Nov 07-10, 2010, pages 2379-2384, ISSN 1553-572x .
57.
Shah, M. Z., Samar, R., Bhatti, A.I., "Sliding Mode based Lateral Control for UAVs using Piecewise Linear Sliding Surface", presented in the 2011 International Conference on Communications, Computing and Control Applications (CCCA'11), March 3-5, Hammamet, Tunisia.
58.
Qudrat Khan*, Aamer Iqbal Bhatti, Qadeer Ahmed, "Dynamic Integral Sliding Mode Control of Nonlinear SISO Systems with States Dependent Matched and Mismatched Uncertainty, presented at the 18th IFAC World Congress held in Milan, Italy, from August the 28th to September the 2nd 2011.
59.
Muhammad Zamurad Shah*, Raza Samar, Aamer Iqbal Bhatti, "Lateral Control for UAVs using Sliding Mode Technique", presented at the 18th IFAC World Congress held in Milan, Italy, from August the 28th to September the 2nd 2011.
60.
Sohail Iqbal, Christopher Edwards, Aamer Iqbal Bhatti, "Robust Output Feedback Linearization for Minimum Phase Systems", presented at the 18th IFAC World Congress held in Milan, Italy, from August the 28th to September the 2nd 2011.
61.
Sohail Iqbal, Christopher Edwards, Aamer Iqbal Bhatti, "Robust Feedback based Linearization using Higher Order Sliding Mode Observer", presented at the 50 th international conference on decision and control held in Orlando, Florida, USA,
from December 12 th – 15th.
62.
S. Liaqat, S. A. Khan, A. I. Bhatti, M. B. Ihsan, S. Z. Asghar, A, Ejaz, Automatic Recognition of Ground Radar Targets Based on Target RCS and Short Time Spectrum Variance, International Symposium on Innovations in Intelligent Systems and Applications 2011 (INISTA 2011), Jun 2011.
63.
M. A. Rizwi, S. H. Zaidi and A. I. Bhatti, "Misfire Fault Detection in SI Engine Using Sliding Mode Observer", presented in IECON 2011 Australia.
64.
M. A. Akram, A. I. Bhatti, Q. Ahmed, M. Raza, "Model tuning and Fault Detection of Automotive Coolant System Using Higher Order Sliding Mode", accepted for presentation in 9th European Workshop on Advanced Control and Diagnosis (ACD 2011) that will take place at Budapest University of Technology and Economics – in Budapest, Hungary, between 17-18 November 2011.
65.
A. M. Khan, A. I. Bhatti, S Din, and Q. Khan, "Static and Dynamic Sliding Mode Control of Ball on a Beam System", presented in IBCAST 2012, held in January 2012, Islamabad Pakistan.
65.
I. Khan, A. I. Bhatti, Q. Khan, and Q. Ahmed, "Sliding Mode control of Lateral Dynamics of an AUV", presented in IBCAST 2012, held in January 2012, Islamabad Pakistan.
66.
G. Murtaza and A. I. Bhatti, "DC Motor Control Using Sliding Mode", presented in IBCAST 2012, held in January 2012, Islamabad Pakistan.
67.
S. S. H. Rizwi, A. I. Bhatti and Q Khan, "Sliding Mode Control of a PEM Fuel Cell System", presented in IBCAST 2012, held in January 2012, Islamabad Pakistan.
68.
S. S. H. Rizwi, A. I. Bhatti and Q Khan, "Smooth Sliding Mode Control for PEM Fuel Cell System", accepted for presentation in 24th Chinese Control and Decision Conference (2012 CCDC) held on May 23-25, 2012 in Taiyuan, China.
69.
Ussama Ali; Muhammad Zamurad Shah; Aamer Iqbal Bhatti; Raza Samar,"Robust Nonlinear Control Design For Scaled Yak-54 Unmanned Aerial Vehicle", in the proceedings of 24th Chinese Control and Decision Conference (2012 CCDC) to be held on May 23-25, 2012 in Taiyuan, China.
71.
S S Rizwi, A I Bhatti, Smooth Second-Order Sliding Mode Control for PEM Fuel Cell System, accepted for presentation IN UKACC 2012 held in Cardiff, UK on Sep 3-5, 2012.
72.
M. A. Rizwi, S. H. Zaidi, M. Amin and A. I. Bhatti, "Misfire Fault Detection In SI Engine Using Sliding Mode Observer", in the proceedings of IECON 2012.
73.
Ali Arshad, Aamer Iqbal Bhatti, Raza Samar, Qadeer Ahmed, Erum Aamir, " Model Development of UCG and Calorific Value Maintenance via Sliding Mode Control", in the proceedings of International Conference of Emerging Technologies, Islamabad, Pakistan, October 2012.
74.
M. Asad, A. I Bhatti, S. Iqbal., "A Novel Reaching Law for Smooth Sliding Mode Control Using Inverse Hyperbolic Function", in the proceedings of International Conference of Emerging Technologies, Islamabad, Pakistan, October 2012.
75.
Ahmed Yar, Aamer Iqbal Bhatti, 2012. "Control of Air-to-Fuel Ratio of Spark Ignited Engine using Super Twisting Algorithm", in the proceedings of International Conference of Emerging Technologies, Islamabad, Pakistan, October 2012.
76.
Yasir Awais Butt, Aamer Iqbal Bhatti, "Robust Altitude Tracking of a Helicopter using Sliding Mode Control Structure", in the proceedings of International Conference of Emerging Technologies, Islamabad, Pakistan, October 2012.
77.
Mehdi, N. Malik, F.M. ; Bhatti, A.I. ; Qaiser, N." Sampled data dynamic surface control for inertia wheel pendulum" International Conference on Robotics and Artificial Intelligence (ICRAI), 2012.
78.
Asad, M., S. Iqbal, and A.I. Bhatti, MIMO Sliding Mode Controller Design using Inverse Hyperbolic Function, in 10th IEEE International Bhurban Conference on Applied Sciences and Technology (IBCAST). 2013: Islamabad Pakistan.
79.
R. Azam, A. I. Bhatti, A. Arshad and Z. Babar, Sensitivity Analysis of Wnt Pathway, in 10th IEEE International Bhurban Conference on Applied Sciences and Technology (IBCAST). 2013: Islamabad Pakistan.
80.
Anam Zia, A I Bhatti, S Iqbal and M Pervaiz, HOSM Control of an Inverted Pendulum, in 10th IEEE International Bhurban Conference on Applied Sciences and Technology (IBCAST). 2013: Islamabad Pakistan.
81.
Yasir Awais Butt, Yuri L Sachkov and Aamer Iqbal Bhatti, "Extremal Trajectories and Maxwell Points in Sub-Riemannian Problem on the Group SH(2)", International Conference on Mathematical Control Theory and Mechanics, Suzdal, Russia, 5-9 July, 2013.
82.
Furqan Tahir*, Qadeer Ahmed, Aamer Iqbal Bhatti, " Real-time Switched Model Predictive Control of a Twin Rotor System", accepted for presentation in the 52nd IEEE Conference on Decision and Control, held in Firenze, Italy on December 10-13, 2013.
83.
M. Asad, A. I. Bhatti, S. Iqbal, "Digital Phase Locked Loop Design using Discrete Time Sliding Mode Loop Filter", In Proceedings IEEE International Conference on Emerging Technologies ICET2013
84.
M. Z. Babar, S. U. Ali, M. Z. Shah, R. Samar and A. I. Bhatti, "Robust control of UAVs using Hinf Paradigm", In Proceedings of IEEE International Conference on Emerging Technologies ICET2013
85.
Athar Hanif, Aamer Iqbal Bhatti, Qadeer Ahmed, Ghulam Murtaza, and Abdul Rehman Yasin," Sliding Mode Based Observer Design for Field-Oriented Control of Induction Machine Drive for Applications in Hybrid Electric Vehicles", presented in The 33rd Chinese Control Conference, held on 28-30, July , 2014 in Nanjing, China, pp 263-268, DOI 10.1109/ChiCC.2014.6896632
86.
Ali, U.; Shah, M.Z.; Bhatti, AI; Samar, R., "Robust nonlinear control design for scaled Yak-54 Unmanned Aerial Vehicle," Control and Decision Conference (2014 CCDC), The 26th Chinese, Vol.,No.,pp.713-718,May31,2014-June,2 2014,doi: 10.1109/CCDC.2014.6852258.
87.
Yasir Awais Butt, Aamer Iqbal Bhatti, Yuri L. Sachkov, "Integrability by Quadratures in Optimal Control of a Unicycle on Hyperbolic Plane", Accepted for publication in proceedings of American Control Conference 1–3 Jul 2015, Chicago.
88.
Asghar, M., Bhatti, A.I. and Izhar, T., "Hybridization and Dynamic Performance Analysis of Three-Wheeler Electric Auto Rickshaw", published in the proceedings of ICEPES 2015. International Conference on Electrical Power and Energy Systems on February 16-17,2015 at Istanbul, Turkey.
89.
Khan, Q. , Bhatti, A.I and Rini Akmeliawati., "Robust stabilization of underactuated systems via fast terminal sliding ", accepted for presentation in 10th Asian Control Conference to be held in May 2015.
90.
Farhat Rashid, Athar Hanif, and Aamer Iqbal Bhatti," Stability Analysis in Networked Control System Part-1", Proceeding of the 28th Canadian Conference on Electrical and Computer Engineering (IEEE-CCECE), 3-6 May, 2015, Halifax, Nova Scotia, Canada.
91.
Athar Hanif, Farhat Rashid and Aamer Iqbal Bhatti," HMI and SCADA Based Experimental Setup for Graduate and Undergraduate Students", Accepted in 27th Chinese Control and Decision Conference, 23-25 May, 2015, Qingdao, China.
92.
Noshin Fatima, Farhan Hanif and Aamer Iqbal Bhatti," Various Techniques to Design Controllers for Single Link Flexible Arm", To be published in the Proceedings of the 2016 International Conference on Industrial Engineering and Operations Management, Kuala Lumpur, Malaysia, March 8-10, 2016.
93.
A R Yasin, M Ashraf, A I Bhatti, S Ahmad and Muhammad Rashid, Sliding Mode Control for Efficient Utilization of Renewable Energy Sources in DC Micro Grid: A Comparison with a Linear PID Controller, accepted for presentation in International Conference and Exposition on Electrical and Power Engineering, EPE 2016, Iasi, Romania.
94.
I Khan, A I Bhatti, Q. Khan, R. Anjum, "Constructive Mechanism of Lead/Lag Design for a Class of Linear Systems", accepted for presentation in ICET 2016 to be held in Islamabad.
95.
Yasir Awais Butt and A I Bhatti, "Exponential Stabilization of Kinematic Nonholonomic Systems using Adaptive Backstepping", accepted for presentation in ICET 2016 to be held in Islamabad.
96.
Ghulam Murtaza Kiyani, Yasir Awais Butt and Aamer Iqbal Bhatti, "Higher Order Sliding Mode Based Control Scheme for Air Path of Diesel Engine", accepted for presentation in ICET 2016 to be held in Islamabad.
97.
S Shaukat, K Munawar, M Arif, A I Bhatti, U I Bhatti, U Al-Saggaf, "Robust Vehicle Localization with GPS Dropouts", presented at International Conference on Intelligent & Advanced Systems, held in Malaysia, 2016.
98.
M Haseeb, S Azam, S Fazal, M Ullah and A I Bhatti, "Drug Intervention Design for p53 pathway", presented at DDTWC 2016 held on 22nd to 25th August in Boston USA.
99.
A Hanif, AI Bhatti, Q Ahmed , Estimation of thermally de-rated torque of an HEV drive using robust LPV observer, American Control Conference (ACC), 2016, 1530-1535
100.
Ahmedyar, A I Bhatti, Q. Ahmed, "High Fidelity Engine Model for A Unified Control, Diagnostic and Condition Monitoring Framework", to be presented in American Control Conference 2017, Seattle Washington.
101.
Ahmedyar, A I Bhatti, Q. Ahmed, "High Fidelity Engine Model for A Unified Control, Diagnostic and Condition Monitoring Framework", to be presented in American Control Conference 2017, Seattle Washington.
102.
Aamer Iqbal Bhatti, Muhammad Haseeb, Shumaila Azam, Sahar Fazal and Mukhtar-Ullah, "State Feedback based intervention design in Wnt and Cell Cycle Network", presented in American Control Conference 2017, Seattle Washington.
104.
Abrar Hashmi, Farhan Hanif and Ai Bhatti, "Simulation and Analysis of Duffing Oscillator using Sliding Mode Control", CCODE 2017, Islamabad, Pakistan.
105.
M Farhan Hanif, A I Bhatti, Waseem Ahmed Kamal and Imran Khan Yusafzai, "Sliding Mode Based MIMO Control of Autonomous Underwater Vehicle", accepted for presentation in Asian Control Conference, 2017, Australia.
106.
Atif Adnan, A I Bhatti, "Cruise Control of a Heavy-Duty Truck on Open Road The AAC 2016 Benchmark", accepted for presentation in Asian Control Conference, 2017, Australia.
107.
Muhammad Haras, Aamer Iqbal Bhatti and Muwahida Liaqat "EGR-VGT Equipped Heavy Duty Diesel Engine Calibration and Air Path Control for Optimized Nitric Oxide (NOx)Emissions", accepted for presentation in Asian Control Conference, 2017, Australia.
108.
Murtaza, G., Butt, Y.A. and Bhatti, A.I., FTC for Air Path Actuators of a Diesel Engine Using VGSTA. accepted for presentation in International Conference on Emerging Technologies (ICET), 2017, Pakistan.
109.
Anjum, R, Khan, I. Yar, A and Bhatti, A.I., "Air-to- Fuel Ratio Control of Gasoline Engines using Smooth Sliding Mode Algorithm", accepted for presentation in International Conference on Emerging Technologies (ICET), 2017, Pakistan.
110.
Muhammad Nawaz Sharif, Aamer Iqbal Bhatti and Sahar Fazal "Observer Design and Analysis of WNT Cell Cycle Joint Pathway", accepted for presentation in Asian Control Conference, 2017, Australia.
111.
Muhammad Nawaz Sharif, Aamer Iqbal Bhatti and Sahar Fazal "Observer Design and Analysis of WNT Cell Cycle Joint Pathway", accepted for presentation in Asian Control Conference, 2017, Australia.
112.
G. Murtaza, A. I. Bhatti, Q. Ahmed and A. Arshad, "Nonlinear robust control of Atkinson cycle engine," Accepted in 20th World Congress of the International Federation of Automatic Control (IFAC), held on 9-14 July, 2017, Toulouse, France