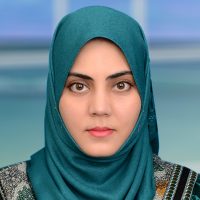 Ms. Mahwish Siddiqui (Pharm.D RIU, Islamabad)
Junior Lecturer
PROFILE SUMMARY
Dr. Mahwish have an educational background of Doctor of Pharmacy (Pharm-D) from Riphah International University. She is engrossed and passionate individual with strong interpersonal expertise. A self-starter and a fast learner. She have Skills and Knowledge that is vital for dealing in key areas of an organization. She loves working in a challenging environment. She is confident, passionate, and always ready for a challenging task.
QUALIFICATION
Pharm.D
Pharmaceutical Sciences
Riphah International University, Islamabad
2013
TEACHING EXPERIENCE
Junior Lecturer
Capital University of Science and Technology (CUST), Islamabad
Since – November 2018
PROFESSIONAL EXPERIENCE
Quality Control Analyst
Goodman Laboratories, Rawat, Pakistan
01 Year
Quality Assurance Officer
Goodman Laboratories, Rawat, Pakistan
03 Years
Hospital Pharmacist
Kalsoom International Hospital Islamabad
01 Month
Hospital Pharmacist
Maroof International Hospital Islamabad
06 Weeks
MEMBERSHIP OF PROFESSIONAL BODIES
Member
Punjab Pharmacy Council, Lahore, Pakistan
RESEARCH AREAS / INTERESTS
Drug discovery;
Pharmaceutical Sciences;
Novel drug delivery systems.