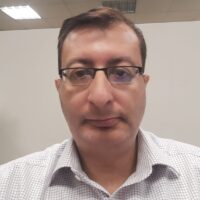 Dr. Muhammad Shahzad Anjum (PhD USM, Malaysia)
Associate Professor
QUALIFICATION
Ph.D.
Project Management
University Sains Malaysia, Penang, Malaysia
2015
MS
Finance
M.A. Jinnah University, Islamabad, Pakistan
2009
MBA
IT Management
Intn'l Islamic University, Islamabad, Pakistan
2005
TEACHING EXPERIENCE
Associate Professor
Capital University of Science and Technology, Islamabad
Since – 2021
Senior Assistant Professor
Air University, Islamabad, Pakistan
2019 – 2021
Senior Assistant Professor
Bahria University, Karachi, Pakistan
2017 – 2019
Assistant Professor
Iqra University, Islamabad, Pakistan
2015 – 2017
Assistant Professor
Comsats Institute of Information Technology, Islamabad, Pakistan
2015
Lecturer
M.A. Jinnah University, Islamabad, Pakistan
2010 – 2011
Lecturer
International Islamic University, Islamabad, Pakistan
2010 – 2011
Lecturer
OPF Girls College, Islamabad, Pakistan
2009
Research Associate
OPF Girls College, Islamabad, Pakistan
2009
Research Associate
Mohammad Ali Jinnah University, Islamabad, Pakistan
2009
MANAGEMENT EXPERIENCE
Manager, O&M
Computer Research Private Limited (CRPL), Islamabad, Pakistan
2007
Assist IT Consultant
M. Yousaf Adil Saleem & Co. (Delloite International), Islamabad, Pakistan
2005 – 2006
Assistant Project Manager
Globo Tech Pvt. Ltd. Islamabad, Pakistan
2001 – 2002
MEMBERSHIP OF PROFESSIONAL BODIES
Member
Project Management Institute (PMI), USA
Member
International Association of Risk and Compliance Professionals (IARCP), USA
Member
Project Management Institute (Islamabad Chapter)
Member
Proposal Defense Committee, Iqra University, Islamabad, Pakistan.
Member
DBOS Committee, Bahria University, Karachi, Pakistan
Member,
DRC Committee, Bahria University, Karachi, Pakistan
RESEARCH SUPERVISION
1.
MS
Role of Project Manager on the Project Performance in IT industry of Pakistan
2.
MS
Impact of Transformational Leadership on the Project success in Pakistan
3.
MS
Impact of Exit Strategy on Project Sustainability in Construction Industry of Pakista
4.
MS
Impact of Web Based Data Security on Supply Chain Management Performance in Pharmaceuticals Industry in Pakistan
5.
MS
Impact of Supply Chain Management Practices and Enhancement in Petroleum Industry of Pakistan
6.
MS
An Empirical Assessment of Factors Affecting Operational Sustainability of Microfinance Institutions of Pakistan
BOOKS AUTHORED
M. Shahzad Anjum, Khurram Ghani (2012), "Macroeconomic Variables and Stock Return Volatility: An Econometric Analysis", Book published by Lambert Academic Publishing, Germany
Syed Wasif Gillani, Syed Azhar, Syed Sulaiman, Khurram Ghani, Shahzad Anjum (2012), "Hospital Supply Chain Pharmacy Management" Book published by Lambert Academic Publishing, Germany
JOURNAL PUBLICATIONS
1.
Nazish Masood, M. Shahzad Anjum, Amir Ishaque, M. Shahzad Anjum, M. Mubashir Khan (2020), "Role of Organizational Justice on Employee Commitment with moderating effect of Work Environment". Reviewed and Accepted for publication in Global Management Journal for Academic & Corporate Studies, Vol.10, Issue 1. ISSN: 2219 -6145).
2.
Shariq Ahmad, M.Shahzad Anjum, M Mubashir Khan (2019), "Exploring the Determinants and Outcome of Sustainable Reverse Logistic Capabilities in Petro Chemical Industry of Pakistan". Reviewed, Journal of independent Studies and Research Management, Social Sciences and Economics.(ISSN: 1998-4162).("Y" Category).
3.
M. Shahzad Anjum, Arshad Hasan (2020), "Basing Portfolio Investment Decisions on P/E Premium and Expected Returns in Pakistani equity Market, Reviewed and Accepted for publication in Global Management Journal For Academic & Corporate Studies,Vol.10,Issue 1, ISSN: 2219 -6145 ). ( "Y" Category)
4.
Zaibunnisa, Saima Rafique, Mubashir Ali Khan, M. Shahzad Anjum (2019), "Evaluating Brand Relationship Quality Through Social Media Interaction, Paper published in International Journal of History and Social Sciences, ISSN 2221-6804, EISSN 2305-0187. ( "Y" Category)
5.
Samia Idress, M.Shahzad Anjum (2020), "The mediating effect of commitment between soft HR practices and Job Performance: Empirical Findings from Senior School Teachers, Reviewed, and Accepted for Publication in Journal of Business & Economics. ISSN (print): 2075-6909. ("X" Category)
6.
M. Shahzad. Anjum, A. H. Abu Bakar (2015), "Analysis of Firm Financial Performance Models in Construction Industry, Paper Published in Applied Mechanics and Materials Journal, ISSN print 1660-9336 ISSN cd 1660-9336 ISSN web 1662-7482. The Journal is Indexed by Elsevier: SCOPUS and Ei Compendex (CPX). Cambridge Scientific Abstracts (CSA) Chemical Abstracts (CA), Google and Google Scholar, ISI (ISTP, CPCI, Web of Science), Institution of Electrical Engineers (IEE). ("W" Category)
7.
M. Shahzad Anjum, A.H. Abu Bakar, Khurram Ghani (2012), "The Impact of Ownership Structure on the Firm Performance: Evidence from Pakistan", Paper published in International Journal of Academic Research, Research Part B; 2012; 4(5), 79-86. DOI: 10.7813/2075-4124.2012/B.11. ("X" Category)
8.
M. Shahzad Anjum (2008), "Implications of Bank Mergers and Acquisitions for Employees: Some Evidence from Pakistan", Jinnah Business Review, Vol. 1, September 2008.
9.
M. Shahzad Anjum (2015), "Relationship between Risk Management Practices and Financial Performance of Construction and Allied Industry Firms in Pakistan", PhD Dissertation, University Sains Malaysia, Penang, Malaysia
10.
M. Shahzad Anjum (2009), "P/E Premium and Cross-section of Expected Returns: An Empirical Evidence from Pakistan Equity Market", MS Thesis, M. A. Jinnah University, Islamabad
CONFERENCE PUBLICATIONS
1.
M. Shahzad Anjum (2014), "Analysis of Firm Financial Performance Models in Construction Industry" Paper accepted in Postgraduate Conference on Built Environment 2014 organized by School of Housing, Building and Planning, Universiti Sains Malaysia, Penang, Malaysia, 22-24th December, 2014.
2.
M. Shahzad. Anjum, A. H. Abu Bakar (2012), "P/E Premium and Cross section of Expected Returns in Pakistan's Construction Equity Market", 6th International conference & workshop on Built Environment in Developing Countries, University of South Australia, Adelaide, Australia 4th -5th December 2012.
3.
M. Shahzad Anjum (2011), "Basing Portfolio Investment Decisions on P/E Premium and Expected Returns in Pakistani Equity Market" Paper accepted for publication in International journal of Economics and Finance, Canada.