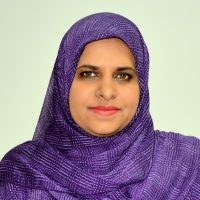 Dr. Samra Bashir (PhD AKU, Karachi)
Professor
PROFILE SUMMARY
Dr. Samra Bashir did her Ph.D. in Pharmacology from the Aga Khan University, Karachi in 2008. She has served several academic institutes in Pakistan and abroad at various positions including Professor and Principal, College of Pharmacy. Her research interests include rationalization of natural products for their therapeutic applications and drug development. She has also supervised numerous M.Phil. and Ph.D. students. Dr. Samra has authored up to 30 research articles with cumulative ISI research impact factor of 60+ and citation index over 1000. She is editorial board member and reviewer of several international journals
QUALIFICATION
PhD
Pharmacology
The Aga Khan University, Karachi
2008
MPhil
Pharmacology
Bahuddin Zakariya University, Multan
2002
B.Pharm
Bahauddin Zakariya University, Multan
1998
TEACHING EXPERIENCE
Professor
Capital University of Science and Technology (CUST), Islamabad
Since – 2018
Professor
M. Islam College of Pharmacy, Gujranwala
2016 – 2018
Assistant Professor
King Saud bin Abdulaziz University for Health Sciences, Riyadh, KSA
2014 – 2016
Assistant Professor
The Aga Khan University, Karachi
2010 – 2014
Assistant Professor
Bahauddin Zakariya University, Multan
2007 – 2010
Lecturer
Bahauddin Zakariya University, Multan
2001 – 2007
MANAGEMENT EXPERIENCE
In-charge, Departmental Health and Safety Committee
Department of Pharmacy, Capital University of Science and Technology, Islamabad
Since 2018
Coordinator, Curriculum Review/Academic Committee
Department of Pharmacy, Capital University of Science and Technology, Islamabad
Since 2018
Principal
M. Islam College of Pharmacy, Gujranwala
2016 – 2018
Module Coordinator
King Saud bin Abdulaziz University for Health Sciences, Riyadh, KSA
2014 – 2016
Module Chair
The Aga Khan University, Karachi
2013 – 2014
Coordinator Examinations
The Aga Khan University, Karachi
2013 – 2014
Focal Person
Department of Pharmacology, The Aga Khan University, Karachi
2012 – 2014
Member
Management Team, Department of Basic Medical Sciences, the Aga Khan University, Karachi
2012 – 2014
Member
Ethics Committee for Animal Care and Use, the Aga Khan University, Karachi
2012 – 2014
MEMBERSHIP OF PROFESSIONAL BODIES
Member
Evidence Based Complementary and Alternative Medicine
Member
Current Traditional Medicine
HONORS & AWARDS
1.
Gold Medal and certificate of merit for 1st position in M.Phil., Pharmacology
2.
Certificates of merit for 2nd, 1st and 1st positions respectively in 2nd, 3rd and 4th Pharmacy Professional Examinations
3.
Merit scholarship by Directorate of Education, Multan
4.
Research productivity award 2012-2013 by Pakistan Council for Science and Technology, Islamabad
5.
Research productivity award 2011-2012 by Pakistan Council for Science and Technology, Islamabad
6.
Award of appreciation for Excellent Productivity in Research (2012) by the Aga Khan University, Karachi
7.
Award of appreciation for promotion of continuing professional education (2012) by the Aga Khan University, Karachi
RESEARCH AREAS / INTERESTS
Scientific rationalization of natural products therapeutic uses;
Drug development;
Phytochemical evaluation;
Toxicity studies.
RESEARCH SUPERVISION
1.
PhD
Pharmacological Basis for Medicinal Use of Flaxseed (Linium usitatisimum) in Inflammatory Bowel Disease
2.
MPhil
Search for Gut Modulatory and Bronchodilator Activities from Paeonia officinalis and Syzygium cumini
3.
MPhil
Pharmacological Screening of Trianthema portulacastrum, Linn. and Urginea indica, Kunth. for Prokinetic and Antiasthmatic activities
4.
MPhil
Pharmacological Evaluation of Achyranthes aspera Linn. and Desmostachya bipinnata (L) in Gastrointestinal and Respiratory Disorders.
BOOK CHAPTERS AUTHORED
S. Bashir, A. Safdar. Coriander Seeds: Ethno-medicinal, Phytochemical and Pharmacological Profile. In Science of Spices and Culinary Herbs – Latest Laboratory, Preclinical and Clinical Studies, Atta-ur-Rahman, M. I. Chaudhary and S. Yousuf (eds), Bentham-Science Publishers, Pte. Ltd. Singapore, 2020. pp. 39-64.
S. Bashir, nfn Anila. Dietary Fiber. In Introduction to Functional Food Science, 3rd edn. Martirosyan DM (ed), Food Science Publisher; Functional Food Center, Inc., TX, USA, 2015. pp. 129-142.
S. Bashir, N. A. Khan, A. H. Gilani. Physiology of Citrate Handling by the Kidney. In Urolithiasis: Basic Sciences and Clinical Practice, J Talati, HG Tiselius, D Albala, Z Ye (eds), Springer-Verlag, 2012. pp. 183-188.
JOURNAL PUBLICATIONS
1.
S. Bashir, A. Syed, "Effective Pharmacist led interventional strategies to improves outcomes in hypertensive patients: a narrative review", Global Journal of Medical Therapeutics, vol. 3, no. 2, pp. 1-6, 2021.
2.
Mateen Abbas, Ayisha Inam, Erum Tahira, Hiba Qamar, Javeria Shakil and Samra Bashir. "Prescribing practices at a secondary healthcare setting of Islamabad, Pakistan: a descriptive cross-sectional study", Journal of Pharmaceutical Health Services Research. https://doi.org/10.1093/jphsr/rmab003, 2021.
3.
A. Khan, S. Bashir, S. R. Khan. "Antiurolithic effects of medicinal plants: results of in vivo studies in rat models of calcium oxalate nephrolithiasis—a systematic review", Urolithiasis. http://doi.org/10.1007/s00240-020-01236-0, 2021.
4.
S. Bashir, I. Hamid. "Pharmacy students' perception of learning and engagement in a flipped-classroom of a physiology course", Innovations in Education and Teaching International. https://doi.org/10.1080/14703297.2020.1871395 pp. 1-9, 2021.
5.
S. Bashir, A. U. Khan, M. Mahmood, M. Abbas, S. AKhtar, A. Waheed, "Students' perception of the learning environment in private-sector pharmacy institutes of Pakistan", Pharmacy Education, Vol 20, no. 1, pp. 1-7, 2020.
6.
A. H. Palla, A. H. Gilani, S. Bashir, Najeeb Ur Rehman, "Multiple Mechanisms of Flaxseed: Effectiveness in Inflammatory Bowel Disease", Evidence-Based Complementary and Alternative Medicine, vol. 2020, Article ID 7974835, https://doi.org/10.1155/2020/7974835, 2020.
7.
F. khurshid, S. Bashir, and B. Noushad, "Prescription writing through the lens of the threshold concept framework: a narrative review," Research and Development in Medical Education, vol. 9, no. 11, pp. 11, 2020.
8.
S. Bashir. "Pharmacological importance of Manilkara zapota and its bioactive constituents", Boletin latinoamericano y del caribe de plantas medicinales y aromaticas", vol. 18, pp. 347 – 358, 2019.
9.
S. Bashir, S. Abbas, A. Khan, "Pharmacological studies on prokinetic and laxative effects of Trianthema portulacastrum", Linn. International Journal of Complementary and Alternative Medicine, vol. 11, pp. 368-373, 2018.
10.
S. Bashir, S. Abbas, S. Mandukhail and A. H. Gilani, "The airway relaxant effect of horse purslane, Trianthema portulacastrum, Linn. (Aizoaceae), is mediated through dual blockade of muscarinic receptors and Ca2+ influx", Journal of Pharmaceutical Research International, vol .23, pp. 1-9, 2018
11.
H. M. A. Rahman, S. Bashir, S. Mandukhail, S. Huda and A. H. Gilani, "Pharmacological evaluation of gut modulatory and bronchodilator activities of Achyranthes aspera linn.", Phytotherapy Research, vol. 31, pp. 1776-1785, 2017
12.
S. Fatima, A. Syed, S. Azhar, M. Dawood and S. Bashir, "Medical students perception and practice of self-medication: vision of future practitioner in Pakistan", British Journal of Pharmaceutical Research, vol. 17, pp. 1-8, 2017
13.
S. Bashir, "CYP2D6 gene polymorphism in Pakistani population", International Journal of Complementary and Alternative Medicine", vol. 7, 00228. DOI: 10.15406/ijcam.2017.07.00228, 2017
14.
U. Arshad, S. Bashir, Najeeb-Ur-Rehman, T. Yaqub and A. H. Gilani, "Dual Inhibition of Ca+2 Influx and Phosphodiesterase Enzyme Provides Scientific Base for the Medicinal Use of Chrozophora prostrata Dalz. in Respiratory Disorders", Phytotherapy Research, vol. 30, pp. 1010-1015, 2016
15.
A. H. Palla, N. A. Khan, S. Bashir, Najeeb ur-Rehman, J. Iqbal and A. H. Gilani, "Pharmacological basis for the medicinal use of Linum usitatissimum (Flaxseed) in infectious and non-infectious diarrhea", Journal of Ethnopharmacology, vol. 160, pp. 61–68, 2015
16.
A. Aleem, K. H. Janbaz, M. H. Mehmood, S. Bashir, F. Jawed, Najeeb-ur-Rehman and A. H. Gilani, "Pharmacological studies on antidiarrheal, gut modulatory, bronchodilatory and vasodilatory activities of Myrica nagi", International Journal of Pharmacology, vol. 11, pp. 888-898, 2015
17.
M. Yasin, K. H. Janbaz, I. Imran, A. H. Gilani and S. Bashir, "Pharmacological studies on antispasmodic, bronchodilator and antiplatelet activities of Abies webbiana", Phytotherapy Research, vol. 28, pp. 1182-1187, 2014
18.
H. M. A. Rahman, S. Bashir and A. H. Gilani, "Calcium channel blocking activity in Desmostachya bipinnata (L.) explains its use in gut and airways disorders" Phytotheapy Research, vol. 27, pp. 678-684, 2013
19.
S. Bashir, S. Abbas, A. Khan and A. H. Gilani, "Studies on bronchodilator and cardiac stimulant activities of Urginia indica", Bangladesh Journal of Pharmacology, vol. 8, pp. 249-254, 2013
20.
M. A. Chaudhary, I. Imran, S. Bashir, M. H. Mehmood, Najeeb-ur Rehman and A. H. Gilani, "Evaluation of gut modulatory and bronchodilator activities of Amaranthus spinosus Linn", BMC Complementary and Alternative Medicine, vol. 12:166 doi:10.1186/1472-6882-12-166, 2012
21.
Najeeb-Ur-Rehman, S. Bashir, A. J. Al-Rehaily and A. H. Gilani, "Mechanisms underlying the antidiarrheal, antispasmodic and bronchodilator activities of Fumaria parviflora and involvement of tissue and species specificity", Journal of Ethnopharmacology, vol. 144, pp. 128-137, 2012
22.
K. H. Janbaz, U. Zia, M. H. Mehmood, S. Bashir, M. I. Choudhary and A. H. Gilani. Anti-inflammatory, free radical scavenging and calcium antagonist activities of Corchorus fascicularis Lam. crude extract. The Journal of Animal and Plant Sciences 22, 954-959, 2012
23.
S. Abbas, S. Bashir, A. Khan, M. H. Mehmood and A. H. Gilani, "Gastrointestinal stimulant effect of Urginea indica Kunth. and involvement of muscarinic receptors", Phytotherapy Research, vol. 26, pp. 704-708, 2012
24.
A. Khan, S. Bashir and A. H. Gilani, "An in vivo study on the diuretic activity of Holarrhena antidysentrica". African Journal of Pharmacy and Pharmacology, vol. 6, pp. 454-458, 2012
25.
U. Arshad, K. H. Janbaz, S. Bashir, Najeeb-ur-Rehman, M. H. Mehmood and A. H. Gilani, "Ethnopharmacological studies on Chrozophora prostrata in perspective of its folkloric reputation as purgative", Bangladeh Journal of Pharmacology, vol. 7, pp. 243-248, 2012
26.
F. Saqib, K. H. Janbaz, M. F. Latif, A. H. Gilani and S. Bashir, "Ethnopharmacological studies on antispasmodic, bronchodilator and antiplatelet aggregation activities of Blepharis edulis, pers.", Asian Journal of Natural and Applied Sciences, vol. 1, pp. 33-45, 2012.
27.
S. Bashir and A. H. Gilani, "Antiurolithic effect of berberine is mediated through multiple pathways", European Journal of Pharmacology, vol. 651, pp. 168-175, 2011
28.
S. Bashir, R. Memon and A. H. Gilani, "Antispasmodic and Antidiarrheal activities of Valeriana hardwickii Wall. rhizome are putatively mediated through calcium channel blockade", Evidence-Based Complementary and Alternative Medicine, Doi:10.1155/2011/304960, 2011
29.
A. Khan, S. Bashir, S. R. Khan and A. H. Gilani, "Antiurolithic activity of Origanum vulgare is mediated through multiple pathways", BMC Complementary and Alternative Medicine, vol. 11, 96 (DOI:10.1186/1472-6882-11-96), 2011
30.
S. Bashir, A. H. Gilani, A. A. Siddiqui, S. Pervez, S. R. Khan, N. J. Sarfaraz and A. J. Shah, "Berberis vulgaris root bark extract prevents hyperoxaluria induced urolithiasis in rats", Phytotherapy Research, vol. 24, pp. 1250-1255, 2010
31.
A. H. Gilani, A. Khan, A. Khan, S. Bashir, Najeeb-ur-Rehman and S. Mandukhail, "Pharmacological basis for the medicinal use of Holarrhena antidysenterica in gut motility disorders", Pharmaceutial Biology, vol. 48, pp. 1240-1246, 2010
32.
S. Bashir and A. H. Gilani, "Antiurolithic effect of Bergenia ligulata rhizome: an explanation of the underlying mechanisms", Journal of Ethnopharmacology, vol. 122, pp. 106-116, 2009
33.
Q. Jabeen, S. Bashir, B. Lyoussi, A. H. Gilani, "Coriander fruit exhibits gut modulatory, blood pressure lowering and diuretic activities", Journal of Ethnopharmacology, vol. 122, pp. 123-130, 2009
34.
N. Aziz, M. H. Mehmood, S. R. Mandukhail, S. Bashir, S. Raoof and A. H. Gilani, "Antihypertensive, antioxidant, antidyslipidemic and endothelial modulating activities of a polyherbal formulation (POL-10)", Vascular Pharmacology, vol. 50, pp. 57-64, 2009
35.
S. Bashir and A. H. Gilani, "Studies on the antioxidant and analgesic activities of Aztec marigold (Tegetes erecta) flowers", Phytotherapy Research, vol. 22, pp. 1692-1694, 2009
36.
A. H. Gilani, S. Bashir and A. Khan, "Pharmacological basis for the use of Borago officinalis in gastrointestinal, respiratory and cardiovascular disorders", Journal of Ethnopharmacology, vol. 114, pp. 393-399, 2007
37.
S. Bashir, K. H. Janbaz, Q. Jabeen and A. H. Gilani, "Studies on spasmogenic and spasmolytic activities of Calendula officinalis flowers", Phytotherapy Research, vol. 20, pp. 906-910, 2006
38.
A. H. Gilani, S. Bashir, K. H. Janbaz and A. J. Shah, "Presence of cholinergic and calcium channel blocking activities explains the traditional use of Hibiscus rosasinensis in constipation and diarrhea", Journal of Ethnopharmacology, vol. 102, pp. 289-294, 2005
39.
A. H. Gilani, S. Bashir, K. H. Janbaz and A. Khan, "Pharmacological basis for the use of Fumaria indica in constipation and diarrhea", Journal of Ethnopharmacology, vol. 96, pp. 585-589, 2005