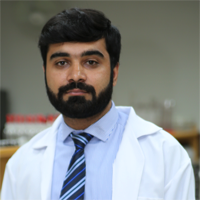 Mr. Zulkifal Malik (MPhil RIU, Islamabad)
Lecturer
PROFILE SUMMARY
Mr.Zulkifal malik completed his Pharm.D. Degree from Gomal University, Dera Ismail Khan, Pakistan. He has completed his Mphil course work in Pharmacology from Riphah International University, Islamabad. Throughout his academic career he have demonstrated excellent academic record. He has worked as Product Specialist at Pfizer Pakistan. He have extensive research interests in the areas of Neuropharmacology and Molecular Pharmacology. Currently he is working on role of thiazolidine derivatives in laboratory animal models of neuroinflammatory pain
QUALIFICATION
MPhil
Pharmacology
Riphah International Islamic University, Islamabad
2019
Pharm.D
Pharmaceutical Sciences
Faculty of Pharmacy, Gomal University, Dera Ismail Khan, Pakistan
2016
TEACHING EXPERIENCE
Lecturer
Capital University of Science and Technology (CUST), Islamabad
Since – 2020
Junior Lecturer
Capital University of Science and Technology (CUST), Islamabad
2018 – 2019
PROFESSIONAL EXPERIENCE
Product Specialist
Pfizer, Islamabad, Pakistan.
Since – 2016
MEMBERSHIP OF PROFESSIONAL BODIES
Member
Pharmacy Council of Khyber Pakhtunkhwa, Pakistan
Member
Shifa Blood donor society, Gomal University.
HONORS & AWARDS
1.
First Prize for best Power Point Presentation awarded by Gomalian students' council (2015).
2.
Second Position in M.Phil. Second semester (course work), prize worth 14 thousand PKR.
RESEARCH AREAS / INTERESTS
Neuroinflammatory Pain;
Neuroimmune System;
Alcohol Induced Liver Injury;
Drug Discovery.