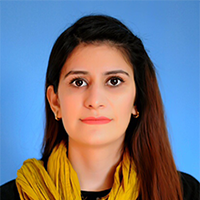 Ms. Sana Gul (MS NUST, Islamabad)
LECTURER
QUALIFICATION
PhD Scholar
Structural Engineering
National University of Science and Technology Islamabad (NUST)
Since – 2019
MS
Structural Engineering
National University of Science and Technology Islamabad (NUST)
2017
BS
Civil Engineering
UET Peshawar
2014
TEACHING EXPERIENCE
Lecturer
Capital University of Science and Technology Islamabad
Since 2017
MANAGEMENT EXPERIENCE
Coordinator
Curriculum Review Committee (CRC)
Since – 2017
Co-coordinator
Final Year Design Project
2017 – 2018
MEMBERSHIP OF PROFESSIONAL BODIES
Registered Engineer
Pakistan Engineering Council (PEC)
JOURNAL PUBLICATIONS
1.
Self-Consolidating Paste Sys tems Containing Acacia Nilotica Gum Powder" Syed Ali Rizwan, Sana Gul and Thomas A.Bier, ACI Materials Journal, USA, January 2019, DO I: 10.14359/51706841
2.
N. Sohaib, M. Sarfaraz., Sana G., "Use of Acrylic polymer for stabilization of clayey Soil "International Journal of Scientific and engineering research, issue 11 November 2018
CONFERENCE PUBLICATIONS
1.
Limitations of Non-linear Analysis of Multi-storey Structures – A Review" Bashir, A., Gul, S., Ali, M., International Civil Engineering Conference (ICEC-2020), 13th and 14th March 2020, NED Karachi.
2.
G. Sana, N. Sohaib, "Concrete Containing Recycled Rubber Steel Fibre, proceeding of "25th International Conference on Fracture and Structural Integrity" Italy, 10-12 June 2019.
3.
Ismail, S., Tariq, S, Gul, S. and Ali, M. (2018). Seismic Construction Practices of Commercial RCC Buildings via Visual Inspection in Developing Countries. NZSEE 2018 Conference. April 24th Paper 0063.
4.
N. Sohaib, Seemab, F., Sana G., R. Mamoon, "Using Polypropylene Fibers in Concrete to achieve maximum strength" Proceeding of "8th International Conference of Advances in Civil and Structural Engineering" Kuala Lumpur, Malaysia 03-04 Feb, 2018.