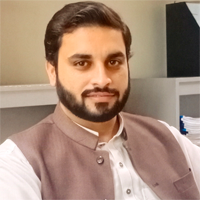 Mr. Abdur Rauf
Junior Lecturer
PROFILE SUMMARY
Abdur Rauf received his bachelor's degree in Electrical Telecommunication Engineering from Gomal University Dera ismail khan, kpk Pakistan in 2018. He received Master 's degree in Electrical Control Engineering from CEME NUST Islamabad in 2021. He was CORE NETWORK Engineer at HUAWEI Pakistan until 2021. Since 2021 he has been with Capital University of Sciences and Technology, Pakistan. His area of interest is telecommunication, 5G, Control system and MPC. Abdur Rauf is a registered engineer at Pakistan Engineering Council.
QUALIFICATION
MS
Electrical Engineering
National University of Science and Technology, Islamabad
2021
BS
Electrical Engineering
Gomal University, D.I. Khan
2018
TEACHING EXPERIENCE
Junior Lecturer
Capital University of Science and Technology (CUST), Islamabad
Since – 2021

INDUSTRIAL EXPERIENCE
Core network Engineer
HUAWEI Pakistan
2020 – 2021
Internee Engineer
AL MOIZ industries (PVT)
2017
MEMBERSHIP OF PROFESSIONAL BODIES
Registered Engineer
Pakistan Engineering Council (PEC)
HONORS & AWARDS
1.
Recipient of laptop from "Prime minister laptop scheme" in 2018
2.
Received Fully funded Scholarship In NUST from "Chief Minister KP Scheme"
3.
Received Best researcher Award in "INMIC IEEE 2020"
RESEARCH AREAS / INTERESTS
Communication System
Control system/MPC Control
CONFEFENCE PUBLICATIONS
1.
Rauf, A., Malik, F. M., Ullah, H., & Ali, M. (2020, November). Model Predictive Control of 2-Degree of Freedom Robotic Manipulator with Backlash. In 2020 IEEE 23rd International Multitopic Conference (INMIC) (pp. 1-6). IEEE.