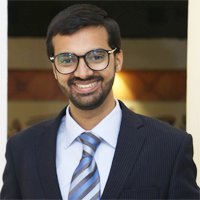 Mr. Affan Ahmad Toor (MS SZABIST, Islamabad)
PROFILE SUMMARY
Affan Ahmad Toor completed his MS degree in Computer Sciences from the Shaheed Zulfikar Ali Bhutto Institute of Science and Technology Islamabad, Pakistan, in 2019, and joined academia. Before that, he has vast experience of working in software industry in the domains like web application development, mobile development, CRM consultancy, Cloud Computing and open source technologies. He has given trainings in software houses on dotnet development and provided consultancy on various projects. He has certification in Salesforce cloud CRM, ITIL, and Microsoft technologies.
QUALIFICATION
MS
Computer Sciences
SZABIST, Islamabad, Pakistan
2019
MSc
Computer Sciences
Quaid-e-Azam University, Islamabad, Pakistan
2006
BSc
Computer Sciences
University of Punjab, Lahore, Pakistan
2004
TEACHING EXPERIENCE
Lecturer
Capital University of Science and Technology (CUST), Islamabad
Since – 2020
Visiting Lecturer
Federal Urdu University of Arts, Science And Technology, Islamabad
2019 – 2020
INDUSTRIAL EXPERIENCE
Team Lead
Predictive Analytics Lab, National Center of BigData and Cloud Computing (NCBC), SZABIST, Islamabad
2019 – 2019
Principal Software Engineer
Figover, Islamabad
2017 – 2019
Principal Software Engineer
HT Decisions, Islamabad
2018 – 2019
Senior Software Engineer
OA Systems Pvt. Ltd., Islamabad
2012 – 2017
Development Lead
Avenir Pvt. Ltd., Islamabad
2010 – 2012
Senior Software Engineer
Sofnix Pvt. Ltd., Pakistan
2008 – 2010
Data Warehouse Lead
Center of Agro-Informatics Research (CAIR), FAST-NU, Islamabad
2007 – 2008
Software Engineer
HostBreak Pvt. Ltd., Rawalpindi
2007 – 2007
RESEARCH AREAS / INTERESTS
Data Mining;
Machine Learning;
Data Stream Mining;
Healthcare Informatics;
JOURNAL PUBLICATIONS
1.
Efficient mining of IoT based data streams for advanced computer vision systems (Multimedia Tools and Application, 2020)
2.
Mining Massive E-Health Data Streams for IoMT Enabled Healthcare Systems (MDPI Sensors, 2020)
3.
A Robust Systematic Approach for Ensuring Optimal Telecom Service Delivery (IEEE Communication Magazine, 2020)
CONFERENCE PUBLICATIONS
1.
A. A. Toor, M. Usman and W. Ahmed, "A critical review of density-based data stream clustering techniques," 2016 Eleventh International Conference on Digital Information Management (ICDIM), Porto, 2016, pp. 51-61.