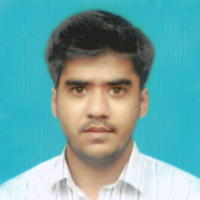 Mr. Ahmed Sheikh
Lab Engineer
PROFILE SUMMARY
Mr. Ahmed Sheikh completed the BS degree in Mechanical Engineering from the Mohammad Ali Jinnah University, Islamabad Campus, in 2017. Currently he is pursuing MS in Mechanical Engineering from CUST, Islamabad, Pakistan. His research interests include Multiphase Flows, Heat Transfer Enhancement, Thermodynamics and Thermo-economic analysis of organic Rankine cycles. He is also serving as Lab Engineer in department of Mechanical Engineering at Capital University of Science & Technology, Islamabad.
QUALIFICATION
BS
Mechanical Engineering
Mohammad Ali Jinnah University, Islamabad
2017
FSc
Pre-Engineering
Punjab College of Commerce
2013
TEACHING EXPERIENCE
Lab Engineer
Capital University of Science and Technology (CUST), Islamabad
Since – 2018
MANAGEMENT EXPERIENCE
Chair
Mohammad Ali Jinnah Society for Energy and Environment
2014 – 2015
Vice President
Engineer`s Voice
2015 – 2016
Campus Amabassador
Anti-Narcotics Force
2015 – 2017

MEMBERSHIP OF PROFESSIONAL BODIES
Registered Engineer
Pakistan Engineering Council (PEC), Islamabad
Member
Anti-Narcotics Force North Region

HONORS & AWARDS
1.
Received Honor for best Event Head at Youth convention of Anti-Narcotics Force 2016
2.
Received 6 Dean's Honor Roll Certificates on securing CGPA greater then SGPA 3.5

RESEARCH AREAS / INTERESTS

Multiphase Flows;
Organic Rankine cycles;
Heat Exchangers;
Heat Pipes.