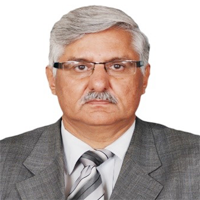 Dr. Arif Vaseer
ASSOCIATE PROFESSOR/ DIRECTOR CORPORATE LINKAGES
PROFILE SUMMARY
Dr. Arif Vaseer holds Ph.D. – Marketing and BBA, MBA –Marketing from (Michigan State University, USA, 1989.) Upon completing his MBA, he worked in the USA with Burger King Corporation. Mr. Vaseer relocated to Pakistan in 1991 and joined the marketing department of renowned Industrial Units such as Textile, Toyonasic, and Army welfare Trust etc. He switched to academia and became an Assistant Professor and Program Manager, MBA Programs of International Islamic University, Islamabad. (1998-2001). He joined Mohammad Ali Jinnah University-MAJU in 2001 as Assistant Professor, and given the responsibility of Controller of Examinational along with the teaching. Mr. Vaseer promoted as Associate Professor, Marketing in (2006). He has served and given responsibilities in different capacity such as Director Quality Enhancement Cell, Director Corporate Linkage and members of different committee of the university and the Faculty of Management Sciences at Capital University of Science and Technology.
Dr. Vaseer has over 20+ years of teaching & Corporate experience with the different multinational and national organizations. He is also a board member of different organization such as American Marketing Association (AMA), Marketing Association pf Pakistan (MAP), Rotary Club of Islamabad, Hungarian Friendship Association, Institute of Rural Management (IRM) and Michigan State University Alumni Association.
Dr. Vaseer main research area is Internal and Social Marketing. He has Participated and presenting his Research work in the different International Research Conferences. He has also awarded the European Union scholarship and visited France, Hungary, Malaysia and Germany.
QUALIFICATION
PhD
Marketing
Capital University of Science & Technology, Islamabad
2018
MS
Management Sciences
National University of Language, Islamabad
2007
MBA
Marketing and Sales Management
Michigan State University, USA
1989
BBA
Economics and Marketing
Michigan State University, USA
1987
TEACHING EXPERIENCE
Associate Professor
Capital University of Science & Technology, Islamabad
Since – 2015
Assoaciate Professor
Mohammad Ali Jinnah University, Islamabad Campus
2006 – 2015
Assistant Professor
Mohammad Ali Jinnah University, Islamabad Campus
2001 – 2005
Assistant Professor
International Islamic University, Islamabad
1999 – 2001
INDUSTRIAL EXPERIENCE
Marketing Manager
Army Welfare Trust, Lahore
1995 – 1999
Deputy Manager
Nasir Siddiq Corporation (Pakistan) Ltd
1994 – 1995
Marketing Manager
Zahoor Textile Mills Ltd., Lahore
1991 – 1993
Assistant Manager
Marketing, Burger King Corporation, USA
1990 – 1991
MANAGEMENT EXPERIENCE
Director Corporate Linkages
Capital University of Science & Technology, Islamabad
Since – 2020
Director Quality Assurance
Capital University of Science & Technology, Islamabad
Since – 2015
Director Quality Assurance
Mohammad Ali Jinnah University, Islamabad
2010 – 2015
Controller of Examination
Mohammad Ali Jinnah University, Islamabad
2007 – 2008
MEMBERSHIP OF PROFESSIONAL BODIES
Board Member Pak-Hungarian Friendship Assoication
Embassy of Hungary
Member, International Students Counseling Committee (M.S.U)
Michigan state University. east lansing. Michigan
Members for steering /organizing committee for "MARCON"(Marketing Conference
Marketing Association of Pakistan
o Member Board of Director, Rotary Club of Islamabad Cosmopolitan area
Rotary Club of Islamabad Cosmopolitan
Professional member of Human Resources Development Network (HRDN)
Human Resources Development Network (HRDN)
Member and Memebrfor National Business Accreditation Council of HEC(NBEAC)
HEC. (Higher education Commision of Pakistan)
Member of National Business Accreditation Council of HEC(NBEAC)
Higher Eductaion commission of pakistan
Member and Vice President of ( Islamabad Chapter)
Marketing Association of Pakistan
General Secretary, Pakistan Students Association, M.S.U, U.S.A
Michigan state University. East Lansing. Michigan
HONORS & AWARDS
1.
Scholarship awarded to me by EU's, Erasmus Mundus, Clink Scholarships Program . To participating as an exchange faculty for one month as part Teacher Training program at Corvinus University of Budapest (CUB). Hungry.
2.
Selected for European Union exchange program for two month at University of Lyon, Lyon Franc.
3.
Developed the Modules for the International Organization of Migration (IOM) on " The Role of Marketing and Labour Migration Opportunities" in EU Member States and Responsibilities of Labour Exporting Countries
4.
nternational workshop on "Marketing the services of Labor Migrants and Labor Migration Opportunities and Procedures in Selected EU Countries was organized by the International Organization for Migration, regional office for West and Central Asia, Islamabad.
5.
oInternational workshop on "Marketing the services of Labor Migrants and Labor Migration Opportunities and Procedures in Selected EU Countries

RESEARCH PROJECTS
The effect of Internal Market Orientation, Core Self Evaluatios and Motivation needs on Employee Job Satisfaction of the Front-Line Employees in Telecom sector Companies of Pakistan
2013 – 2014
View of Consumer about PASTA
Orient MeCan Erickoson
2015 – 2015
Customer Awareness and preferences of Kanas Ketchup
Kanas Ltd.
Orient Communication.
2015 – 2015
Research and Development of Brand Pakistan
EOS Consulting
2015 – 2015
Small Grant Ambassador Fund for Woman Empowerment Through Education
USAID
USAID
2015 – 2015

RESEARCH SUPERVISION
1.
MS
The Effect of Internal Market Orientation, Core Self-Evaluations and Motivational Needs on Employee Job Satisfaction of the Front-Line Employees in Telecom Sector Companies of Pakistan
2.
MS
Impact of Store Atmospherics on Store Loyalty with Mediating Role of Store Satisfaction in Departmental Stores of Pakistan
3.
MS
Impact of Organizational Justice on Customer Satisfaction: A Case of Hospitality Industry of Pakistan
4.
MS
Impact of Project Risk Management on Project Quality with the Mediating Role of Project Efficiency and Moderating Role of Project Culture.

JOURNAL PUBLICATIONS
1.
Kihombo, ., Vaseer, A.I., Ahmed, Z. et al. Is there a tradeoff between financial globalization, economic growth, and environmental sustainability? An advanced panel analysis. Environ Sci Pollut Res 29, 3983–3993 (2022). https://doi.org/10.1007/s11356-021-15878-z, 2022.
2.
Ahmed, Z., Ahmad, M., Murshed, M. et al. The trade-off between energy consumption, economic growth, militarization, and CO2 emissions: does the treadmill of destruction exist in the modern world?. Environ Sci Pollut Res 29, 18063–18076 (2022). https://doi.org/10.1007/s11356-021-17068-3
3.
Kurramovich, K.K., Abro, A.A., Vaseer, A.I. et al. Roadmap for carbon neutrality: the mediating role of clean energy development-related investments. Environ Sci Pollut Res 29, 34055–34074 (2022). https://doi.org/10.1007/s11356-021-17985-3
4.
Arif Vaseer, Khurram Shahzad "internal Marketing, Job Satisfaction and Services Quality: A Study of Higher Education Institutions of Pakistan", The Dialogue, Quarterly Research Journal, Published by Qurtuba University of Science & Information Technology. Pakistan. Volume XU, Number 4. October-December 2016.
5.
Arif Vasser-ZsófiaKenesei-KrisztinaKolos, "Antecedents of Faculty's Perception of Service Quality and Job Satisfaction: A Study of Higher Education Institutions of Pakistan", EMAC, European Marketing Acdemy, (Article in Press)2015
6.
Rana Muhammad Umar1*, Waqas Mustafa Anjum , Arif Vaseer3, "Impact of job stress on turnover of front line service employees – a mediating role of burnout ", Comprehensive Research Journal of Management and Business Studies (CRJMBS) 052 July, 2014 , (Article in Press)2014
7.
vaseer Arif, "The impact of Internal Marketing on Faculty Job Satisfaction: An Empirical Study of Public and Private Universities in Pakistan,", journal of organizational Management Studies", published by IBIMA Publishing, USA, (Article in Press) 2011