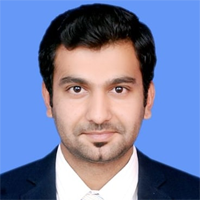 Mr. Arslan Amjad (MS PIEAS, Islamabad)
LECTURER
PROFILE SUMMARY
Mr. Arslan Amjad holds a MS degree in Computer science from Pakistan Institute of Engineering and Applied Sciences (PIEAS), Islamabad in 2017. He was fellow in the PIEAS university under PAEC. As a researcher he worked in pattern recognition lab in PIEAS for one year. His research areas are Computational Intelligence, Machine Learning and computational biology. Mr. Arslan Amjad starts academic career as a Lecturer in March 2018 since then he serves as a lecturer.
QUALIFICATION
MS
Computer Science
PIEAS, Islamabad
2017
MSc
IT
Quaid-e-Azam University, Islamabad, Pakistan
2015
BSc
Double Math, Physics
Punjab University
2013
TEACHING EXPERIENCE
Lecturer
Capital University of Science and Technology (CUST), Islamabad
Since – 2019
Lecturer
University of Lahore, Islamabad
2018 – 2019

HONORS & AWARDS
1.
Fellowship: Got Fellowship in MS degree from PIEAS University.
2.
Certificate: Got honor certificate from the FBISE in Higher Secondary School.
3.
ISACIS 2017: Presented MS work in "International Symposium on Advances in Computer and Information Sciences" held in Oct 2017.

RESEARCH AREAS / INTERESTS

Computational Intelligence;
Machine Learning;
Healthcare;
Biomedical/Bio-informatics

JOURNAL PUBLICATIONS
1.
"Raman Spectroscopy based analysis of Milk using Random Forest Classification" Published in the "Journal of Vibrational spectroscopy", Volume 99 (2018) 124-129, 6 September 2018.