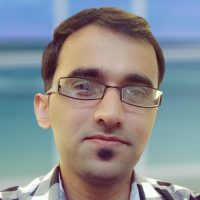 Mr. Fahim Shahzad (MS University of Bradford, UK)
SENIOR LECTURER
PROFILE SUMMARY
Mr. Fahim completed the MS degree in Personal, Mobile & Satellite communications from the University of Bradford, U.K., in 2010, and joined academia. Mr. Fahim's research interests are in Computer Networks, Mobile communications & Satellite communications.
QUALIFICATION
MS
Personal, Mobile & Satellite communications
University of Bradford, UK
2010
BE
Computer Engineering
Comsats Institute of IT, Wah cantt.
2006
TEACHING EXPERIENCE
Lecturer
Capital University of Science and Technology (CUST), Islamabad
Since – 2018
Lecturer
IQRA National University, Peshawar
2014 – 2018
Junior Lecturer
The Technical Institute, Bolton, UK.
2011 – 2013
INDUSTRIAL EXPERIENCE
Customer Services Assistant
TESCO, Bradford, UK
2009 – 2011
Customer Services Representative
Mobilink GSM, Pakistan
2007 – 2008
RESEARCH AREAS / INTERESTS
Computer Networks;
Mobile Communications;
Satellite Communications.
JOURNAL PUBLICATIONS
1.
Ghassan Husnain, Shahzad Anwar, Fahim Shahzad, Mansoor Qadir "A Comparative Analysis of Bio-Inspired Routing Algorithms for Intelligent Clustering in Vehicular Adhoc Networks" at Asian Journal of Engineering, Science and Technology, 2016, ISSN (online): 2077-1142
CONFERENCE PUBLICATIONS
1.
Ghassan Husnain, Shahzad Anwar, Fahim Shahzad "Performance Evaluation of CLPSO and MOPSO Routing Algorithms for Optimized Clustering in Vehicular Adhoc Networks" at 14th IBCAST-2017, Murree, Pakistan
2.
Ghassan Husnain, Shahzad Anwar, Fahim Shahzad, Mansoor Qadir "A Comparative Analysis of Bio-Inspired Routing Algorithms for Intelligent Clustering in Vehicular Adhoc Networks" at 1st ICEEST-2016, Karachi, Pakistan