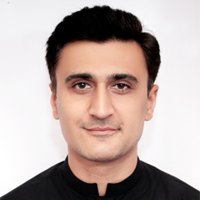 Mr. Kashif Basir (MS NUST, Islamabad)
Lecturer
QUALIFICATION
MS
Computer Software Engineering
College of Electrical and Mechanical Engineering, NUST, Islamabad
2014
BS
Computer Science
KUST, Kohat
2009
TEACHING EXPERIENCE
Lecturer
Capital University of Science & Technology, Islamabad
Since 2018
Lecturer
City University of Science & Information Technology, Peshawar
2015 – 2018
INDUSTRIAL EXPERIENCE
.NET Developer
Histone Solutions (Rawalpindi)
–
Project Officer IT (MIS)
SRSP, Peshawar
–
JOURNAL PUBLICATIONS
1.
Voice Morphing Based on Spectral Features and Prosodic Modification, International Journal of Signal Processing Systems, Volume 3, Number2, 2015.
CONFERENCE PUBLICATIONS
1.
TAES-COTS: Thorough Approach for Evaluation and Selection of COTS Products, 12th International Conference on Frontiers of Information Technology, FIT-2014.
2.
A Case-Study on Game Development Using Different Software Models with Three Person Teams:Risks and Benefits, The 3rd International Conference on Emerging Trends in Engineering, Management and Sciences,ICETEMS-2018.