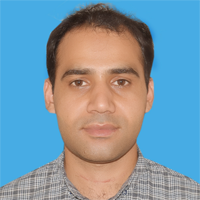 Mr. Muhammad Sulaiman
Lecturer
PROFILE SUMMARY
Mr. Sulaiman has completed his MPhil Degree in Pharmacology from Abbottabad University of Science & Technology (AUST), Abbottabad, Pakistan, in 2018. Mr. Sulaiman worked at different positions in the pharmaceutical Industry and academia. Mr. Sulaiman has broad research interests in the areas of pharmacology and molecular mechanisms of Drugs. He is interested in pursuing a career in academics, seeking a challenging position to utilize his skills and abilities in the field of education that offers a professional growth while being resourceful and innovative.
QUALIFICATION
PhD Scholar
Pharmacology
Abdul Wali Khan University, Mardan, Pakistan
–
MPhil
Pharmacology
Abbottabad University of Science & Technology, Abbottabad, Pakistan
2018
Pharm.D.
Pharmaceutical Sciences
Gomal University, DI Khan, Pakistan
2014
TEACHING EXPERIENCE
Lecturer
Capital University of Science and Technology (CUST), Islamabad
Since – September 2021
Lecturer
Department of Pharmacy, Pakistan Institute of Professional Studies, Abbottabad
March 2018-August 2021
Visiting Lecturer
Udhyana Institute of Medical Sciences, Abbottabad
October 2017 – August 2021
PROFESSIONAL EXPERIENCE
Production Pharmacist
Warafana Pharmaceuticals Ltd., Islamabad.
November 2014 – June 2016
MEMBERSHIP OF PROFESSIONAL BODIES
Member
KP Pharmacy Council, Peshawar, Pakistan
Member
Pakistan Pharmacist Association
RESEARCH AREAS / INTERESTS
Pharmacology, Physiology, Microbiology, Receptors and Intracellular Signaling Pathways, Molecular Biology, Drug Discovery, Resistance pattern and Mechanisms of Antimicrobial agents.
JOURNAL PUBLICATIONS
1.
R. Altaf, H. Nadeem, U. Ilyas, J. Iqbal, R. Z. Paracha, H. Zafar, A. C. P. Santos, M. Sulaiman, and F. Raza. "Cytotoxic Evaluation, Molecular Docking, and 2D-QSAR Studies of Dihydropyrimidinone Derivatives as Potential Anticancer Agents", Journal of Oncology Volume 2022, Article ID 7715689, 25 pages, 2022
2.
M. Sulaiman, M. Sher, M. Inam, M. H. Ali. "Comparing Methods and Finding H. pylori Infections and their Resistance to Beta Lactam Drugs as Seen in Peshawar, Pakistan", Journal of Basic and Applied Research in Biomedicine, 7(2): 5-8, 2021
3.
J. Shah, M. Sher, S. Abbas, M. Sulaiman. "Pollution Status of River Kabul near Peshawar City", Specialty Journal of Geographical and Environmental Sciences, Vol, 3 no.1, pp. 1-4, 2019
BOOK CHAPTERS AUTHORED
1.
F. H. Shah, S. J. Kim, L. Zakir, A. Ehsan, S. Riaz, M. Sulaiman and S. Salman. "Depression, Suicidal Tendencies, Hopelessness, and Stress among Patients with Learning Disabilities". Learning Disabilities, Neurobiology, Assessment, Clinical features and Treatments, IntechOpen, 2022.