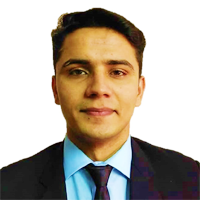 Mr. Muhammad Zia Ullah Khan (MS NUST, Islamabad)
Lecturer
QUALIFICATION
MS
Mechanical Engineering
National University of Sciences and Technology (NUST), Islmabad
2018
Master's Joint Research
Mechanical Engineering
Arizona State University, USA
2018
BS
Mechanical Engineering
COMSATS University Islamabad
2015
TEACHING EXPERIENCE
Lecturer
Capital University of Science and Technology (CUST), Islamabad
Since – 2020
Research Assistant
COMSATS University Islamabad
2019
Research Scholar
Arizona State University, USA
2018
Research Assistant
COMSATS University, Islamabad
2016
MEMBERSHIP OF PROFESSIONAL BODIES
Member
Pakistan Engineering Council (PEC)
Member
American Society of Mechanical Engineers (ASME)
HONORS & AWARDS
1.
Distinguished scholar award/certificate in recognition of outstanding achievement in energy research training.
2.
Technology Entrepreneurship Spring 2018 Demo Day Winner certificate in recognition of Development of Innovation in low cost hydroelectric power.
3.
2015 ASME International Design Engineering Technical Conferences and Computers and Information in Engineering Conferences and Additive Manufacturing 3D Printing Conference, Boston, Massachusetts, USA, August 2-5, 2015
RESEARCH AREAS / INTERESTS
Computational Fluid Dynamics (CFD);
Microfluidics;
Thermo-fluids.
JOURNAL PUBLICATIONS
1.
Loya, A. , Iqbal, A. , Nasir, M. , Ali, H. , Khan, M. and Imran, M. (2019) Automotive Aerodynamics Analysis Using Two Commonly Used Commercial Software. Engineering, 11, 22-32. doi: 10.4236/eng.2019.111003.
2.
Loya, A. , Khan, M. , Bhutta, R. and Saeed, M. (2016) Dependency of Torque on Aerofoil camber Variation in Vertical Axis Wind Turbine. World Journal of Mechanics, 6, 472-486. doi: 10.4236/wjm.2016.611033.
3.
Muhammad Zia Ullah Khan, Rumeel Ahmad Bhutta, Tahir Asif, Effect of Geometry in the Flow Behavior with Additional Riblets in Wing Structure, Pakistan Academy of Sciences, A. Physical and Computational Sciences 53 (4): 391–400 (2016).
CONFERENCE PUBLICATIONS
1.
• M Khan, M Jamil, and S Omer, Investigation of Optimum Temperature Regulating Technique for Shell and Tube Type Heat Exchanger. In: D. M. Akbar Hussain, G. S. Tomar, Bishwajeet Pandey. Proceeding of the International Conference on Recent Trends in Computer Science and Electronics 2018; 2018 Jan 02-03; Wattana 10110 Bangkok, Thailand: Gyancity International Publishers ISBN- 978-81-938900-7-3.