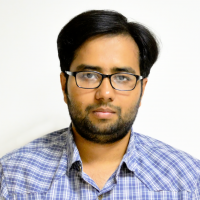 Mr. Omaid Ghayyur (MS CUST, Islamabad)
Lecturer
QUALIFICATION
MS
Software Engineering
Capital University of Science & Technology, Islamabad
2018
BS
Bioinformatics
Mohammad Ali Jinnah University, Islamabad
2014
TEACHING EXPERIENCE
Lecturer
Capital University of Science and Technology (CUST), Islamabad
Since – 2019
Junior Lecturer
Capital University of Science and Technology (CUST), Islamabad
2018 – 2019
INDUSTRIAL EXPERIENCE
Chief Technical Officer & SQA
Techno Keet Pvt. Ltd.
Since – 2016
IT Business Analyst & QA
HawksGames
2015 – 2015
Quality Assurance Team Lead
Arous Technology
2014 – 2015
Quality Assurance Resource
Arous Technology
2014 – 2014
Internship
Genetics Resource Center
2013 – 2013
Internship
Poultry Research Institute
2012 – 2012
HONORS & AWARDS
1.
2 Chancellor Honors in MS
2.
7 Dean Honors
3.
1 Chancellor Honor in BS
CONFERENCE PUBLICATIONS
1.
Protein-Protein Interaction Network of Prostate Cancer Paper presented in I.E.E.E. International Conference IBCAST 2019.
2.
Microarray Data Analysis of Prostate Cancer Presented the Research Paper in International Young Engineers Convention 3 Days Conference held in UET Lahore.
3.
Identification of Major Proteins for Prostate Cancer using Microarray Data Analysis Presented the Research Work in 2nd International Conference on Emerging Trends in Bioinformatics & Computational Biology held at M.A.J.U. Islamabad.
4.
Time Efficient Novel Parallel Technique for Needleman Wunsch & Smith Waterman Algorithms Presented the paper in I.E.E.E. International Conference held at Sukkur IBA University.