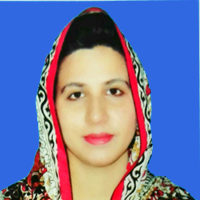 Ms. Faria Nazir (PhD Scholar UET, Taxila)
Lecturer
QUALIFICATION
PhD Scholar
Software Engineering
University of Engineering & Technology, Taxila
2018
MS
Software Engineering
University of Engineering & Technology, Taxila
2015
BS
Software Engineering
University of Engineering & Technology, Taxila
2013
TEACHING EXPERIENCE
Lecturer
Capital University of Science and Technology (CUST), Islamabad
Since – 2019
Lecturer
The University of Lahore, Lahore, Pakistan
Since – 2018
Lecturer
Barani Institute of Management Sciences, Rawalpindi Pakistan
2015 – 2015
Assistant Tutor/ Assistant Examiner
University of Engineering & Technology, Taxila, Pakistan
2013 – 2015

INDUSTRIAL EXPERIENCE
Internship
ID Technologies, Islamabad, Pakistan
2011 – 2011

HONORS & AWARDS
1.
Achieved Scholarship on getting top position in Software Engineering (5th, 6th and 7th Semester).
2.
Award of Honor for securing CGPA more than 3.7 in BSc and MS Software Engineering.
3.
Scholarship for MS – 15000 Rupees/month from UET Taxila
4.
Participation certificate in UET Taxila projects exhibition "DJACE" (Development in Java Creativity Exhibition).
5.
Certificate for attending workshop of Android.

JOURANAL PUBLICATIONS
1.
"Social media signal detection using Tweets Volume, Hashtag, and Sentiment Analysis" published in Journal of multimedia tools and application, Springer.
2.
"Security Management in Cloud Computing to Secure Cloud from Data Loss" published in International Journal of Knowledge, Innovation and Entrepreneurship.
3.
"An Arabic mispronunciation detection system based on frequency of mistakes for Asian speakers" submitted in Journal of Artificial Intelligence Review.
4.
"Mispronunciation Detection using Deep Convolutional Neural Network Features based Model for Arabic Phonemes" submitted in IEEE Access.