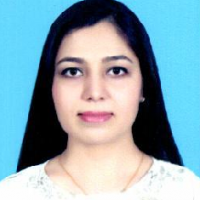 Ms. Hajra Klair (MS Tokyo Institute of Technolgy, Japan)
LECTURER
PROFILE SUMMARY
Ms. Hajra completed her MS in Computer Science from Tokyo Institute of Technology in 2016. Since then she has worked in academia as a lecturer, first at SEECS, NUST and now at CS Deptt. CUST. Previously she has worked in industry as a software developer and software quality assurance engineer after her graduation from GIKI as a software engineer.
QUALIFICATION
MS
CS (Data Mining)
Tokyo Institute of Technology
2016
BE
Software Engineering
GIKI, Topi, Pakistan
2011
TEACHING EXPERIENCE
Lecturer
Capital University of Science and Technology (CUST), Islamabad
Since – 2017
Lecturer
School of Electrical Engineering and Computer Science, National University of Science and Technology (SEECS-NUST)
2016
HONORS & AWARDS
1.
Monbukagakusho Scholarship for Master Degree in Japan
2.
Dean's Roll of Honor in two undergraduate semesters at GIKI
RESEARCH AREAS / INTERESTS
Machine Learning;
Data Science;
Social Network Analysis.
CONFERENCE PUBLICATIONS
1.
M. Shaheer Hassan, Hajra Klair, "Monarch Butterfly Inspired Migration Pattern for Multi-Population Genetic Algorithms" in Genetics and Evolutionary Methods (GEM), WorldComp 2010
2.
Muhammad Salman, Hajra Klair, "Qualitative and Quantitative Modeling of the Artificial Citizens using Genetic Methods" in International Journal of Informatics and Communication Technology (IJ-ICT), April 2015