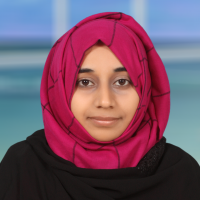 Ms. Kainat Batool
Lab Engineer
PROFILE SUMMARY
Civil Engineering graduate with adequate knowledge of design and management. Always willing to work in a challenging and learning environment for the prosperity of future generation through education. Good experience with Outcome based education system. MS scholar of geotechnical engineering from NUST.
QUALIFICATION
BS
Civil Engineering
Capital University of Science & Technology, Islamabad
2018
Intermediate
Pre-Engineering
Askaria College (Girls Wing), 117-Market Road, Rawalpindi Cantt.
2014
TEACHING EXPERIENCE
Lab Engineer
Capital University of Science and Technology (CUST), Islamabad
Since – 2018
INDUSTRIAL EXPERIENCE
Internship
Zeeruk International, Islamabad
2017 – 2017
HONORS & AWARDS
1.
Got 1 Dean Honor award for securing more than 3.5 GPA.
2.
Took part in intra-departmental debate competition held by Engineer's vice society (Civil Chapter) and secured 2nd position at CUST, Islamabad.
3.
Event Management and participation
CONFERENCE PUBLICATIONS
1.
Batool, K., Ayaz, G., and Ali, M., (2017). Seismic Vulnerability Assessment of Brick Masonry Houses with Street Survey in Developing Countries. Annual Australian Earthquake Engineering Society Conference, Canberra, November 24-26. Paper 425.
2.
Batool, K., and Ali, M,, "Construction practices of masonry houses in private societies of developing countries from seismic resistance aspects", Annual New Zealand Society for Earthquake Engg Technical Conf., Auckland, New Zealand. April 13-15., Paper P2.01, 2018.