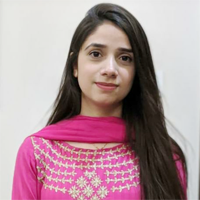 Ms. Omama Tanvir (MS AU, Pakistan)
LECTURER
PROFILE SUMMARY
Motivated and dedicated educator with a two year experience delivering educational assistance and instruction to various levels of learners. Committed to providing students with the necessary tools to achieve academic goals and instilling in them excellent interpersonal and communication skills with an enhanced proficiency in English Language.
QUALIFICATION
MS
English Language and Literature
Air University, Islamabad
2019
BS
English Language and Literature
International Islamic University, Islamabad
2016
TEACHING EXPERIENCE
Lecturer
Capital University of Science and Technology (CUST), Islamabad
Since – 2020
Teacher
Army Public School, DHA Campus
–
HONORS & AWARDS
1.
Received a Commendation Certificate/ Best research Certificate for my thesis.
2.
Received Distinction and Merit Scholarship.
JOURNAL PUBLICATIONS
1.
'Newspaper Racial Agenda: A Critical Discourse Analysis' in Corpurum, the first Corpus Linguistics journal of Pakistan.
2.
'Deconstructive Analysis Of The Short Story "Saleema" By Daniyal Mueenuddin' in University of Chitral Journal of Linguistics and Literature
CONFERENCE PUBLICATIONS
1.
'A Corpus-based Critical Discourse Analysis of Racial Stereotyping in American Newspapers' in Asia Pacific Corpus Linguistic Conference at Japan