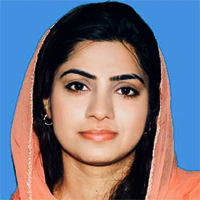 Ms. Rabia Afzal Minhas (PhD Scholar UET, Taxila)
LECTURER
PROFILE SUMMARY
Ms. Rabia completed her MS in Software Engineering from UET Taxila. She is a Registered Engineer and joined academia in 2018 as a Lecturer. Rabia's research interests are Artificial Intelligence and Deep learning. She has an Impact Factor journal publication in Switzerland and a conference publication in (ICSPIS- UAE).
QUALIFICATION
PhD Scholar
Software Engineering
University of Engineering and Technology (UET)
Since – 2019
MS
Software Engineering
UET Taxila
2018
BS
Software Engineering
UET Taxila
2016
TEACHING EXPERIENCE
Lecturer
Capital University of Science and Technology (CUST), Islamabad
Since – 2019
Lecturer
City University of Science and Information Technology (CUSIT), Peshawar
2018 – 2019
Teacher Assistant
Department of Computer Engineering and Software Engineering
2016 – 2018

HONORS & AWARDS
1.
Full time scholarship in MS Software Engineering in UET Taxila
2.
First price in open house and job fair 2016, UET Taxila

RESEARCH AREAS / INTERESTS

Artificial Intelligence;
Deep Learning;
Digital Image Processing.

JOURNAL PUBLICATIONS
1.
Minhas, Rabia A., Ali Javed, Aun Irtaza, Muhammad Tariq Mahmood, and Young Bok Joo. "Shot Classification of Field Sports Videos Using AlexNet Convolutional Neural Network." Applied Sciences 9, no. 3 (2019): 483.

CONFERENCE PUBLICATIONS
1.
Minhas, Rabia Afzal, and Ali Javed. "X-EYE: A Bio-smart Secure Navigation Framework for Visually Impaired People." In 2018 International Conference on Signal Processing and Information Security (ICSPIS), pp. 1-4. IEEE, 2018.