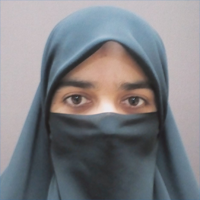 Ms. Shabana Yasmeen (MPhil QAU, Islamabad)
Junior Lecturer
QUALIFICATION
MPhil
Bioinformatics
Quaid-i-Azam University, Islamabad
2016
BS
Bioinformatics
Mohamamd Ali Jinnah University, Islamabad
2013
TEACHING EXPERIENCE
Junior Lecturer
Capital University of Science and Technology (CUST), Islamabad
Since – 2016

INDUSTRIAL EXPERIENCE
Internship
Islamabad Diagnostic Center
2012

HONORS & AWARDS
1.
Distinction( Gold medal) in BS
2.
First position in industrial Open House 2013
3.
Various certificates during Academic session including Dean's honor, research achievement award, certificates for extracurricular activities i.e. Debate, Essay writing, Sports e.t.c.

JOURNAL PUBLICATIONS
1.
Shabana Yasmeen, Abida Batool, Sajid Rashid, "T8M mutation in connexin-26 impairs the connexon topology and shifts its interaction paradigm with lipid bilayer leading to non-syndromic hearing loss", Journal of Molecular Liquids(Volume 227, February 2017, Pages 168–177).