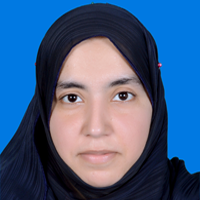 Ms. Sobia Razzaq (PhD Scholar QAU, Islamabad)
Lecturer
PROFILE SUMMARY
Ms. Sobia Razzaq completed her M.Phil. degree in pharmaceutics with specialization in Mucoadhesive buccal drug delivery, from University of Lahore, Lahore. She worked as lecturer at Akhtar Saeed College of pharmaceutical sciences in 2016 and worked as hospital pharmacist in Sheikh Zayed hospital Rahim Yar Khan in April 2019. Currently, she is engaged in research and academics.
QUALIFICATION
PhD Scholar
Pharmaceutics
Quaid-i-Azam University, Islamabad
–
M.Phil
Pharmaceutics
University of Lahore, Lahore, Pakistan
2015
Pharm.D
Pharmaceutical Science
Hamdard university Karachi, Pakistan
2012
TEACHING EXPERIENCE
Lecturer
Capital University of Science and Technology (CUST), Islamabad
Since – 2019
Hospital pharmacist
Sheikh Zayed hospital, Rahim Yar Khan
August 2016 – April 2019
Lecturer
Akhtar Saeed college of Pharmaceutical Sciences
2013 – 2016

PROFESSIONAL EXPERIENCE
Coordinator
School house of wisdom, Rahim Yar Khan
2012 – 2013
MEMBERSHIP OF PROFESSIONAL BODIES
Member
Punjab Pharmacy Council, Lahore, Pakistan
HONORS & AWARDS
1.
Gold medal as position holder for whole academic career of pharmacy.
2.
Hakeem Saeed medal for excellence performance and best student of the university.
3.
Participant of 2nd Annual Health Trigon Summit at The University of Lahore 2014.
4.
Participant and 2nd position in poster of 2nd international workshop on experimental biology Nanotheranostics from bench to bedside and beyond 2017.
RESEARCH AREAS / INTERESTS
Pharmaceutics;
Buccal drug delivery;
Polymer synthesis;
Pharmaceutical technology;
Clinical pharmacy;
Pharmacology.
JOURNAL PUBLICATIONS
1.
S. Qureshi, M. Zaman, S. Razzaq, J. Zulfiqar and A. Shumaila, A Syllogistic Introductive Review on formulation, evaluation and its benefits over other formulations. Brazilian Journal of Pharmaceutical Sciences, vol. 31, pp 35-43, 2019.
2.
S. Razzaq, S. Hanif, M. Ali syed, J. Iqbal, S. Atif Raza, H. Abid, Development and evaluation of mucoadhesive buccal tablet containing metronidazole for the treatment of periodontitis and gingivitis. Pakistan Journal of Pharmaceutical Sciences, vol.31, no.5, pp. 1903-1910, 2019.
3.
F. Javaid, A. Javeed, M. Ashraf, J. Nazir, A. Ghafoor, M. H. U. Rehman, and S. Razzaq. In vivo modulation of cellular and humoral immune response by the administration of naproxen sodium in mice. Latin American Journal 0f Pharmacy, vol.35, no.5, pp.877-883, 2016.
4.
M. Ali, S. Hanif, F. Javaid, S. Razaq, I. Wajahat, S. Sajjad and M. Ijaz, Assessment of potential drug-drug interactions in out-patients due to the trends of polypharmacy prescriptions in Pakistan: a retrospective cross sectional design. Latin American Journal of Pharmacy, vol.35 no.8, pp.1829-37, 2016.
5.
M. Zaman, S. Razzaq, R. Hassan, J. Qureshi, H. Ijaz, M. Hanif, and F. Rahman, Drug abuse among the student. Pakistan Journal of Pharmaceutical Research, Bahaudduin Zakariya University, Multan vol.01, no. 1, pp. 41-47, 2015.