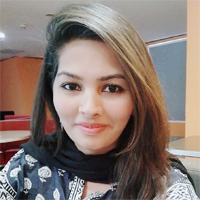 Ms. Uzma Mushtaq (MS BU, Islamabad)
LECTURER
PROFILE SUMMARY
I am a strong communicator, enthusiastic and well-motivated psychologist with an ability to work positively and therapeutically with a wide range of clientele and being able to deal with mental health issues in clients from different age groups in different settings. Seeking to excel in the field of social sciences, by making the best use of my subject knowledge, professional experience for organizational and societal development through academic counseling and teaching assistance.
QUALIFICATION
MS
Clinical Psychology
Bahria University, Islamabad
2016
BS
Psychology
International Islamic University, Islamabad
2013
TEACHING EXPERIENCE
Lecturer
Capital University of Science and Technology (CUST), Islamabad
Since – 2021
Visiting Lecturer
International Islamic University, Islamabad
2017 – 2020
Visiting Lecturer
Comsats Institute of Information Technology
2017 – 2018
INDUSTRIAL EXPERIENCE
Psychologist
Hafiz Naval Complex
2014 – 2016
HONORS & AWARDS
1.
HEC merit Scholarship in MS
2.
Certified Trauma Based Eidetic Psychotherapist
3.
Certified Practitioner of Hypnosis
4.
Certified Practitioner of CBT
5.
Professional Development Program for Faculty: Designing, managing and evaluating teaching
RESEARCH AREAS/INTRESTS
Clinical Psychology
Speech and Language Pathology
Eidetic Therapy
RESEARCH SUPERVISION
1.
BS
Relationship between adverse childhood experiences and aggression among young adults.
2.
BS
Body image dissatisfaction and self-harm among young adults.
3.
BS
Relationship between Depression anxiety stress and coping strategies among Psychology undergraduates.
CONFERENCE PUBLICATIONS
1.
Munawar, M., & Mushtaq, U. (2022, July 23). Difference between Adverse childhood experiences and aggression among young adults. [Poster presentation]. 9th International Conference on Trauma, Abuse, and Violence: Thriving for a World Without Torture organized by National Institute of Psychology, Quaid-i-Azam University, Islamabad, Pakistan