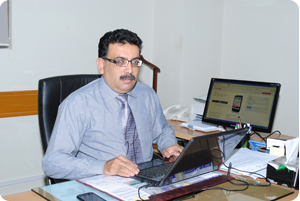 Welcome to the Faculty of Management and Social Sciences. I am pleased that you have selected Capital University of Science and Technology as the place to study for a career in business.
The Faculty of management and Social Sciences is committed to deliver competent, creative, responsible business leaders and productive citizens. Faculty of management and social sciences offers a comprehensive suite of programs. These programs equip emerging leaders with the knowledge, research insights and personal effectiveness skills to make an impact on business and society.
A special emphasis has been given on business curriculum to create business leaders with high competence and ethical values. The curriculum is augmented to focus on student's ability to frame, analyze and communicate efficiently and effectively in solving unstructured business problem through industry driven research. A unique combination of classroom experience and corporate training has been adopted in business studies to augment managerial skills, self-confidence and decision making.
We are proud to claim that the alumni of the faculty are serving in different national and multi-national organizations with professional zeal and competence. The Faculty aims to continuously strengthen its position as the leading institution in the fields of business and management sciences. We encourage you to visit our distinctive learning community in person to see what sets us apart.
We look forward to helping you succeed!
Prof. Dr. Arshad Hassan
Dean: Faculty of Management Sciences