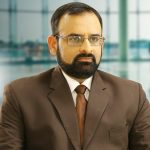 Dr. Ishtiaq Hassan, HoD Civil Engineering's Message
The Department of Civil Engineering is dedicated to produce quality professional engineers with abilities to design, manage and operate Civil Engineering based fields. These objectives are achieved through OBE (Outcome Based Education) system as per Washington Accord. The Department of Civil Engineering through outstanding faculty and state of the art lab facilities ensures that the engineers of tomorrow are not only well equipped theoretically but also have hands-on training of modern engineering tools, e.g. European made 20,000 kN Servo-Hydraulic Machine (UTM), European made flow channel, Italian made 50 kN tension/compression tri-axial machine, etc. A highly conducive environment including not only class and lab learning but also co-curricular activities, enables the student to grow professionally as well as personally & ethically.
The department is also offering graduate program in four specializations areas. There are five major research groups where the faculty is actively involved in research activities. The MS/PhD students are associated with these research groups that give them the practical experience and flavor of modern technological research.