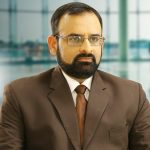 DSE initiative is aligned with the Sustainable Development Goals of the United Nation to promote environmental sustainability. CUST aims to fruition of clean and green drive by contributing to better tomorrows that it is privileged to serve. Efficient resources conservation using unique sustainable solutions is essential to social prosperity. DSE is highly committed to constructing an eco-friendly sustainable operating framework by incorporating environmental and social dynamics into processes of decision making. Becoming a sustainable and responsible educational institute not merely enhances our reputation but also enlightens a sense of pride to our students and faculty to be an integral part of an organization that cares for the planet. I believe that we need some of the world's greatest brains and minds fixed on trying to repair this planet.
Director
Directorate of Sustainability and Environment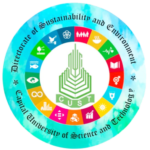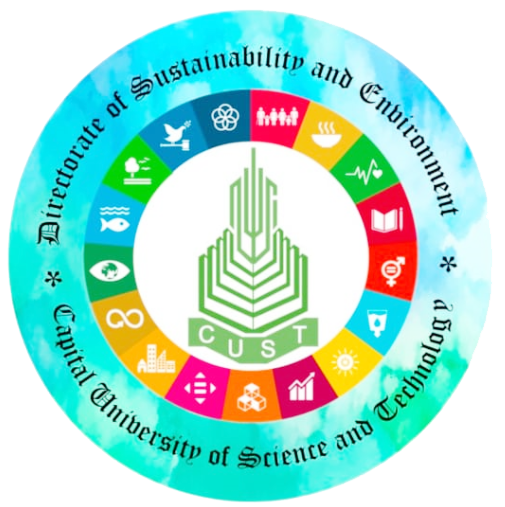 Directorate of Sustainability and Environment proudly announces the latest ranking of CUST in UI-Greenmetrics. CUST is now ranked as 7th most-sustainable university in Pakistan and 286th among 922 universities around the globe. We at DSE-CUST are striving to balance the eco-system of the campus and conservation of resources efficiently by utilizing skills and pieces of knowledge for developing several unique Eco-friendly solutions.
Our Green Policy also includes monitoring directly and inspecting academic and non academic activities, taking different actions to prevent harmful effects on the biophysical environment and natural resources. This is to ensure mitigation of harmful effects on human health and on well-being of other living organisms. At DSE-CUST, there are five major areas of focus and upgradation, namely: Efficient Infrastructure Setting, Energy Conservation, Energy Management, Bio, electrical and Solid Waste Management, Water Conservation and Management, Environmental Air Quality Assessment, and Conservation of natural flora and fauna of the area.
WHO WE ARE
The Directorate of Sustainability and Environment (DSE) is inclined to create sustainable strategies and leads those strategies and initiatives on campus physical infrastructure and programs in energy and climate, water conservation, transportation, and research and education. DSE empowers ambitious partnerships and collaborations that play a pivotal role in making the world sustainable.
OUR VISION
To integrate resource conservation practices at CUST and to value and cherish nature that fosters the wellbeing of future generations through environmental sustainability.
OUR MISSION
CUST is engaged in going green and sustainability initiatives to ensure efficient resource conservation within the campus in the service of social responsibility to the planet and promote biodiversity that remains the answer to sustainable development.
OUR STRATEGY
We strive to align our sustainability goals with the UN SDGs to build a stable natural environment. We aim to bring maximum change for the benefit of the planet and people through collaborating with disciplines and leading substantial pathways embedded with 4 R's of reduce, reuse, recycle, and rethink. In aligning with sustainability and environment commitments, CUST is dedicated to 6 key themes:
Setting and Infrastructure

Energy and Climate Change

Water Conservation

Research and Education

Waste Minimization

Transportation