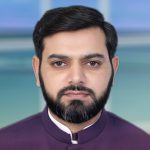 Dr. Jalil Ahmed Malik, HoD Accounting and Finance's Message
Welcome to the Department of Accounting and Finance. We invite you to explore the variety of opportunities offered in our programs. The Department of Accounting and Finance provides a high-quality accounting and finance education that integrates technical skills with the development of personal attributes necessary for the continued growth and success of our graduates. We help our students build competence in technical accounting knowledge, communication, and critical thinking, as well as analytical, interpersonal, and technological skills.
Our programs help to develop the skills for a successful and rewarding career in financial services. The coursework is challenging and practical, with additional opportunities for students to get hands-on experience which may lead to full-time positions after graduation. Outside speakers, organized field trips, and special seminars supplement our curriculum. Faculty is dedicated to providing a high-quality educational experience, enhanced by research and professional interaction.
The mission of the Department is to strengthen our international recognition and establish ourselves as an important teaching and research center in the fields of accounting and finance. We thus seek to continuously enhance the quality of our programs to achieve our mission in the best possible way and to respond to the constant and dynamic challenges of our times. I would like to close with a short message. We will always be next to you, to challenge and push you, but also to encourage and support you so that you can reach your goals.