All About BS Computer Science You Want to Know
Posted by

Categories

Blog

Date

December 20, 2022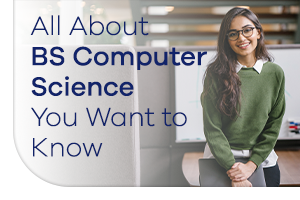 BS Computer Science is your go-to degree if you are interested in computers, technology, data and calculations. We are living in the era of tech. Therefore, studying a professional course at the university level provides ample knowledge and adequate skills relating to computer science. This article covers the essential information and professional options you could have in the market after you complete your four-year BS in Computer Science.  
Understanding Computer Science
Computer Science is a professional degree relating to computers. BS computer science results in learning various skills, including coding, software development, algorithm design, and algorithm management, with problem-solving- a necessary life skill, which is also the most significant component of computer science. The design, development, and analysis of hardware and software used to address issues in many businesses, scientific, and social contexts are topics covered by students. Computer science also has a significant human component because they address problems for people's benefit. 
Skills Essential for Computer Science Professionals
Anyone in computer science should know that a graduate must possess strong analytical skills, critical thinking ability, and sheer attention to detail skills. The ability to think creatively and generate a variety of ideas is necessary for identifying and resolving issues in this sector. 
Job Opportunities After BS Computer Science
BS Computer Sciences open a gateway to a professional career in computer science. The students learn most of the pre-requisite syllabus, skills, subjects, and tools to start their professional life.  
The BS Computer Science is a four-year degree program. That enables students with most of the rich knowledge sources and practical implementation.  
Learning Potential in BS Computer Science
While studying BS Computer Science, students will learn core subjects, major subjects, minor subjects, and practical research options. The degree comprises eight semesters. The subjects offered in BS Computer Science are as follows. 
Core courses include computing courses and computer science courses. At the same time, supporting courses include mathematics & science foundation. In addition, computer science supporting courses are also included in the due course of the degree.  
Further, degree completion includes general education courses, university electives, computer science electives, project design, internships and community service.  
Core Courses
The core courses include the subjects that develop the core information about computers. These are introductions to the programming lab, programming, digital logic, design lab, algorithms, and artificial intelligence. 
BS Computer Science Subjects 
As a part of the curriculum, various subjects are included in BS Computer Science. The curriculum is developed according to the guidelines of the higher education commission, also known as HEC of Pakistan. Therefore, you can ensure the quality of content and learning opportunities.  
Scope of BS Computer Science
BS computer science is the golden ticket to a promising career in the national and international arena. Studying in BS computer science empowers students with the most demanded skills. Therefore, they can initiate their career as any of the following.  
Mobile App Developer

 

Computer Network Architect

 

Web Administrator

 

Java Developer

 

System Analyst

 

UI Developer

 

Professor

 

Software Engineer

 

Computer Engineer

 

Software Developer

 

Data Analyst

 
Students can earn a massive amount of job opportunities in the market. They can either be employed at any institution in private or government ownership. As well as, after completing a successful BS Computer Science, students can work on a remote basis for international organisations and clients. The remuneration scale after BS Computer Science is often market competitive and high because of enormous skill demands.  
The reliable sources outline the remuneration to be in the range of 814K per year. However, the pay calculations are never fixed and are applicable to all. The rewards depend upon various factors, including area, organisation, skill set, experience, and the country's economic condition.  
Moreover, technology is constantly changing and modified. Therefore, the demand is also variating in computer sciences. However, a BS computer science puts down a solid foundation for students. The students can enrol in master's and PhD for further formal education. In addition, they can also take up some professional skill courses from reputed online and onsite institutions.  
Conclusion 
If you love data, computation, and algorithms, you can get yourself enrolled in BS Computer Science. The courses are good enough to start the initial placement in promising career avenues. However, professional degrees are always in demand with a new knowledge base and skill set. The good news is that the room for advancement is always present adequately. The more students sharpen the saw, the more they will benefit from it. You can enrol yourself in the best BS Computer Science degree today.