BS Psychology Empowers a Brilliant Career in Pakistan
Posted by

Categories

Blog

Date

January 20, 2023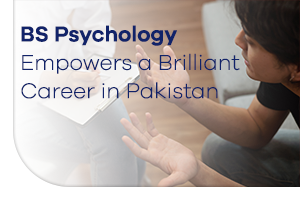 If you have an interest in human thinking and feeling. You often get attracted towards the patterns to make others convinced. Or you often think about how people react to diverse happenings. Then, you surely opt for a BS psychology from a reputed, well-equipped university in Pakistan. This article explains how studying for a professional degree in Psychology can give you a promising and bright career.  
Brief Introduction to Psychology
Psychology is a scientific way to study behaviour and the mind. It covers the conscious and unconscious mind altogether with feelings and ways of reactions. It is an interesting discipline cross-covering both natural sciences and social sciences. Therefore, it has a huge career scope.
 
BS Psychology
In Pakistan, the professional degree initiates with a bachelor's level, after completing the intermediate for foundation years.  BS Psychology is a four-year program that is offered by universities and colleges that can provide undergraduate education by law and requirements.  
Opting for BS Psychology will make you eligible for various interdisciplinary careers and opportunities. However, one crucial point to understand is that after doing a BS psychologist, you can progress your career as a psychologist. A psychologist is different from a psychiatrist. However, they are often used interchangeably.
 
Subjects of BS Psychology
The BS Psychology program offered by Capital University of Science and Technology (CUST) is prepared in accordance with the course outline and references provided by the higher education commission (HEC). It is not a lesser-known fact that HEC is the educational lighthouse in Pakistan.  
The course of BS Psychology focuses on developing a deep and detailed understanding of various sublines of Psychology. Forensic, clinical, organisational, and school psychology are some of the targeted areas of this rich course curriculum.  
Students will benefit from learning about traditional courses, core courses, major courses, and optional courses to get market-ready for various lines altogether. Some of the eye-catching subjects are as follows.  
Linguistics,

 

Computers and Analytics,

 

Regional and religious grooming,

 

Behaviours,

 

Personality,

 

Psychology,

 

Health,

 

Environment,

 

Theories,

 

Practical,

 

Research and Development courses are intelligently distributed among eight semesters of the four years of BS Psychology.

 
If you are interested in learning all the subjects offered by Cust for BS Psychology, you can check out here.  
Career Initiation after BS Psychology
After completing your BS in Psychology, you will be ready to enter the career in any of the following positions. As a psychologist, you can work at  
Hospitals,

 

Military,

 

Schools,

 

Corporates,

 

Sports, and

 

Other fields where people are the main resource.

 
Jobs & Vacancies
BS Psychology will lead you to the following job titles and positions. However, career development depends upon multiple factors.  
Clinical Psychologist

 

Criminal Psychologist

 

School Psychologist

 

Research Psychologist

 

Counselling Psychologist

 

Neuropsychologist

 

Industrial Psychologist

 

Forensic Psychologist

 

Developmental Psychologist

 

Sports Psychologist

 

Army Psychologist

 

Community Psychologist

 

Cognitive Psychologist

 
Earning Potential of a Graduate of BS Psychologist
It is impossible to put an accurate salary or earning amount under BS Psychology. The positions are numerous and diverse, and so are the earning opportunities. However, according to a trustworthy salary database, the amount for BS psychology is anticipated to be around Rs. 480 k per year.  
It is essential to do your research about the company, financial standing, market position, and ideal candidate before applying to any organisation, whether public or private.
Advanced Education after BS Psychology
BS Psychology is an undergraduate program comprised of a four-year time. After completion, students can get further professional education and specialisation in Psychology by getting enrolment in MS Psychology at CUST.  
Career advancement is always a necessity to grow professionally. Therefore, if you are looking for better opportunities, it is always great to get a graduate degree in MS Psychology, and after that, you can also go for PhD if you have a love for academics and teaching.  
Why Choose CUST for Studies?
Capital University of Science and Technology (CUST) is a prominent private-sector university located in Islamabad. It offers its students an opportunity to learn from foreign qualified faculty with world-class facilities. The university enjoys a good ranking as a university, standing at W4. Currently, we are offering 40+ programs. In addition, the CUST is a proud part of the renowned educational excellence of the PGC Family. It also has the largest energy-efficient campus in Pakistan.  
Admissions for Spring 2023 are Open!
If you have an interest in getting a ranked degree with the proper professional guidance in Psychology, it is your chance to get admission in BS Psychology or MS Psychology, as you seem workable for you. The admissions for Spring 2023 are open, and it is not a chance to miss out!