Career Growth After Completing MS Civil Engineering
Posted by

Categories

Blog

Date

January 18, 2023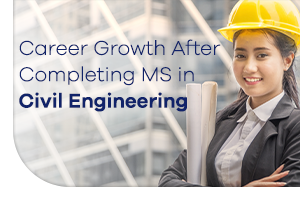 Doing a BS (Bachelor of Science) in civil engineering opens the door to entry-level jobs for you. However, MS in Civil Engineering will boost your professionalism and career growth chances. This article will evaluate your potential career growth after completing your MS in Civil Engineering.  
MS Civil Engineering Specialises your Knowledge
Building on the coursework from their undergraduate degrees, MS degrees help students hone their civil engineering skills. Students who enrol in graduate-level civil engineering programmes gain a deeper understanding of their field of study and how it affects society.  
Graduate degree programmes also give students the option to specialise, which helps them gain more knowledge in particular areas of civil engineering and opens doors to various interests and career options. In general, civil engineers with deep specialisations in their fields are in high demand.  
Networking is the Prime Benefit of MS Civil Engineering 
In addition to the expertise in the prominent field of civil engineering, the students get massive networking opportunities at the MS level of education in civil engineering. We are living in the tech-based era. Job opportunities are widely run through the on-campus recruitment trails. This enables students to get in touch with the industry representatives of various companies. Furthermore, they learn about career growth and current opportunities they could have.  
In completing the MS in civil engineering, the students also go through the thesis and research factors. For the same, they often contact approachable alumni on various levels. This skyrockets the potential of networking in their final education years.  
These, in addition to the help and guidance of the faculty, shape the future on advanced levels if the students are looking for new developments.  
MS Civil Engineering Accredits on-Job Status  
On the other hand, if the student enters a career after doing BS in civil engineering and is now thinking of attaining professional education at the next level. Then, it is MS civil engineering. Completing the MS civil engineering will increase the value of current employees and open more doors of promotions and career advancements in current and other organisations.  
Civil Engineering is Always in Demand 
By profession, civil engineering is one of the foundation careers around the world. Civil engineers design the civil sense and appearance through buildings and structures. Therefore, around the world, civil engineers are never going to be replaced. According to the U.S. Bureau of Labour Statistics, civil engineers will see growth in the next five years. It is further anticipated that careers will see an average increase of 7 % till 2031.  
Skills After MS Civil Engineering 
Civil engineers get optimal technical skills, networking skills, budgetary skills, and management skills. However, the following skills are a prominent part of their duty.  
Use various computer software to conduct technical and feasibility studies, including site investigations for creating comprehensive drawings. 

 

making intricate computations 

 

communicating with clients and a range of experts, such as architects and subcontractors 

 

creating job specifications and managing the tendering process 

 

overcoming issues with design and development 

 

controlling project resources and budgets 

 

arranging for the delivery and purchase of supplies and equipment 

 

Ensuring that the project adheres to the law, particularly regarding health and safety 

 

Evaluating a project's sustainability and environmental impact helps to ensure that everything runs smoothly and that buildings are finished on schedule and under budget. 

 
Potential Employers of Civil Engineers 
After completing a professional degree in civil engineering, the following institutions could be potential employers to civil engineers at various levels.  
Construction firms (both consultants and contractors)

 

Local government agencies and government divisions 

 

Utility firms that run trains. 

 
Coastal/marine, electricity, water, and transportation are just a few examples of the project types or disciplines in which civil engineers frequently specialise. Learn more about the main specialisations and specialisations in civil engineering here. Graduates often submit a direct application to a programme in one of these fields.  
Earning Capacity after MS Civil Engineering 
Though the current market scenario could be different from the past and future, the salary depends upon the candidate's profile, organisation status and market conditions. However, on average, civil engineers could earn up to Rs. 484,928/year.  
Nevertheless, it is always advised to do market research before finalising the career position and even after MS in Civil Engineering.  
Admission to MS Civil Engineering  
At Cust, for admission to MS in Civil Engineering, a Candidate should fulfil the following criteria.  
A minimum of 16 years of education leading to a B.Sc./ BS/ BE in Civil Engineering or equivalent. Applicants with an undergraduate degree from non-relevant areas may be required to take some undergraduate courses to fulfil pre-requisite deficiencies determined by the Graduate Admission Committee. The deficiency Cr. Hrs. will not be counted towards the minimum Cr. Hrs. requirement for the award of the MS degree. 

 

Minimum 2.00/4.00 CGPA or 50% marks 

 

Admission Test / HEC Approved Test 

 
Do not Miss out on Admissions for Spring 2023 
If you are interested in excelling in your career as a civil engineer. It is best to complete the MS Civil Engineering in 2023. Cust offers the MS in Civil Engineering with its world-class education, supportive faculty, and high market acceptance. You can further apply through online sources.