Explore Opportunities You could have after MS in Electrical Engineering
Posted by

Categories

Blog

Date

November 10, 2022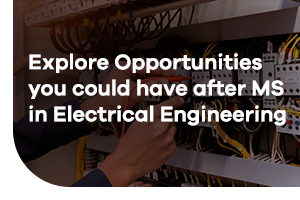 In Pakistan, career guidance has long been an issue. Every year, we witness students enrolling in courses about which they have little (or no) prior knowledge. When these same pupils realize they are not interested in the coursework, issues start to occur. We are listing down the opportunities you can avail of after completing an MS in Electrical Engineering from CUST.   This results in low morale and subpar academic achievement, all of which might have been avoided with appropriate direction from the start. This article is specifically intended to fill the gap caused by a lack of career guidance and assist you in selecting the profession that best suits you. 
What Specializations are available in MS Electrical Engineering at CUST? 
Electrical and Electronics Engineering's practical applications are emphasized in the MS programme. Graduates of the programme have the chance to develop their specific talents. Successful graduates can pursue professions in R&D, business, academia, the defence industry, and other fields.  MS in Electrical Engineering at CUST provides MS-level specializations in the following disciplines:  
Control Systems, 

 

Signal Processing, 

 

Microelectronics & Microwave, 

 

Telecommunication. 

 

Power System 

 
What are the core subjects of the MS Electrical Engineering degree programme? 
30 credit hours are a must for the successful completion of MS Electrical Engineering from CUST. The program, curriculum, and other requirements are in accordance with HEC (Higher Education Commission) program guidelines. The specializations include the following subjects in the degree of MS in electrical engineering.  
Control Systems have subjects like   
Linear System Theory 

 

Non-Linear Control Programs 

 

Control System Designs 

 

Robotics and Control 

 

Process Controls 

 

Neuro and Fuzzy Control Systems 

 

Automatic Control System 

 

Flight Control Systems 

 
Signal Processing specialization has the following subjects  
Advanced digital signal processing 

 

Advanced digital image processing 

 

Adaptive Signal processing 

 

Radar Signal Processing 

 

Computer Vision 

 

Pattern Recognition 

 

Machine Learning 

 

Filter banks and Wavelet Theory 

 

Medical Image Processing 

 

Neural Networks and Deep Learning  

 

Video Encoding and Processing 

 
Telecommunications Specialisation Subjects have the Subjects  
Digital Communication 

 

Information and Coding Theory 

 

Advanced Computer Networks 

 

Cellular and Mobile Communications 

 

Cognitive Radio Communication 

 

Multimedia Services over IP  

 

Network Security 

 

Network Programming 

 

Network Architect Designs 

 

Advanced Cryptography 

 
Complete details of the curriculum and subjects are available here.  
What abilities and Skills do I gain from studying these courses? 
The highly demanded skills that electrical engineers learn in MS Electrical Engineering are as follows.  
Circuit layout 

 

Apply the theory and analysis of linear systems. 

 

the creation of electrical diagrams 

 

gathering and analysing data 

 

Create and run computer systems 

 

Create operational strategies 

 

upkeep of electronic equipment 

 

Direct construction work and equipment maintenance 

 
However, the further learned skills gradually develop over time in students are following.  
Project Management 

 

MATLAB 

 

Engineering Design 

 

Auto DESK Auto CAD 

 

C and C++ 

 

Test Engineering 

 
Some of the skills are pre-requisite for computer engineers.  
How is the job market? 
When we talk about a flexible job market, we are talking about how easy it is to begin working in a different profession after receiving your degree. Graduates of MS in Electrical Engineering can begin their careers in a variety of industries. Graduates of EE programmes can be found working as software developers, data scientists, management staff, human resources analysts, and many other positions. While pursuing your four-year degree, you may need to pick up different talents for some of these occupations, such as learning complex programming languages or honing soft skills that will make you stand out for managerial positions.  
According to Glassdoor research, the pay of an electrical engineering graduate ranges somewhere between 68k to 218k per month. However, the type of job and organization, with other multiple factors, affects the compensation.  
From PayScale resources, the following information is viable after MS Electrical Engineering.  
To give you a sense of the range, it starts at around 15k PKR and goes all the way to (and in some cases even above) 100k PKR. Below is a more comprehensive overview.  
Research/Lab Assistants: 15k–25k PKR (depending on the university 

 

Technical Position in a Small or New Company: 30k–40k PKR 

 

Technical/Management Positions at a Reputable Company: 60-80k PKR 

 

Technical/Management Positions in Global Companies: 100,000 Pakistani Rupees 

 
Further Education Opportunities After MS Electrical Engineering 
MS in Electrical Engineering is a two-year program that pre-requisites for four years of BS Electrical Engineering education. There are massive opportunities to ace the discipline with PhD degree for degree pursuance in future. The PhD Options are viably open on national and international levels and institutions.  
How to get to the Best University for MS Electrical Engineering 
Numerous highly qualified and well-known universities in Pakistan offer MS in Electrical Engineering. However, in Islamabad, the Capital University of Science and Technology CUST is the best option because it is a well-reputed educational group initiative. In addition, in the capital of the country, the private sector university is earning a massive share of career-oriented professional students. You can check out the website for more information on spring admissions 2023. Other disciplines are also available in the university for educational purposes.