Capital University of Science and Technology focuses on the going green and sustainability strategy to bring campus eco-system at equilibrium and ensure efficient utilization of resources. CUST has become a pillar and custodian in embedding sustainability in higher education through its dedicated teaching faculty. Students conduct comprehensive research to develop unique environment friendly solutions for making sustainable change. The going green policy also incorporates directing and inspecting human actions to take useful measures for mitigating adverse impacts on the natural resources and biophysical environment. Currently, DSE is engaged in directing Waste Management, Recycling, and infrastructure that are aligned with its 6 key themes of sustainability.
RECYCLING POLICY
Capital University of Science and Technology seeks maximizing the recycling of waste materials a top priority. The recycling policy is inclined towards substantial pathways embedded with 4 R's of reduce, reuse, recycle, and rethink. The waste management team uses a paper shredder which helps the institute to handle its paper waste effectively. Trash bins with labels of Plastics, Paper, Metals, etc., are placed within the campus, so the students and faculty can help the recycling team by pre-categorizing the waste to make the recycling process more efficient, fast, and easy.
Students also steered a cleaning drive at CUST where everyone gathered and picked up garbage and other plastic-related non-recyclable items and disposed them off. Not only did this make the university a cleaner place but it also spread awareness among the students and teaching staff to support our cause.
The recycling program also caught the attention of print and electronic media including Radio Pakistan and the director of DSE was invited to live broadcast her message on a live show at Radio Pakistan. The radio broadcasts have remarkably helped to spread the message of change which calls on the masses to become responsible members of society.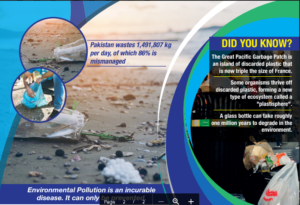 WASTE MANAGEMENT POLICY
Capital University of Science and Technology is committed to making sustainable environmental practices through effective resource management. The directorate of Sustainability and Environment (DSE) has proposed a waste management policy to contribute to the circular economy by eliminating toxic, organic, and inorganic waste from the campus. It's a pivotal initiative taken by DSE to significantly contribute to the SDGs of the United Nation at a local and regional level.
Solid waste plays a key role as a lot of waste ends up in the oceans and landfills which is causing problems for everyone by creating greenhouse gases (GHG) and increasing carbon emissions. Pakistan generates almost 48 million tons of solid waste per year which is increasing by the growth rate of almost 2.4% while the collection rate is only 60% which is also not being dumped properly.
DSE-CUST is engaged in using multiple social media platforms such as Twitter, Instagram, and Facebook to create awareness not only among people on campus but also among individuals of twin cities for making the environment clean and green. This social media campaign is actively running with the chant of "Pick up-Clean up" with an aim of saving the Earth together. CUST waste management policy targets to adopt a 'Base to zero approach', achieve a recycling rate of 70 percent by 2023, and eliminate waste production by 10 percent by 2023 across the campus.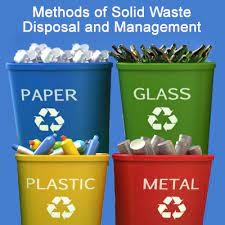 PEDESTRIAN PATH POLICY
Capital University of Science and Technology seeks to establish the Pedestrian path policy to accommodate pedestrians on campus and hence reinforcing the network. The master plan of campus has designed a framework by which the university can achieve the crucial research and academic mission of the institute while enhancing the life quality on campus, absorbing growth, and creating sustainable ethics. A keystone strategy of this pedestrian path framework is circulation and access within the campus. This policy is designed around an "integrated plan to circulation" that depends on well-utilized pedestrian networks. Besides reducing on-campus vehicular traffic, means of active transportation even diminish greenhouse gas emissions and contribute to healthy lifestyles.
CUST has performed premeditated engineering and design efforts for supporting the pedestrian network viability on campus as a top priority. The university is facilitating and supporting on-campus pedestrian network through the following engineering and design efforts:
At the design phase of the pedestrian path plan affecting paths and transportation on campus, engineering teams have identified ways to meet the pedestrians' needs. The Pedestrian Counseling Committee regularly reviews and provides input to pertain to pedestrians.

As CUST is centrally located at Expressway so, the Pedestrian Counseling Committee has reinforced connectivity of bike routes outside campus premises through demarcating and evaluating connection points from Islamabad Expressway bike routes to entry points on campus.
The vehicle parking area on campus is developed and strengthened through car lanes, signage, shared lane markings, and bike boulevards.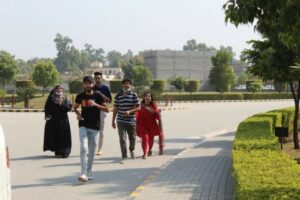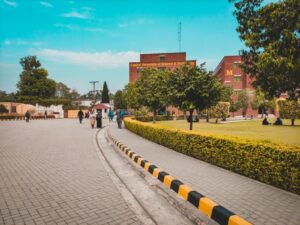 PARKING AREA POLICY
Capital University of Science and Technology has designed a parking area policy to ensure efficient utilization of limited parking resources. All university faculty and students on the campus have to register their vehicles and must show a valid parking permit. Citations will lead to various Penalties and Sanctions such as fines and warnings. To mitigate vehicle traffic on the campus, CUST has restricted entry of private vehicles to the campus except for unordinary circumstances. Also, parking spaces designated separately for faculty and students have been removed.
This policy aims to institute a formula of assigning parking permits grounded on the requestor's role on longevity and campus. The university seeks to close off-campus central areas to cars for cutting down on congestion. It will lead to a pedestrian-friendly core campus. The university will use parking lots in the following ways:
Cars must be parked merely in cars racks reserved by the university.
Motorbikes must be parked only in bikes racks allotted by the university. They shall not be parked on sidewalks or lawns.
Buses must be parked separately in buses racks to avoid vehicle congestion.
Vehicles inadequately parked might be subject to the removal of a locking device.
All vehicle operators intending to avail the campus parking facilities are required to register themselves for a parking permit to permanently affix to the vehicle.