Why is CUST the Best Choice for BS Civil Engineering?
Posted by

Categories

Blog

Date

May 23, 2023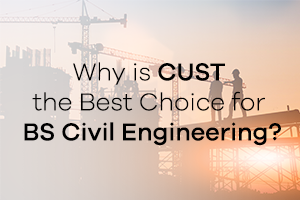 Civil engineering is a career that involves planning and building infrastructure for the general public. This profession includes building highways, power plants, sewage systems, bridges, aqueducts, canals, dams, and other structures.
Why Pursue a Career in Civil Engineering?
Civil engineers play a critical part in the:
Creating the infrastructure for communities.
Creating new real estate.
Maintaining current homes, businesses, or institutional structures.
Every construction site is your area. So, I can say that you could genuinely alter the world if you have a degree in civil engineering. However, I am listing some of the very important reasons to pursue a degree in civil engineering. 
1. Wide Range of Work Sectors
If you choose this field, you will have the opportunity to work in different sectors. You will have a variety of options, and you can increase your skills by working in a wide range of areas. These sectors include:
Geotechnical
Environmental
Power and Energy
Bridges
Structural engineering and construction
Water Resources
Transportation
2. High Scope
Pakistan has a huge demand for civil engineers. The demand is growing as a result of increased investment in town projects and housing developments like Bahria Town, DHA, and other societies.
In addition to this, CPEC and other significant international projects have raised the need for new infrastructure, including roads, airports, and transportation systems, all of which are closely related to civil engineering. Also, apart from Pakistan, the field has a growing demand internationally.
3. Excellent Salaries
The average salary of a Civil Engineer is significantly higher than that of any other engineering professional, and it can provide us with the lifestyle we desire. The average salary of a civil engineer in Pakistan is PKR 490,876 per year.
4. Travelling Opportunities
You will have the opportunity to travel a lot while being in this field. Your job will include going to several sites and new locations. You might be spending a large portion of the workday outside at job sites. You will keep an eye on construction sites, buildings, and other projects as a project engineer. In addition, you can also work as the project manager, who also operates at distant locations.
5. Positive Impact
As a civil engineer, you will have the opportunity to make a greater positive impact on your community. You will do this depending upon your expertise.
For instance, if you have BS civil engineering degree, you can focus on producing eco-friendly, sustainable structures. These structures have a beneficial overall impact on concerns about carbon emissions and energy consumption.
Similarly, if you specialize in city planning, may contribute to the development of communities that are more pleasant and encourage more efficient living.
However, where to study BS civil engineering? Which is the best place to study this degree?
Capital University of Science and Technology for BS Civil Engineering
The academic and research center "Capital University of Science and Technology (CUST)" educates its students to become responsible, productive, and committed citizens of the world who contribute to the advancement of their communities.
In addition, we are dedicated to providing an extraordinary educational experience based on engagement with humanistic, social, and scientific principles. CUST offers its students various undergraduate and postgraduate course programs, including a BS civil engineering. 
Why Choose CUST for BS Civil Engineering
There are so many reasons to choose CUST for your BS civil engineering degree.

1. Outcome-Based Education
The Department of Civil Engineering at C.U.S.T. strives to offer the most up-to-date Outcome Based Education (OBE) system so that graduates can contribute to society's advancement in a professional and honourable manner.
The following are the civil engineering program outcomes:
Assure quality while using civil engineering procedures, and exhibit professional experience at the national and international levels.
Professional growth and development activities will help you to expand and improve your knowledge and abilities.
Serve society and the engineering profession ethically, taking into account social, environmental, national, and global concerns.
2. Learning Environment
Students learn both theoretical and practical skills in a supportive environment. In addition, you will have an opportunity to improve your skills further. And you can do this through the required:
Internships
Survey camps
Community service
A final-year project
3. Top-Notch Faculty
Another reason for choosing CUST for civil engineering is that you will be studying under the supervision of experienced faculty. We have more than 250 members at our campus who strive to provide you with a top-notch education.
4. Societies and Clubs
You will have a well-balanced campus life at CUST. Apart from education, you will have opportunities for self-development and growth. You can explore your hidden talents by taking part in different activities. We have multiple societies and clubs that you can join:
CUST Sports Club
CUST Art & Literary Club
CUST Adventure Club
CUST Helping Hands
CUST Character Building Club
CUST Girls Club
Capital Media Club
5. Scholarships
We offer our students different fee concession scholarships. You can apply for the required scholarship while applying for admission. Here is the list of incentives and scholarships you can apply for:
PGC-Based Scholarship
Undergraduate Merit Scholarship
Need-Based Scholarship
Disabled Scholarship
Kinship Scholarship
Sports Etc
Contingency
Apply to BS Civil Engineering at CUST
Our fall admissions for 2023 are open now. Enroll yourself at CUST for BS civil engineering degree and start living your dream of becoming a civil engineer right now.
Thank you for reading my article. If you have any queries, please reach out to us at info@cust.edu.pk.