5 Reasons to get Admission to PhD. Management Sciences in 2023
Posted by

Categories

Blog

Date

January 6, 2023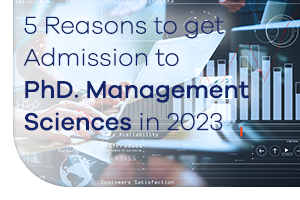 No matter where you stand at your professional level, you can always excel in your field with a PhD. Ph. D. is the top-most level of formal education in any discipline. A chance to get an edge over other counterpart-participants in career development also comes with abundant knowledge of your field. This article is going to disclose the five significant reasons to gain admission to a PhD. Management Sciences in 2023. 
PhD. Management Sciences-Brief Introduction
The PhD programme is centred on research. PhD students are expected to carry out excellent research in relevant fields. The professional and qualified faculty invests significant resources in creating and providing courses on innovative research methodologies. In CUST, the faculty also generously support the development of a research-oriented environment where doctorate students can flourish as management scientists. 
Career Prospects After PhD. Management Sciences
After doing a PhD, the candidates can enjoy various career opportunities. The PhD empowers a doctor's level of knowledge and skill to its holders. Which eventually helps you stand tall in the crowd. You can choose any of the following professions.  
University Lecturer

 

Policy Analyst

 

Management Consultants

 

Chief Executive Officer

 

Strategic Manager

 

Market Research Analyst

 

Business Development Manager

 

Quantitative Analyst

 

Product Manager

 

Marketing Coordinator

 

General Manager

 

Brand Manager

 

Marketing Manager

 

Financial Analyst

 

Human Resources Manager

 
Earning Potential After PhD. Management Sciences
PhD holders can earn massive amounts of money due to their expertise and top-level professional degree worldwide. The same trend is followed in Pakistan as well. However, exact salary calculations after completing a PhD in Management Sciences are not a good idea to pursue. There are multiple reasons that decide the salary potential of any candidate in any organisation and at any placement. Yet, reliable resources project an earning potential of a PhD holder in Pakistan annually up to Rs. 2M (PKR).  
Reasons to Pursue PhD. Management Sciences
Pursuing a PhD in Management Sciences is an excellent idea for the following five reasons.  
You will get a competitive edge over non-PhDs.

 

PhD. sharpens thinking muscles so that you will be a better thinker

 

After completing your PhD. Management Sciences, you will be an Expert

 

You can become a Scholar

 

Empowerment to Make a Difference

 
Let us discuss these by one.  
Whether you work in teaching, consulting, research or something else different, a PhD in Management gives you an outstanding level of credibility by demonstrating your expertise in your subject and a lifelong commitment to learning. This gives you another level of professional education in management sciences that will make you stand apart from the crowd.  
A top-notch PhD in Management programme teaches you how to produce information instead of just encouraging you to consume it. By pushing past passive learning, you will develop new levels of critical thinking that you apply in novel and exciting ways in your career, company, and subject of interest.  
By earning a PhD in management, you can learn new methods for managing people in a society that is becoming more interconnected. You can pick up valuable abilities that can be used in any line of work. By giving you knowledge outside of your firm, the degree may also enable you to affect your current position significantly. Once you start your studies, you could discover that your co-workers come to you for advice and direction. 
You will have the knowledge and assurance necessary to present at academic conferences after earning a PhD in management. You will develop your scholarly voice, author a dissertation, and even write peer-reviewed articles that are published in the top journals in your area of expertise. With a PhD in Management, you can advance your career in ways you never imagined and become both a scholar and a practitioner. 
Your PhD. from CUST equips you with the most contemporary trends, knowledge, and abilities to help you concentrate on furthering the greater good and improving your business and community. Students gain an understanding of how new developments in management can be used to benefit others through studies, projects, and debates. Our students have utilised their PhD in Management degrees in rewarding, varied positions across the world by researching the most recent management principles and theories. 
Admission Criteria for PhD. Management Sciences
For admission to PhD in Management Sciences, it is essential to fulfilling the prerequisites to stay eligible for a post-graduate level of education. The criteria settlement is done by the education governing body of Pakistan (HEC). The criteria are available below.  
BS/MS degree in relevant discipline. The Graduate Admission Committee shall establish relevancy.

 

Minimum CGPA 3.0/4.0 (Semester System) or 60% marks (Annual System)

 

Admission Test / HEC-approved Test

 

Statement of Purpose

 

Interview

 
Get Admission to PhD. Management Sciences in Spring 2023
If you have prepared your statement of purpose and have a brilliant research idea to author a research paper on it, it is your ideal time to initiate your PhD in Management Sciences. The good news is that the PhD management sciences admissions for Spring 2023 are open now. You can apply online!