CUST Admissions Spring 2023: MS Biosciences
Posted by

Categories

Blog

Date

January 3, 2023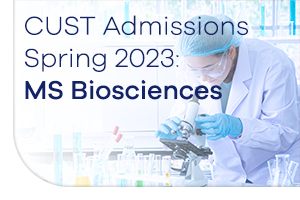 MS Biosciences is a course that maintains a proper balance between practical and theoretical knowledge to equip students to handle science, its techniques, and the scientific methods it holds. Biosciences, as a line of sciences, combines biology and chemistry to work for the benefit of nature, humankind, and the environment. The article discloses the probable future perspectives, career development, and opportunities for students interested in biosciences and looking to enrol in undergraduate or graduate programs in the Biosciences in Islamabad, Pakistan.  
Market Outlook for MS Biosciences in Pakistan
Biosciences is a vast field with various specialisations. With evidence of covid-19, its importance has been enhanced, and new research jobs are on a roll soon. Moreover, biosciences include biochemistry, biological chemistry, biomedical sciences, chemistry, human biology, infectious diseases, marine biology, pharmaceutical sciences, and zoology. In Pakistan, all the fields mentioned earlier are available for study purposes.  
Opportunities for Graduates on International Sphere
After completing a professional degree in MS Biosciences, students would be able to join national and international organisations with a good number of opportunities. The opportunities could be any of the following.  
Animal Health Officers, 

 

Biomedical Scientists 

 

Clinical Data Managers

 

 Clinical Research Associates 

 

Clinical Trial Associates 

 

Customer Service Analysts 

 

Data Scientists 

 

Drug Safety Specialists

 

Government And Public Health Scientists

 

Healthcare Scientists

 

Laboratory Analysts 

 

Technicians Pharmacy Assistants

 

 Quality Engineers

 

Quality Officers 

 

Research Analysts 

 

Research Laboratory Assistants 

 

Scientific Data Analysis Specialists

 
Earning Potential for Graduates of MS Biosciences 
It is impossible to put an exact quote for remuneration and salary for any degree in the world. The reason behind it is the diversity in numerous factors, including the location, overall economic conditions, organisation scale, candidate profile, job description, and how the potential is uncovered at the interview time.  
However, according to the data collected by the remuneration website, on average, after MS biosciences, one can gain up to $65k per year in the US market. At the same time, in Pakistan, the range lies between Rs. 83k to 253k PKR annually.  
Curriculum Exploration for MS Biosciences
We are trying to analyse the syllabus being taught in MS Biosciences. The curriculum is developed according to the guidelines from authorities. At CUST MS Bioscience, the degree comprises four semesters in a two-year time.  
The syllabus is designed to develop a durable foundation from the core, foundation, major, and elective courses. However, admission to MS Biosciences is possible after four years of BS completion in relevant fields. The criteria below are essential to be fulfilled.  
A minimum education of 16 years of leading to BS Bioinformatics/ M.Sc. Biological Sciences or equivalent.

 

Minimum 2.00/4.00 CGPA or 50% marks

 

Admission Test / HEC Approved Test

 
The curriculum is defined with the inclusion of core courses. The following are the core courses of MS Biosciences at CUST.  
Advanced Molecular Genetics

 

Advanced Bioinformatics

 

Applied Biotechnology

 

Advanced Microbiology & Immunology

 
In addition, the elective courses are available below.  
Advanced Endocrinology

 

Eukaryotic Regulatory Mechanisms

 

Drug Design and Development

 

Advanced Environmental Biotechnology

 

Advanced Protein Chemistry

 

Bioremediation and Biodegradation

 

Climate Change Adaptation and Mitigation

 

Advanced Systems Biology

 

Molecular Dynamics Simulation

 

Medical Genetics

 

Advanced Cancer Cytogenetics

 

Advanced Topics in Bioinformatics

 

Pathways and Networks in Biology

 

Protein Engineering and Enzyme Technology

 

Molecular Biophysics

 

Advanced Human Genetics

 

Gene Chip Technology

 

Advanced Nano-biotechnology

 

Advanced Forensic Biology

 

Medicinal Plants

 

Advanced Epidemiology

 

Sustainable Ecosystems

 

Climatology

 

Biosafety and Biosecurity

 
Furthermore, the research project is also a prerequisite for degree completion.  
Scope of Skills & Knowledge in MS Biosciences
MS Biosciences is an affluent and evolving option in formal education with respect to skills and knowledge. The degree equips students with comprehensive in-built information about various life sciences. The course introduces basic chemistry concepts as well as the concepts of life sciences and the biological features of living things. It covers a wide range of topics, including what science is, the scientific method, physical quantities and phenomena, the cell, genetics, and human biology as the fundamental building blocks of life, as well as exploring matter and chemical reactions. 
Moreover, with the passage of time and knowledge intake, students develop the most-demanded and required skills after completing a degree in MS Biosciences. The skills are undermentioned. These skills are crucial for career growth in biosciences.  
PCR

 

Tissue Culture

 

Gel Electrophoresis

 

Protein Immunoblots

 

Molecular (Gene) Cloning

 

Flow Cytometry

 

Mass Spectrometry

 

Confocal Microscopy

 

Cell-based Assays

 

Statistical Analysis

 
In addition, communication skills, report writing skills, and research skills are also included.  
Take Admission in Spring 2023 in Biosciences
Now that you know the scope, area, and expansion of Biosciences on a national and international level. It is ideal for you to start your formal education at the master's level if you fulfil the criteria. The CUST university in Islamabad has opened the spring 2023 MS Biosciences admissions. You can apply online here.