Pharm D in Pakistan: Empowering the Future of Pharmacy
Posted by

Categories

Blog

Date

July 10, 2023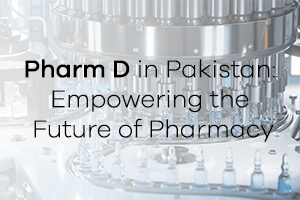 Pharm D., or Doctor of Pharmacy, is a professional degree that is gaining immense popularity in Pakistan. It is a five-year program that provides students with extensive knowledge and skills in pharmaceutical sciences. 
Benefits of Pharm D Degree in Pakistan
The Pharm.D degree offers several benefits to students who pursue this program. Here are some of the benefits of the Pharm.D degree in Pakistan: 

1. Career Opportunities
The Pharm D course in Pakistan offers several career opportunities to graduates. You can work as a pharmacist in hospitals, clinics, and pharmacies. Furthermore, you can also work in the pharmaceutical industry as: 
Drug developer

 

Researcher

 

Sales representative

 
2. High Demand
Pharmacists are in high demand in Pakistan. The healthcare industry relies heavily on pharmacists to provide patients with the right medication and dosage. So, with the increasing demand for healthcare services, the demand for pharmacists is also increasing. 
3. High Salaries
Pharmacists in Pakistan earn a high salary. According to Payscale, the average salary of a pharmacist in Pakistan is around PKR 489,212 per year. Thus, this makes the Pharm.D degree a great career option. 
4. Professional Growth
The pharmacy degree also offers opportunities for professional growth. You can pursue higher education in pharmaceutical sciences and become experts in their field. In addition, you can also work in research and development and contribute to the advancement of the pharmaceutical industry. 
How Can You Change the
Pharmaceutical World with a Pharm D Degree?
A Pharm D degree can be a game-changer in the pharmaceutical world. Here are some ways in which graduates can use their degree to change the pharmaceutical world: 
Research and Development

 

Patient Counseling

 

Drug Safety

 

Public Health

 
Capital University of Science and Technology for Pharm D
Choosing the right university for your Pharm.D. degree is a crucial decision that can shape your future career in pharmacy.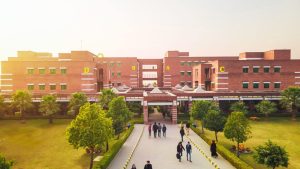 I will tell you why the Capital University of Science and Technology (CUST) is an excellent choice for pursuing a Pharm.D. degree.  
Why Choose Capital University of Science and Technology for a Pharm D Degree?
1. Quality Education
We provide high-quality education in the field of pharmacy. Moreover, we have a team of experienced and dedicated faculty members. These members employ innovative teaching methodologies to ensure an engaging learning experience for students. 
2. Accreditation and Recognition
CUST is recognized by the Higher Education Commission (HEC) of Pakistan. In addition, it is also accredited by relevant regulatory bodies. Thus, this ensures that the Pharm D course degree earned from CUST is nationally recognized. Also, it meets the standards set by professional organizations. 
3. Research Opportunities
You will be studying in a conducive environment for research in the field of pharmacy. You will have access to modern research facilities. Furthermore, CUST encourages you to participate in research projects under the guidance of experienced faculty members. 
4. Scholarships
CUST offers various scholarships to deserving and talented students. These scholarships aim to reduce financial burdens and promote academic excellence. Students can apply for scholarships based on their academic performance and financial need. 
5. Campus Life
We aim to provide you with a vibrant and inclusive campus life experience. The university organizes extracurricular activities, cultural events, and sports competitions, fostering a sense of community and personal growth. 
6. Societies and Clubs
CUST offers a range of student societies and clubs that cater to diverse interests. These include:  
CUST Sports Club

 

CUST Art & Literary Club

 

CUST Adventure Club

 

CUST Helping Hands

 

CUST Character Building Club

 

CUST Girls Club

 

Capital Media Club

 
So, you can join these societies to enhance your skills, network with peers, and engage in co-curricular activities. 
How Does CUST Benefit Students?

1. Comprehensive Curriculum
CUST offers a well-structured and comprehensive curriculum for the Pharm D program. The course covers essential subjects, equipping students with a strong foundation in pharmaceutical sciences, clinical therapeutics, and patient care. 
Subjects Offered in the Pharm D Course at CUST:
The Pharm D program at CUST covers a wide range of subjects, including: 
Pharmaceutics

 

Pharmaceutical Chemistry

 

Pharmacology

 

Pathology

 

Pharmacy Practice

 

Pathology Lab

 

Pharmaceutics

 
2. Practical Training
Our university emphasizes practical training to enhance students' skills and competencies. In addition, we provide state-of-the-art laboratories and clinical facilities where you can gain hands-on experience. 
3. Holistic Development 
CUST emphasizes the holistic development of students. In addition to academic excellence, the university focuses on nurturing essential skills such as critical thinking, communication, and leadership, preparing you for a successful professional career. 
4. Course Learning Outcomes
Upon completion of the Pharm D program at CUST, you will: 
Demonstrate a comprehensive understanding of pharmaceutical sciences and their applications in patient care.

 

Apply critical thinking and problem-solving skills to optimize drug therapy outcomes.

 

Exhibit effective communication and counselling skills to educate patients and healthcare professionals about medications.

 

Understand the ethical and legal aspects of pharmacy practice.

 

Engage in lifelong learning and professional development to stay updated with advancements in the field.

 
Apply to Fall Admissions 2023
Join our pharm D program and enroll yourself in the fall admissions 2023 right now.