Sky Rocket Your Career with MS Accounting and Finance in Spring 2023
Posted by

Categories

Blog

Date

January 27, 2023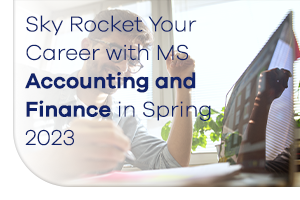 If you have been working in any firm in an entry-level position for a while and are looking for an opportunity for career development, then this article is for you. Read it till the last line and see how you can get MS Accounting and Finance in Islamabad at CUST, as admissions for spring 2023 are on a roll.  
Introduction to MS Accounting and Finance 
MS Accounting and Finance is a professional degree in the rigorous field of finance. This program is designed to empower students with strong and advanced skills in accounting, finance and related subjects.   
The program focuses on qualitative and quantitative methods to deal with trade-off matters, problems, and solutions to ensure appropriate financial decision-making. The career prospects, skills, and other details are mentioned below.   
Career Prospects after MS Accounting & Finance
Getting a professional degree in finance is a straight gateway to multiple opportunities. Some of them are as follows.   
⁃ Accounts officer 

 

⁃ Finance manager 

 

⁃ Accountant 

 

⁃ Taxation officer 

 

⁃ Senior accountant 

 

⁃ Junior accountant assistant 

 

⁃ Internal auditor 

 

⁃ Manager recovery 

 

⁃ Cash officer 

 

– Risk Manager 

 

⁃ Finance assistant 

 

⁃ Compliance manager 

 

⁃ Cost analyst 

 
However, these job titles are only a few of the available options. Suppose you are already working on any of the related positions without an MS in accounting and finance. In that case, you can broaden your horizons for the advanced and managerial level of work. Without a doubt, an experience with education is preferred.   
MS Course Design & Effectiveness
At Cust, the MS Accounting and Finance course is developed in compliance with the guidelines of the higher education commission (HEC). The course is well-developed and has a broad scope of core courses, elective courses, and a thesis.   
Advanced Research Methods 

 

Management Decision and Control 

 

Advanced Corporate Reporting 

 

Strategic Finance 

 

Advanced Portfolio Management 

 

Financial Risk Management 

 

Financial Analysis 

 

Behavioural Finance 

 

Financial Reporting Analysis 

 

Issues and Financial Reporting 

 

Advanced Cost Management 

 

Advanced Corporate Taxation 

 

Advanced Cost Management 

 

Forensic Accounting 

 

Research Methods 

 
Admission Pre-requisites 
To apply for admission in MS Accounting and Finance at CUST, the following criteria are essential to match.   
A minimum of 16 years of education in a relevant field (BBA/ BS Accounting & Finance/BS Economics and Finance, MBA or equivalent. 

 

Minimum 2.00/4.00 CGPA or 50% marks 

 

Admission Test / HEC Approved Test 

 
Salary Scope After MS Accounting and Finance 
If you are in a career development phase and looking for salary compensation after completing MS in Accounting and Finance, you an experience of 1-3 years. On average, you can make up to Rs. 110,000/- per month.  
However, it is essential to consider that salary, remuneration, and reward are majorly dependent upon the profile of the candidate. In addition, other factors like organisational structure, pay scale, market worth and economic conditions of the country are massively included.   
Therefore, it is always advised to do your market research and work on your resume before you appear in any job interview.   
Reasons to Join CUST 
Now coming towards the institution of excellence in education in your country's capital-CUST., The Capital University of Science and Technology (CUST) is a W4 category private university in Pakistan. 1998 was the year of initiation; since then, we have had 11777 alumni and 40 courses. In addition, various scholarships are also available for students. You can check the scholarships here. Campus Life is vibrant at the beautiful Capital University of Science and Technology.   
We have more than 250 faculty members, and many are foreign-qualified. We offer highly curated course content to ensure the success of our students in the field of their choice.   
CUST is also working in other ways for the betterment of our country. Therefore, you will have a chance to study at Pakistan's largest energy-efficient campus, with many up-to-date facilities and ready resources.   
Applications for Spring 2023 Admissions 
To pursue your career in accounting and finance in 2023, you can apply with complete confidence at CUST university. Applications for Spring 2023 are being accepted. Don't miss a chance to skyrocket your career in unlimited endeavours.