Why Should You Do MPhil in Mathematics from CUST?
Posted by

Categories

Blog

Date

February 2, 2023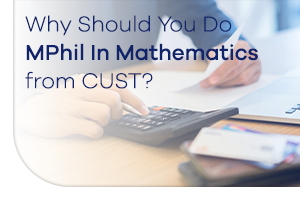 MPhil is the next step after completing 16 years of education in Pakistan. Whether you have a four years bachelor's degree or 2-year master's degree, you are eligible for MPhil. After MPhil, students are eligible to obtain admission to the PhD program, which is another 3 years story. However, obtaining the MPhil in Mathematics can open more advanced and greater career opportunities in various fields. All this information is available in the following piece of text. In addition, we will provide reasons that will help you make up your mind to consider the Capital University of Science and Technology (CUST).   
Introduction to MPhil in Mathematics
The postgraduate MPhil (Masters of Philosophy) programme is available. It is not merely a postgraduate degree, though, and is typically made available to postgraduate students who want to conduct the advanced scholarly study. Although the title of the degree—originally known as magister philosophiae—has Latin roots, it is now accepted as a research degree all around the world. 
On the other hand, a degree in mathematics—often referred to as the "language of science"—will prepare you for doctorate study or a career in a math-related profession, such as business, computer science, engineering, finance, medical, education, or pretty much any other area of science, technology, and engineering.  
Those who have an interest in mathematics often are sharp-minded and enjoy a good status in their career. Furthermore, the MPhil degree holders and the PhD holders are educationists and academic persons professionally.  
Academic Standing of MPhil Degree 
In Pakistan, the MPhil degree plays a role of a bridge between the masters and PhD levels of education. After completing 16 years of education, either by BS degree (4 year- undergraduate program), you can get admission in MS as your master's. This is called an MS degree because it has a thesis and is equivalent to the MPhil degree directly leading to pursuing a PhD.  
On the other hand, if you have 16 years of education completed to a master's degree (after 14 years of undergraduate program), you can do MPhil leading to a PhD.  
Career Prospects After MPhil Mathematics
After you complete your MPhil in Mathematics from any reputed private university in Pakistan. It will lead you to promising career growth options.  
There are many employment opportunities in mathematics in both the public and business sectors. MPhil Mathematics course offers knowledge in a subject area that is important to practically every field. It offers opportunities in the field of economics as well as occupations intended for mathematicians. 
On the other hand, we talk about the private sector to see the scope. All organisations involved in calculations and money have the opportunity for MPhil Mathematics.  
Some of the possible private lines could be as follows. 
Utility Companies

 

Research & Development Firms

 

Engineering Firms

 

Bank & Investment Firms

 

Insurance Agencies

 
In addition, schools, colleges, government education, and universities are also potential employers for MPhil in Mathematics for the relevant subjects.  After becoming a mathematician, your average salary range variates with your chosen profession. However, an average could be handsome enough. 
Other Reasons to Pursue an MPhil Mathematics
If you are looking for reasons to pursue the MPhil Mathematics. Read below; you will find some vibrant advantages.  
Doing MPhil in Mathematics will enhance your understanding of several things and their working mechanism around you in the world you live in.  Gaining a foundational and advanced understanding of the subject with a mathematics degree enables you to contribute to the future development of numerous sectors. The worldview you receive from a math degree can help you succeed in whichever route you choose, whether you decide to specialise in mathematics or use the information you gain in another area. 
The core of math is problem-solving. Along with solving difficult mathematical equations, working on mathematical functions will also help you become more adept at other types of problem-solving, such as: 
Pattern Recognition

 

Working In Reverse

 

Visualising

 

Systematically Working

 

Utilising Logical Thinking

 
These skills will be useful in a wide range of occupations and circumstances, regardless of whether you decide to pursue a career in teaching mathematics or in a completely different area. 
MPhil in Mathematics from CUST
Coming towards the advantages and pros of choosing Capital University of Science and Technology (CUST) for pursuing an MPhil in Mathematics.  
Top Notch Course Curriculum
The department of mathematics come under the faculty of computing at CUST. The main goal of the MPhil programme in mathematics is to equip students with advanced mathematical knowledge that may be used in different fields and technology. A graduate from CUST with an MPhil in mathematics is expected to understand that the topic is not abstract but rather practical. 
The possible areas for pursuing research in MPhil in Mathematics at CUST are as follows.  
Wave Mechanics

 

Numerical solutions of differential equations arising from any area of Mathematics and other sciences

 

Eigenvalue Problems

 

Computational Algebra

 

Data Security and Cryptography.

 

Interested students may also work in Control Systems, Image Processing and Algorithms in collaboration with the faculty members of the departments of the university.

 
For admission criteria, you can visit the MPhil Mathematics.  
About CUST
Cust is a sister institution of UCP and MAJU. For the same reason, it is a prominent part of the prestigious PGC family- a leading educational group in Pakistan. Founded back in 1998, the university enjoys the status of the W4 category.  
Today we have alumni expanding to around 11777 students. We have foreign qualified faculty. Cust also enjoys the status of Pakistan's largest energy-efficient campus. Furthermore, the facilities, scholarships, and campus life are exciting.  
Conclusion
The option to pursue your dream of doing an MPhil in Mathematics is available in the beauty of our capital. The spring admissions for 2023 are open at CUST, and you can avail your opportunity.