Apply for MPhil Mathematics Admission 2023 at CUST Now!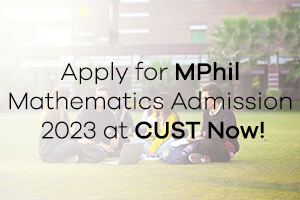 Do you want to earn an advanced degree in mathematics? Then you should apply for MPhil Mathematics Admission 2023 at one of the top universities in Pakistan; the Capital University of Science and Technology (CUST). Only a few days are left for the CUST admissions closing date of 2023 for this master's in philosophy programme. So, do not wait any more and enrol yourself right now! 
Intro to Mathematics Discipline
As a mathematics graduate, you would have known that maths is an area of knowledge which deals with the study of all the formulas, shapes, numerical data and their analysis. Moreover, mathematical information is highly favourable in proving any fact with substantial statistical results. 
Relation of Mathematics with Other Sciences
Mathematics is not simply one subject, but it has a relation with almost every subject as the mathematical skills are used for several purposes in other sciences such as: 
Physics 

(it is used as a tool to answer questions like Newton invented calculus to describe motion with the help of both math and physics).

 

Chemistry

 (it is applicable while taking measurements, performing dimension analysis, and determining temperature and density).

 

Geosciences 

(the geo-mathematical knowledge is used by researchers for data science analysis and quantitative methods for the solution of earth-science problems).

 

Computation

 (used to form reliable software and to describe complex data systems).

 

Biology

 (maths is used in raw data gathering and tracking changes over time).

 

Linguistics 

(mathematics can act as a universal language, therefore, it is used for quantitative data writing in literature).

 

Education

 (in educational setups, math is used for recording and analysing data, scores, percentages etc.).

 

Economics 

(its knowledge is used to predict economic growth by creating models and doing quantifiable experiments).

 
Thus, if you want to pursue higher studies in this subject, you should enrol for MPhil Mathematics admission 2023. Furthermore, you should choose the best university for this advanced degree, which is the Capital University, Islamabad. Read this article till the end as I have discussed every detail of this educational programme briefly here. 
MPhil Mathematics Admission 2023 at CUST
The MPhil mathematics is a postgraduate programme of two (2) years with four (4) semesters at CUST. You will study all the amazing subjects and conduct mathematical research with the guidance of our top-notch faculty members. Additionally, you will be trained to become one of the best mathematicians through our theoretical as well as practical teaching methodologies.  
MPhil in Mathematics Subjects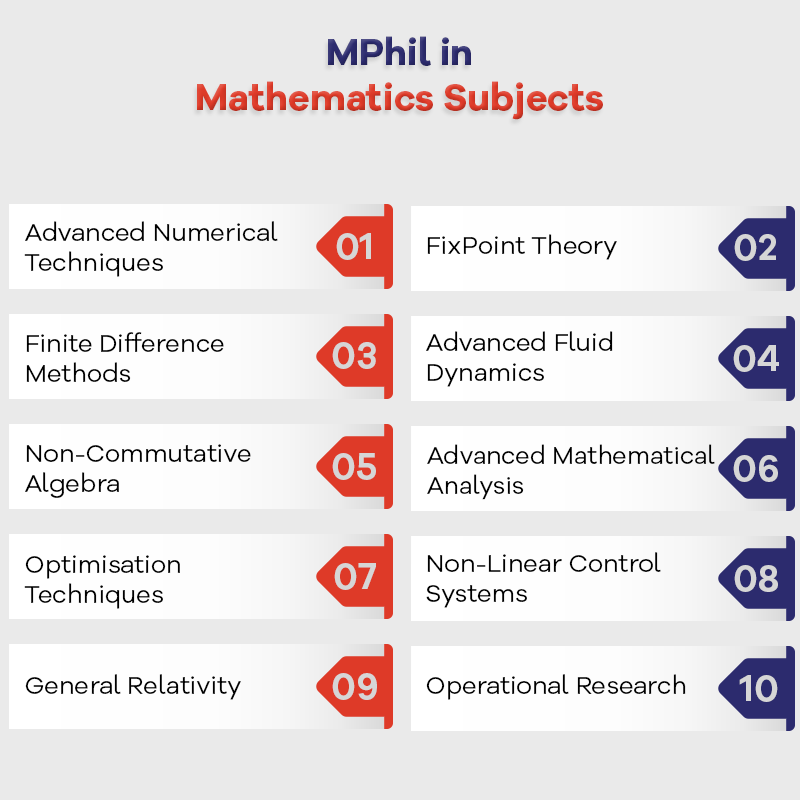 The subjects you have studied in BS Mathematics do deliver professional knowledge, but CUST offers all the advanced and modern course curricula for MPhil Mathematics admission 2023. You can apply for our fall admissions to study the following subjects which are developed as per the HEC standards: 
Advanced Numerical Techniques

 

FixPoint Theory

 

Finite Difference Methods

 

Advanced Fluid Dynamics

 

Non-Commutative Algebra

 

Advanced Mathematical Analysis

 

Optimisation Techniques

 

Non-Linear Control Systems

 

General Relativity

 

Operational Research

 
Along with learning all these useful subjects, you will also have to do research and submit your thesis in this programme. 
Several Research Areas Offered for MPhil Mathematics
In the last year of this degree, you will have to do research which is for six (6) credit hours. Moreover, the variety of research areas included in our master's in philosophy degree of mathematics are as mentioned below: 
Wave Mechanics

 

Data Security and Cryptography

 

Eigenvalue Problems

 

Computational Algebra

 

Numerical Solutions

 

Control Systems

 

Image Processing

 

Algorithms 

 
Now, you must want to know if prolonging your studies in this field is advantageous for you or not. Therefore, read the below-mentioned prospects in the field of mathematics. 
How Taking MPhil Mathematics Admission 2023 is Beneficial?
While discussing the beneficial aspects, one should ask themselves, why do we study any subject or field? It is to gain useful knowledge and skills which you will get through this degree. Additionally, we study to have promising prospects and you will be glad to know about the high scope and multiple career opportunities this field of mathematics has to offer. 
List of Industries to Work After MPhil Mathematics at CUST
If you graduate with our MPhil programme, you will be able to apply to different organisations and fields of work which are as follows: 
Share Marketing

 

Computing and Information Technology (IT)

 

Actuarial Sciences

 

Statistical Research

 

Accountancy Service

 

Banking – Retail Banking

 

Engineering Sciences

 

Lectureships at Educational Institutes

 

Crypto Industry

 

Data Analyst

 

Operations Researcher

 

Investment Firms

 
To enjoy all these benefits, you should be eligible to apply at the Capital University of Science and Technology (CUST). 
CUST Eligibility Criteria for MPhil Mathematics Admission 2023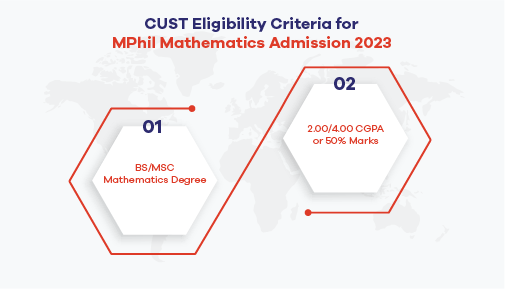 To register yourself for our postgraduate degree in mathematics, you should have a minimum CGPA of 2.00/4.00 in BS Mathematics or MSC Mathematics. For the annual system, you should at least have a 50% score in the degree with a maths major. 
MPhil Mathematics Admission 2023 Entrance Test at Capital University
You can get a CUST MPhil mathematics entry test sample online through our website. So, it will be easy for you to prepare for the entrance test for our fall admissions in 2023. Other than the CUST admission test, you can also apply at our university by passing the HEC test. 
CUST Enrolment for MPhil Mathematics Admission 2023 is Closing Soon
Our fall admissions 2023 are open for all undergraduate, postgraduate (including MPhil Mathematics), doctorate and associate degrees but the closing date is hardly a week away. Therefore, you should apply at our top-notch educational institute via the CUST admission portal or by visiting our university admission office in Islamabad.