Multiple MS Computer Science Specialisations Offered at CUST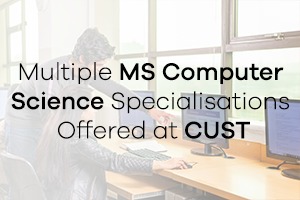 As a BSCS graduate, are you looking for the best MS Computer Science in Pakistan? Then you have come to the right webpage, as I have mentioned all the specialisation categories, and eligibility criteria of one of the best computer science universities; CUST here. Read this article till the end for all the details of the master's degree in computer science (CS) at Capital University, Islamabad. 
What is Computer Science?
Computer Science (CS) is a broad field of study, and it deals with everything from computation to automation and from theoretical studies to practical implementation, algorithms to programming languages, and coding to programming.  
You must have already studied the basics of all the computing aspects in the Bachelor of Computer Science programme (BSCS). So, the question is why should you prolong your studies for an MS degree? The answer is simple, to develop more advanced and professional skills in the digital world. Additionally, with MSCS, you will be able to benefit from better career prospects. 
Study MS Computer Science at CUST 
Now, let us overview why you should choose the Capital University of Science and Technology (CUST), Islamabad for this course. First of all, as our university name suggests, CUST provides its students with top-notch technology and scientific learning exposure for the MS Computer Science degree. 
Moreover, our educational institute has a lot of facilities for you if you choose to enrol yourself at Capital University.  A brief introduction to all the top-notch facilities available at Capital University, Islamabad is available in the text below. 
Facilities at CUST for MS Computer Science
We take pride in mentioning the fact that CUST has one of the most outstanding features for you as a top computer science university. Therefore, you should apply for MSCS (2 years master's degree in computer science) to take advantage of the following facilities: 
State-of-the-art University Campus

 

Up-to-date Curriculum for every major

 

19+ PhD Holder 

Faculty Members

 

Comprehensive 

Subjects

 in Each Specialised Course

 

Technologically Advanced Computer Labs

 

Libraries (both on campus and 

digital

)

 

Online Educational 

Resources

 

Multiple 

Publications

 and 

Journals

 Affiliation

 

Air-Conditioned Classrooms

 

Multimedia-Equipped Auditoriums

 

Various 

Societies and Clubs

 (both general and department-specific)

 
In addition to all these benefits, you will have a choice to choose your specialisation course from a wide range of options. 
5 Specialisations in MS Computer Science at CUST
Many universities in Pakistan offer two or three specialised electives but our university offers you five options of specialisations with promising future prospects. And our MSCS curriculum is as per the HEC standards. You can study from the following options and develop all the subject-specific skills after getting all the training exposure at the Capital University, Islamabad.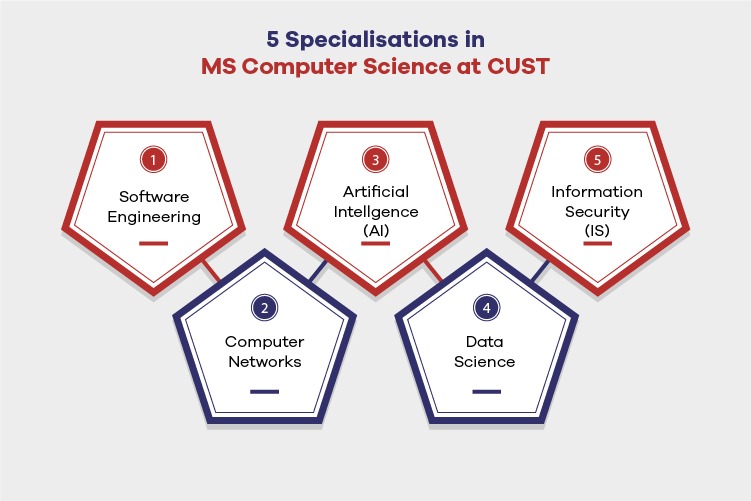 Furthermore, to be eligible for the specialisation options, you should complete 15 credit hours of MSCS first.  
a. Software Engineering
If you have studied computer science all your student life and now you are interested in a software engineering major, then you will study the following courses: 
Software Risk Management

 

Ontology Engineering

 

Safety-critical Systems

 

Advanced Software Testing

 

Secured Software Development

 

Advanced Usability Engineering

 
I have mentioned only a few subjects here. Furthermore, you can learn more about it via the linked webpage of our MS Computer Science programme. 
b. Computer Networks
Computer Networks is a specialised course, in which you will study the below-mentioned subjects: 
Internet Protocols

 

Network Programming

 

Multimedia Services over IP Networks

 

Network Security

 

Advanced Computer Networks

 
c. Artificial Intelligence (AI)
Artificial Intelligence is a modern major in the field of computer science. Hence, you will learn an advanced and modern curriculum which includes: 
Advanced Artificial Intelligence

 

Intelligent Systems

 

Knowledge Graph-based Systems

 

Decision Support and Expert Systems

 

Artificial Neural Networks

 

Fuzzy Systems

 
d. Data Science
In the data science specialisation, you will study the following subjects: 
Data Analysis

 

Web Mining

 

Advanced Topics in Data Mining

 

Semantics for Big Data

 

Healthcare Data Acquisition

 

Statistics for Data Sciences

 

Graph Analytics

 
Furthermore, we have another option which I have discussed below. 
e. Information Security (IS)
Lastly, the information security major includes many comprehensive courses on many useful topics like cryptocurrency, data security and analysis. Some of the IS subjects are mentioned below: 
Applied Cryptography

 

Crypto Analysis

 

Semantic for Information Security

 

Cyber Attack – Modelling and Analysis

 

Digital Forensics

 

Advanced Cryptography

 
But first, you should know if you meet our admission criteria for the MS Computer Science degree programme. 
MS Computer Science Eligibility Criteria

At first, you should have 16 years of education with at least 50% marks or a minimum CGPA of 2.00 / 4.00 for enrolment. (Note: we require a BS in Computer Science/ Information Technology/ Software Engineering or equivalent. But if you have other majors, you will be required to study some undergraduate courses to fulfil your pre-requisite deficiencies) 
Other than this, you should pass the CUST admission test or HEC-equivalent test for admission in fall 2023. 
Career Options After MS Computer Science from Capital University
After graduation from CUST, you can work in the following: 
Research and Development (R&D) centres

Academia

Defence Organisations

Data Analysis Firms

Software Houses

Digital Media and much more
Thus, you should not wait anymore and apply at CUST fall admissions 2023 to gain all the career-oriented knowledge and advanced learning.  You can read more about online registrations at Capital University through this article.  
MS Computer Science Admission at CUST, Islamabad Fall 2023
Enrol yourself now for MS Computer Science online via CUST admissions or, you can visit our campus in Islamabad.
Start Your Advanced Digital Learning with CUST Right Now!