High Level Delegation from Pakistan Navy Visited Capital University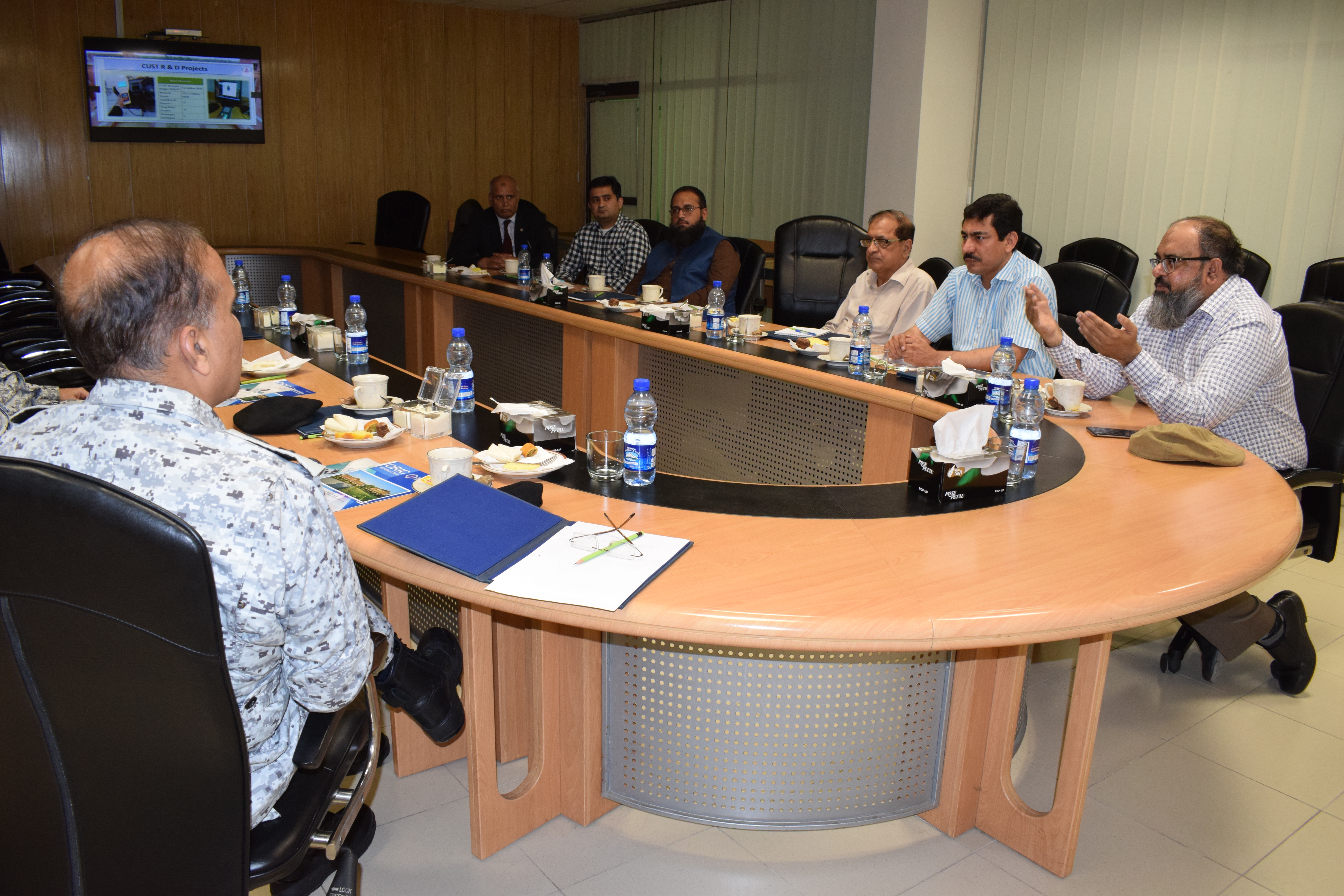 A high level delegation of Pakistan Navy led by Commodore Dr. Junaid Khan ACNS (NR&D) visited Capital University of Science & Technology, Islamabad on Monday, 22nd October 2019 at 3:30 PM. The delegation members included Captain Dr. Muhammad Farhan, Director R&D and Captain Dr. Faisal Amir Khan, Director NCW (Tech), Pakistan Navy. The faculty team from CUST was comprised of following members:
Dr. Aamer Iqbal Bhatti Dean ORIC/Professor, EE Department
Dr. Noor Muhammad Khan HoD/Professor, EE Department
Dr. Fazal Ur Rahman Professor, EE Department
Dr. Irfan Manarvi Professor, ME Department
Dr. Muhammad Tanvir Afzal Professor, SE Department
Dr. Muhammad Faisal Associate Professor, EE Department
Dr. Khawar Naveed Assistant Professor, ME Department
The meeting started with the brief introduction of CUST faculty team about their educational profiles and research expertise given by Dean Research & Innovation, Prof. Aamer Iqbal Bhatti. This was followed by the corresponding introduction by Pakistan Navy Officers about their academic and research backgrounds.
The formal session started with the presentation of Dean Research & Innovation about Capital University of Science and Technology. The presentation covered brief introduction about university, particularly about its Students' Strength, Research Groups and recent Research and Development Projects. Dean ORIC updated the officials about the research collaborations with academia and industry. He also gave a brief overview about CS Incubation Lab and CUST startups.
The officers took keen interest in Radar Based Projects and similar ventures that can be substantial for defense industry of Pakistan. Dr. Irfan Manarvi affirmed that we have adequate lab facilities, human capital and allied expertise to develop certain product. He added that we can work on joint projects of common interest through mutual appreciation and integration. The guests were pleased to know that a number of CUST faculty members have strong industrial background and they remain involved in consultancy services.
Dean ORIC updated the officers about the difficulty in commercialization of research products. He gave illustrations of certain products developed by CUST faculty members and difficulty they faced while selling them. The discussion also took over Intellectual Policy (IP) rights. The Navy Officials expressed that the IP is retained by Pakistan Navy in mutual projects and collaborative research, however royalty can be given to the collaborating partner.
The officials questioned about the facilities owned by Mechanical Engineering Department. Dr. Manarvi explained that we have an excellent infrastructure and labs facilities for Product Design and Development. He also named few sophisticated equipment. He updated guests about available PhD scholarships and commencement of PhD Engineering Management Discipline at CUST.
Both parties agreed to start collaboration through smaller projects and then move towards the greater endeavors. The Navy Officials invited CUST faculty members to visit Naval Headquarter and present their research expertise, success stories and areas of mutual interest to explore collaboration prospects. The session lasted till 5:00 PM. Dean ORIC thanked valued guests for their time and interactive session, and wished to continue such type of meet-ups on regular basis.