Why Should You Choose Bachelor in Software Engineering?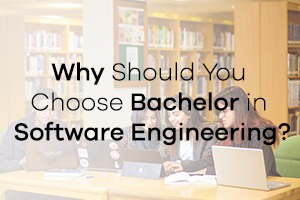 Do you want to study for a bachelor in software engineering and do not know which university to choose? No need to look further as I am going to tell you about the best university for this degree. 
Capital University of Science and Technology (CUST) is one of the top 300 universities all around the world according to UI Green Matric University Ranking 2021. As the name suggests, our university is one of the best Universities in the field of technology and computer degrees. 
Bachelor in Software Engineering
With the ever-changing world, the scope of software engineering is rising rapidly. Every organization and business are developing software for easy access. If you have an interest in developing software or web content, you must apply for our Bachelor in Software Engineering degree now!  
Bachelor in Software Engineering Subjects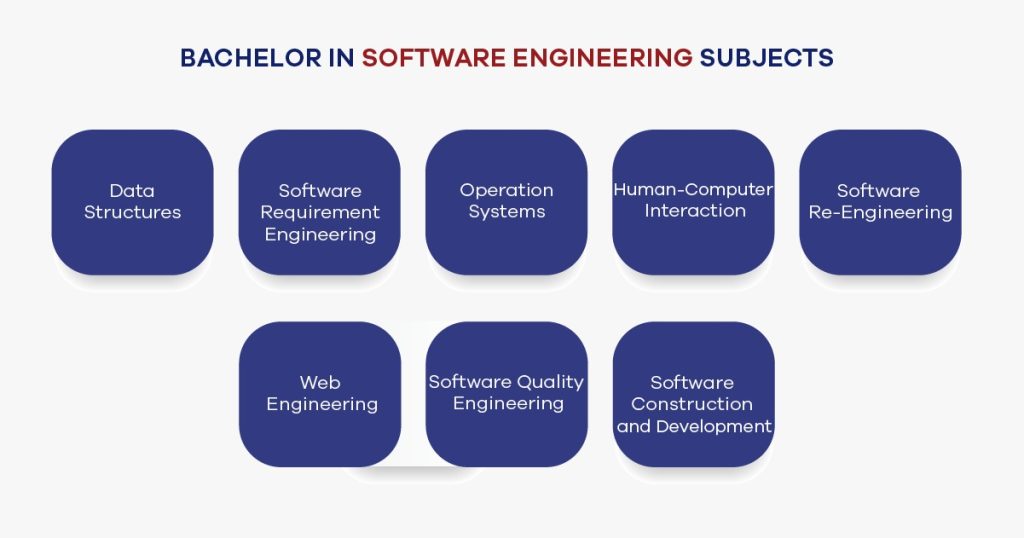 CUST's bachelor in software engineering degree will make you an outstanding professional software engineer. Because we have set the best curriculum as per the standards of the Higher Education Commission (HEC) for you. Some of the subjects included in the degree are such as: 
Data Structures

 

Software Requirement Engineering

 

Operation Systems

 

Human-Computer Interaction

 

Software Re-engineering

 

Web Engineering

 

Software Quality Engineering

 

Software Construction and Development 

 
And many more valuable subjects are taught. Furthermore, practical lab classes are held throughout the 4 years of the bachelor's degree in software engineering. 
Prominent Features of CUST That Make It Your Best Choice
CUST has been growing in the scope of academics and infrastructure since 1998. We will provide you with the best facilities for your learning as well as all the things you may need for the best university life experience.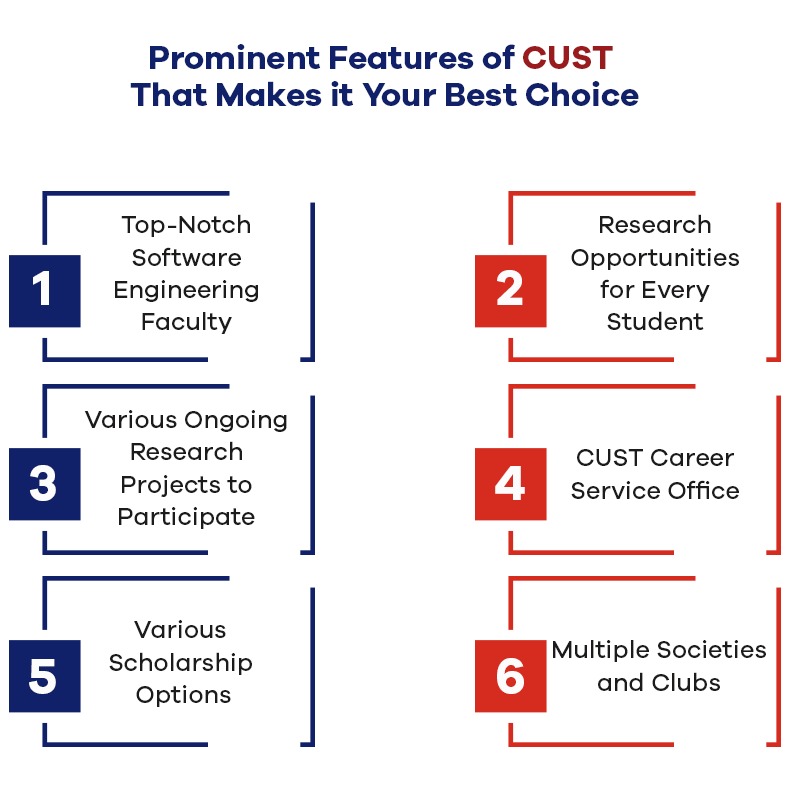 1. CUST Software Engineering Faculty
Our faculty is well qualified in theory as well as in practical work. There are more than 250 faculty members  in total, who are highly experienced in their fields. 
Similarly, in the software engineering department, every faculty member is there to help you achieve the best computer programming and coding skills and also to academically supervise you in your projects and assessments. 
2. Research Opportunities for Every Student
We offer every student who enrols with our university, an opportunity to do their research and make their name in their respective field of study. Various research projects have been published over the years under the guidance of our research supervisors.  
The topics of the ongoing research regarding a bachelor in software engineering are: 
Data Science and Artificial Intelligence

 

Information Security and Forensics

 

Parallel Computing and Networks

 

Design and Machine

 
3. Ongoing Research Projects at Our University
I am proud to tell you that CUST is working on a lot of research and development projects under the funding of millions of rupees from both national and international sources. The time of the R&D projects varies from project to project. 
Some of the projects about Software engineering are as follows: 
The Erasmus Plus Capacity Building Project: Capacity Building for Digital Health Monitoring and Care Systems in Asia – DigiHealth-Asia is being funded by the European Commission.

 

The project for the AI Base tool for intelligent analysis of Software development lifecycle artefacts was sponsored by Public Sector Organisations from 2021 to 2022.

 
4. Career Service Office at CUST
CUST also offers every student the chance to get career counselling from our experts. This will ensure better career opportunities for you after completing your degree.  
The career service office will increase the chance of getting a good job opportunity after a bachelor in software engineering by cooperating with some of the esteemed employers in your field of study. 
5. Scholarships
Besides all the factors mentioned above, CUST also provides you with scholarships to make it feasible for you to be a part of our university.  
At the time of admission, you can get a

25%

scholarship (>2.50 CGPA for continuation) if you have studied in the Punjab Group of Colleges (

PGC

). 

 
In addition to the PGC scholarship, you can also avail yourself of the merit-based scholarship. This is based on the marks of your intermediate result. The scholarship percentage varies from

25% to 100%

(3.0-4.0 CGPA according to the percentage of scholarship allotted for continuation)

 

From 2nd semester onwards, you can get a

12.5%

scholarship (2.00-2.49 CGPA for continuation)

 
For more detailed information on scholarship policy, you can visit our website. 
6. Societies and Clubs
At CUST, in addition to education, building athletic abilities, developing personalities and working on your in-built talents is our priority. Hence, we also aspire for you to take part in some extracurricular activities for your mental and physical health. CUST provides you with an outstanding set of societies and clubs for all your recreational needs.  
After admission, you can join any club or society based on your interest from the names mentioned below: 
CUST Arts and Culture Club

 

CUST Sports Club

 

CUST Adventure Club

 

CUST Helping Hands

 

CUST Character-building Club

 

CUST Girls Club

 

Capital Media Club

 
Departmental Society or Club for Bachelor in Software Engineering
In addition to our general clubs and societies, we also offer some of the department-specific societies and clubs. When you join CUST bachelor in software engineering, you can take part in the following societies. 
CAUSE – Capital University Software Engineering

 

Jinnah Software Park (JSpark)

 
Thus, you can join all the fun activities of these societies and clubs along with your studies. 
Join Bachelor in Software Engineering Now!
You can visit our campus, or you can apply online via the CUST admission portal as our fall 2023 admission are open now. Do not miss your chance to get enrolled in one of the best engineering universities in Pakistan, as our registrations for a bachelor in software engineering are in full swing.