A Delegation from Islamabad Chamber of Commerce & Industry (ICCI) Visited Capital University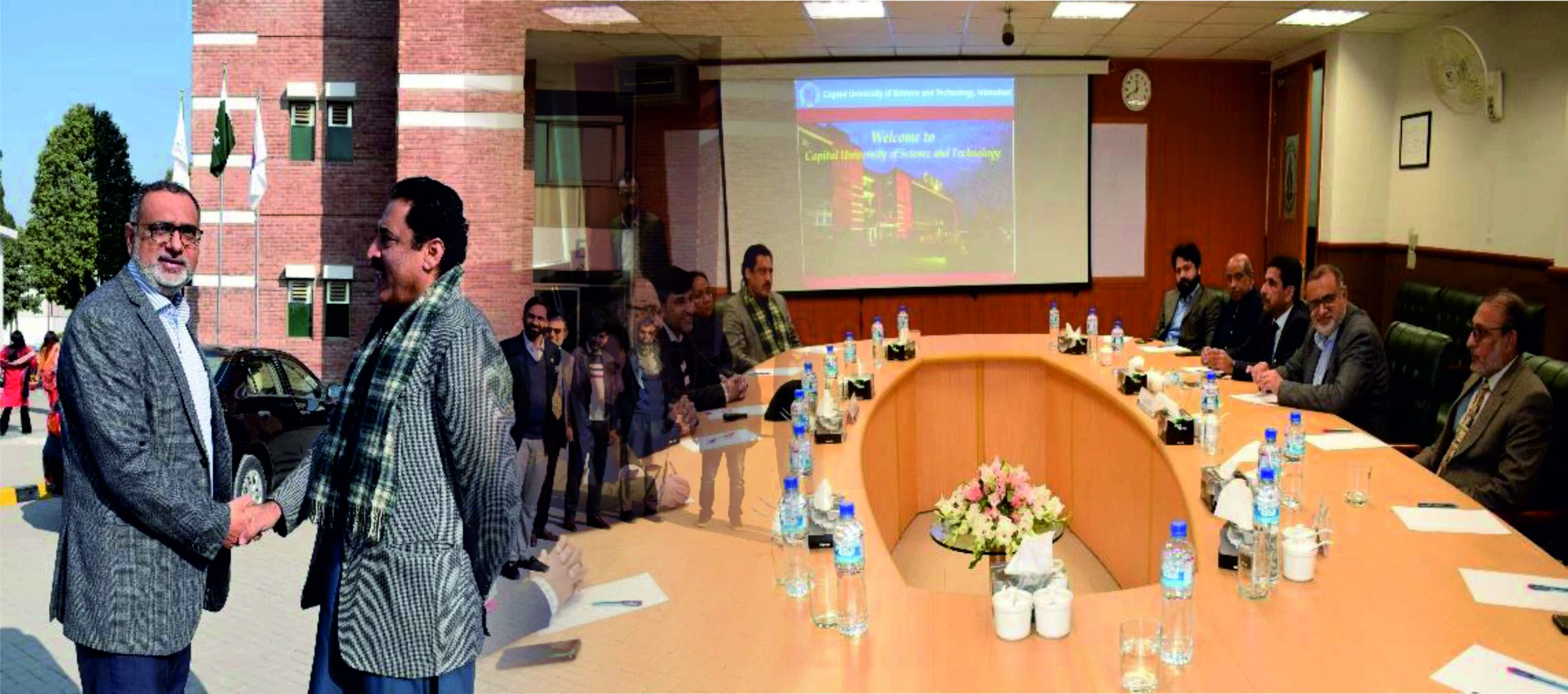 The Islamabad Chamber of Commerce & Industry (ICCI) visited Capital University of Science and Technology (CUST) on December 19th, 2022. The agenda of the meeting was to promote joint academic and R&D activities of mutual interest in accordance with their respective needs and objectives as well as to promote academia-industry linkages.
The following team members of CUST received and welcomed the ICCI members:
Prof. Aamer Iqbal Bhatti, Dean of Research & Innovation
Dr. Muzaffar Abbas, Dean of Pharmacy
Prof. Sahar Malik, Dean of Health and Life Sciences
Dr. Lakhi Muhammad, HoD Management Sciences
Prof. Majid Ali, Civil Engineering Department
Dr. Ansar Ali Rajput, Management Sciences Department
Mr Nosherwan, Manager Psychology
Mr. Jahanzeb Malik, Assistant Director ORIC
The honorable members of the ICCI team included:
Engr. M. Azhar-Ul-Islam Zafar, Vice President, ICCI
Mr. Aamir Hussain, Executive Member ICCI and CEO, Tesla Industries (Pvt) Ltd.
Mr. Hamayun Kabir, Executive Member ICCI and CEO, Medera Pharmaceuticals
Mr. Ch. Muhammad Ali, Executive Member ICCI and CEO, Mabcon (Pvt) Ltd.
Dr. Muhammad Usman, Executive Member ICCI and CEO of Pak Roller Flour Mills
Mr. Adnan Mukhtar, Convener HEC
Mr. Muhammad Majid, Secretary ICCI
Dean of Research & Innovation, Prof. Aamer Iqbal Bhatti gave a brief presentation about CUST's Salient Features, Achievements, Academics, Scholarships, MoUs, Research and Development, and Capacity Building activities.
The house appreciated the efforts of CUST in nation-building and suggested the following points to further enhance its relationships with ICCI and industry for the growth and development of students and society.
CUST and ICCI should focus on arranging seminars for students and present their success stories of notable persons of society.
CUST and ICCI should focus on employment and internship in the industry for graduates.
CUST and ICCI should ensure graduates will have the capability to be entrepreneurs by participating in Expos of ICCI, also by arranging Festivals / Job Fairs at CUST.
CUST may grant scholarships and special seats in engineering programs for industry employees' and ICCI members' children.
The house also suggested that to achieve the above-mentioned tasks a Working Group should be created and it will meet at least once a month preferably online. ORIC Office from CUST and Mr. Majid, Secretary ICCI will finalize the Working Group members and initiate further correspondence.
It was also highlighted that HEC/PEC should further encourage universities to adopt 4+1 academic criteria to enable students to spend 4 years in universities and one year in industries for degrees in order to provide them with practical experience in industrial functions.
In the end, the Dean of Research & Innovation presented the Souvenir of CUST to Vice President ICCI and thanked him for visiting CUST. Vice President ICCI, also presented the Souvenir of ICCI to Dean ORIC and discoursed the importance of such meetups/liaisons in the context of strong academic alumni relationships.