Capital University Convocation-2019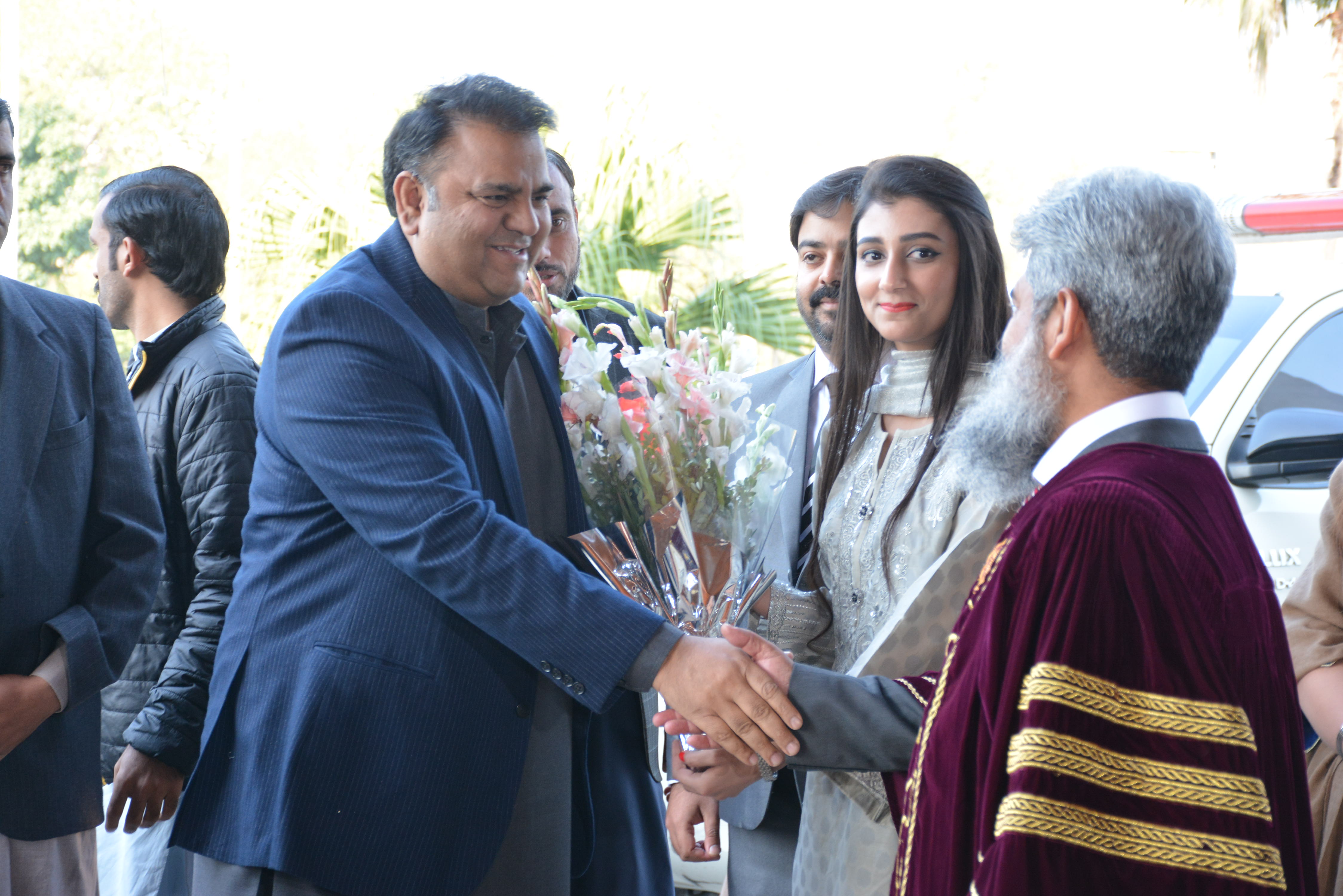 The Convocation-2019 of Capital University of Science and Technology was held on Thursday the 5th of December, 2019 in Convention Centre Islamabad wherein 872 graduates including BBA, MBA, BS, MS and PhD in the fields of Management Sciences, Electrical Engineering, Mechanical Engineering, Computer Engineering, Engineering Management, Project Management, Computer Science, Bioinformatics and Biosciences were awarded degrees.
Chaudhry Fawad Hussain, Federal Minister of Science and Technology graced the occasion as the Chief Guest while Prof. Dr. Anis Ahmed was the Guest of Honour and renowned atomic scientist Prof. Dr. Samar Mubarakmand were the Guests of Honour. Mian Amer Mahmood Chancellor Capital University of Science and Technology Presided over the Convocation. A large number of distinguished guests and parents of the graduating students were also present.
Prof. Dr. M. Mansoor Ahmed, Vice Chancellor Capital University of Science and Technology, welcomed the guests, students and their parents for their presence in this memorable and happy occasion and declared this event as a significant milestone in the lives of graduates. He congratulated the graduates and highlighted the contribution made by the University in the field of higher education. He hoped that the graduates will contribute towards scientific and technological development of the country through their ability, dignity, determination and commitment. He informed that the University has earned a prominent position amongst its competitors by putting high emphasis on R&D activity and its graduate programs.
While addressing the Convocation gathering, Mr. Fawad Hussain Chaudhry congratulated the students on their academic achievements. He expressed his appreciation for the efforts and contribution of the University in the field of higher education. He also said that in the present day scenario, education does not end with acquiring a degree; it is a lifelong affair exploring new horizons, and broadening of the vision, marching on a never-ending journey towards new frontiers of knowledge. The role of higher education becomes more prominent and wide ranging. In the present times, we do not only need just the conventional types of education. We are now faced with challenges of different types and it is the higher education which plays a key role in determining the position of a nation in today's knowledge driven economy. It guarantees sustainable progress and assures a place of respect to both individuals and nations. He further, said, private educational institutions, especially at tertiary level, have steadily grown over the years, and the Capital University of Science & Technology, is one of those. I am happy to know that the Capital University of Science & Technology has broadened the range of its programs and training.
The renowned scientist Dr. Samar Mubarakmand, said education plays a vital role in economic development of country. It raises the productivity and efficiency of individuals and thus produces skilled manpower that is capable of leading the economy towards the path of sustainable economic development while delivering his keynote address at the Convocation-2019 of the Capital University of Science and Technology, Islamabad here in Convention Center on Thursday.
31 PhD graduates received their PhD degrees; including Muhammad Naveed Jan, Hassan Raza, Muhammad Tariq Khan, Muhammad Mudassar Anwar, Sohail Rizwan, Mubashar Hassan Zia, Mumtaz Ahmed, Adeeba Khan, Basharat Khan, Sana Aroos Khattak, Muhammad Mubashar Hassan, Seerat Fatima and Saba Ahmad in the field of Management Sciences. Syed Muslim Shah, Muhammad Asghar, Tauqeer Ahmed, Muhammad Tahir, Sami ud Din, Zahid Wadud, Muhammad Rashad, Hasan Raza, Saif ur Rehman and Abdul Rehman Yasin in the field of Electrical Engineering. Qamar Mahmood, Muhammad Saud, Muhammad Ibrahim, Shafiq Ur Rehman Khan, in Computer Science. Shamsa Kanwal and Saba Inam in Mathematics and Raisa Bano and Attiya Kanwal in the field of Bioinformatics.
The Chief Guest also awarded 54 medals which include 39 Gold, 12 Silver and 11 Bronze medals, to the graduates who stood 1st, 2nd and 3rd in their respective degree programs. The 'Jinnah Gold Medal' was also awarded to an overall best graduate of the Convocation Nakhshab Ajaz of BS Civil, on his overall distinguished performance in curricular and extracurricular activities.
Mian Amer Mahmood, the Chancellor of the University and Chairman Punjab Group of Colleges presented the University Shield and souvenir to the Chief Guest and the Guests of Honour.