Capital University In Collaboration with Islamabad Police Organized a Seminar on "Drug Abuse"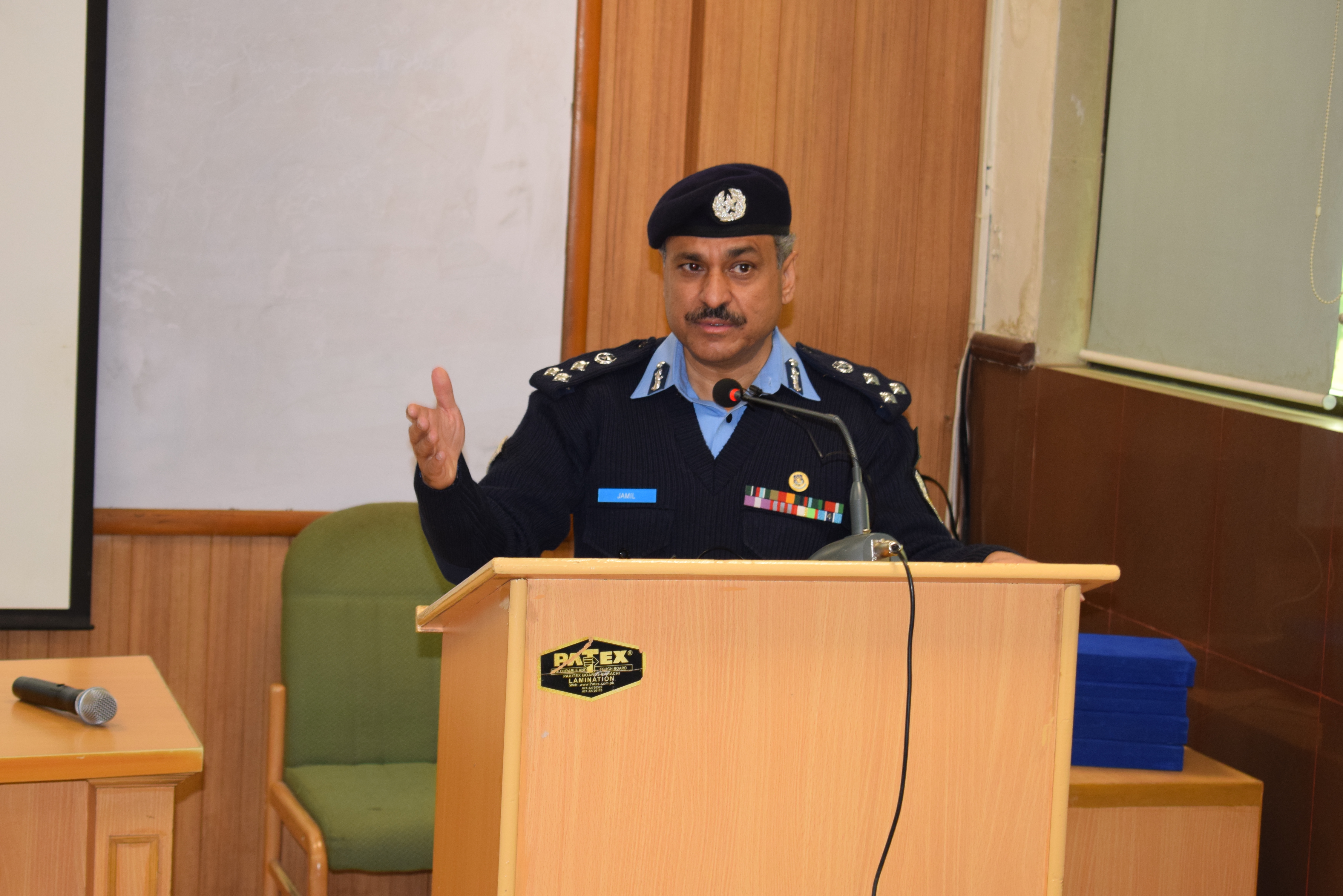 Volunteers In Service Directorate (VIS), Directorate of Student Affairs and Office of External Linkages and International Collaboration of Capital University of Science & Technology (CUST) in collaboration with Islamabad Police and Islamabad Traffic Police conducted a seminar at CUST. Worthy Vice-Chancellor Prof. Dr. Muhmmad Mansoor Ahmed presided over the occasion and Mr. Qazi Jamil Ur Rehman Inspector General of Islamabad Police was the chief guest. A large number of police officials and Faculty members, as well as students of CUST, attended the seminar. The event was organized on Thursday, 25 November 2021 and the topic of the seminar was "Use of Drugs".
The seminar started with a recitation of the Holy Quran followed by the National Anthem. Worthy Vice-Chancellor Prof. Dr. Muhmmad Mansoor Ahmed gave opening remarks and highlighted CUST Campus facilities. He said that more than 600 cameras are installed in the CUST campus to monitor students' activities minutely but we could not trace anything wrong until now Alhamd-o-Lilah. Prof. Dr. Muhmmad Mansoor Ahmed thanked IG Islamabad Police for visiting CUST and collaborating with it. After the keynote speech of worthy Vice Chancellor, Islamabad Police presented video presentation on use of drugs than Chief Guest of the event IG Islamabad Police emphasized on the issue which spread in our society rapidly special in our youth. He informed participants in his address, how Islamabad Police tackle this issue. Finally, he thanked worthy Vice-Chancellor Prof. Dr. Muhmmad Mansoor Ahmed and his team for organizing such a good and informative seminar for youth and showed his keen interest to collaborate more events with CUST. He said that the Islamabad police is organizing a series of awareness sessions for students to eradicate the use of drugs from our society. In the end, Dean ELIC Prof. Dr. Amir Qayyum expressed gratitude to I.G Islamabad Police and his team for organizing a successful event with CUST.
The seminar was concluded with the aim that CUST and Islamabad Police will organize more programs for youth on the topic in the future. The seminar closed with an exchange of souvenirs. IG Islamabad presented souvenir to Vice-Chancellor and Dean ELIC, and Vice-Chancellor present shield to IG, Islamabad, and SSP Islamabad Traffic Police.