IEEE Day-2018 organized by IEEE CUST Student Branch at Capital University of Science and Technology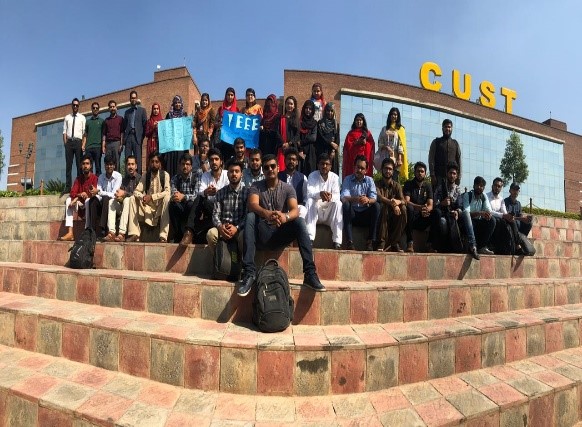 IEEE CUST Student Branch celebrated IEEE Day 2018 on October 06, 2018 at CUST. Syed Fahad Sajid (SSR IEEE Islamabad Section) graced the event as Chief Guest. The Vice Patron IEEE CUST Student Branch Mr. Osama Akbar Raja and Patron WIE IEEE CUST Student Branch Miss Maria Mashkoor were also present.
Miss Maham Masroor student of department of Software Engineering hosted the event. The program started with the recitation of Holy Quran by Mr. Hamad student of department of Electrical Engineering.
Syed Fahad Sajid gave a presentation on IEEE's benefits during graduation and after graduation. He also enlightened his experiences which were a great source of inspiration for the upcoming members.
Afterwards, Guitar performance was given by Mr. Zeeshan making the audience delighted. Then Qazi Abdul Moqueet was called for addressing the audience and for the announcement of new EXCOM 2018-2019.
Qazi Abdul Moqueet appreciated the achievements of previous EXCOM and announced the names of members of new EXCOM 2018-2019. Mr. Muhammad Zeeshan Javed was declared as Chairperson, Miss Kainat Bukhari as Vice Chairperson and Miss. Nayab Ali as General Secretary of IEEE CUST Main Branch. Moreover, Osama Ali Sulehri was declared as Chairperson of CS Chapter, Miss Kashaf Touseef as Chairperson of WIE Chapter and Mr. Muhammad Zubair as Chairperson of CSS Chapter. Also, Vice Chairpersons, General Secretaries, Liaison Heads, Media Heads of all respective chapters were announced.