Pink Ribbon and Coffee Morning Breast Cancer Awareness Session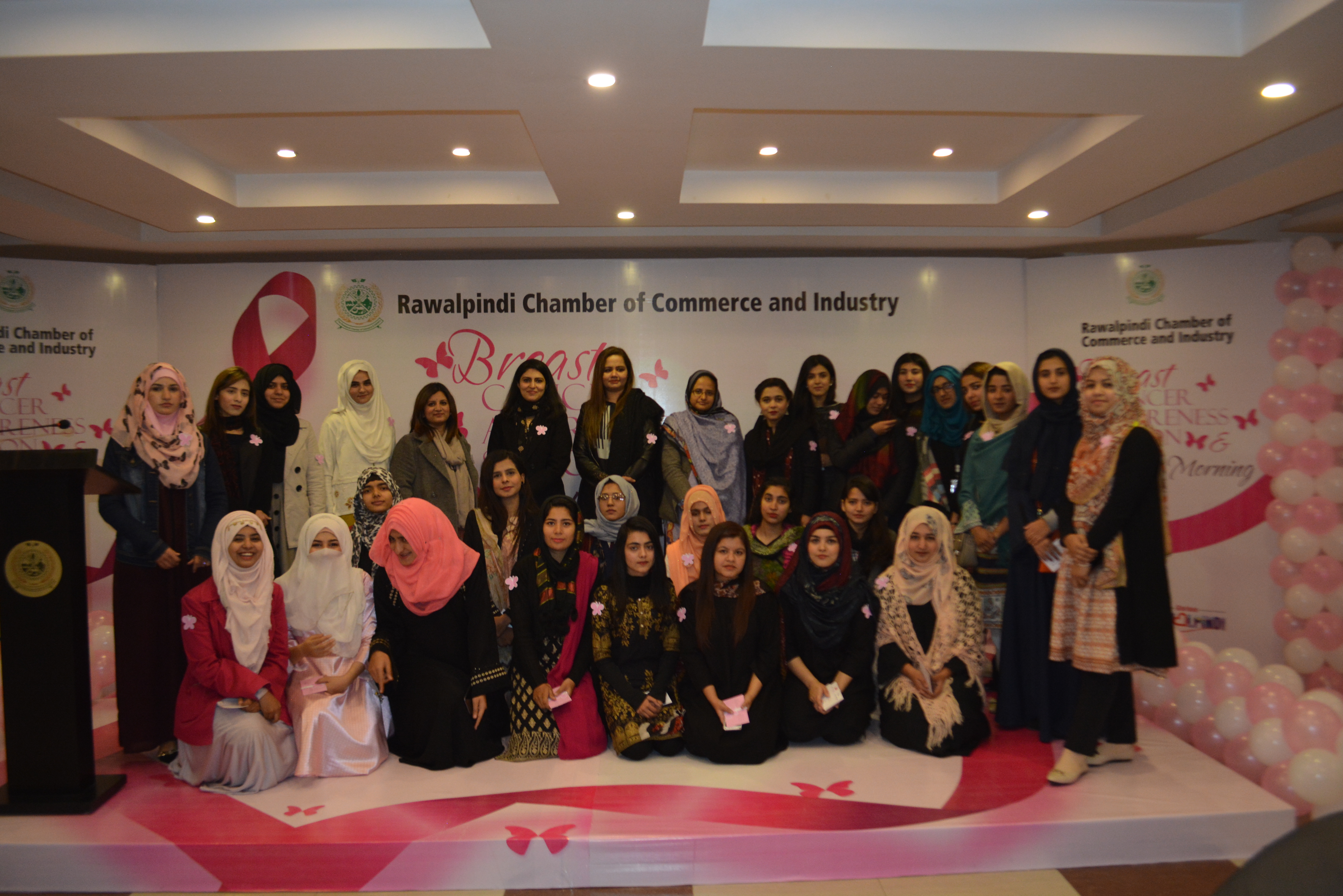 Pink Ribbon and Coffee Morning (Breast Cancer Awareness Session) was organized by President WBIC Mariyah Razzaq on 11th February, 2020 at Rawalpindi Chamber of Commerce. Women and female students belonging to different institutions were invited to attend the session hosted by WBIC. CUST was also invited and Ms. Zahra Afaq (Assistant Director Corporate Linkages) initiated a positive response and ensured the representation of CUST in the said occasion. For that purpose, faculty members and students from different departments were intimated. A total of about 6 faculty members and 20 female students were nominated for the participation at the awareness session for the faculties of Management Sciences, Computer Sciences, Civil Engineering and Bio Sciences.
The session commenced with a welcoming address of the President WBIC, Madam Mariyah Razzaq. She welcomed a guest speaker, an oncologist Dr. Uzma Qasim, who enlightened her audience with the basic knowledge regarding Breast Cancer, its early detection and self-diagnosis techniques. Her address was followed by a motivational and a very morale boosting talk by a cancer survivor Ms Amna Salman, in which she focused on her experience of surviving the cancer. She indeed proved to be a role model for other cancer patients.
The second half of the session welcomed MNA Andleeb Abbas as the chief guest. The session was initiated by the welcoming address by the Vice President RCCI Mr. Muhammad Hamza Sarosh. His welcoming address was followed by a very engaging and delightful speech by Madam Andleeb Abbas, MNA and Federal Parliamentary Secretary for foreign affairs. The session was followed by refreshment and informal chit chat with Amna Salman.