Capital University Signs MoU with READ Foundation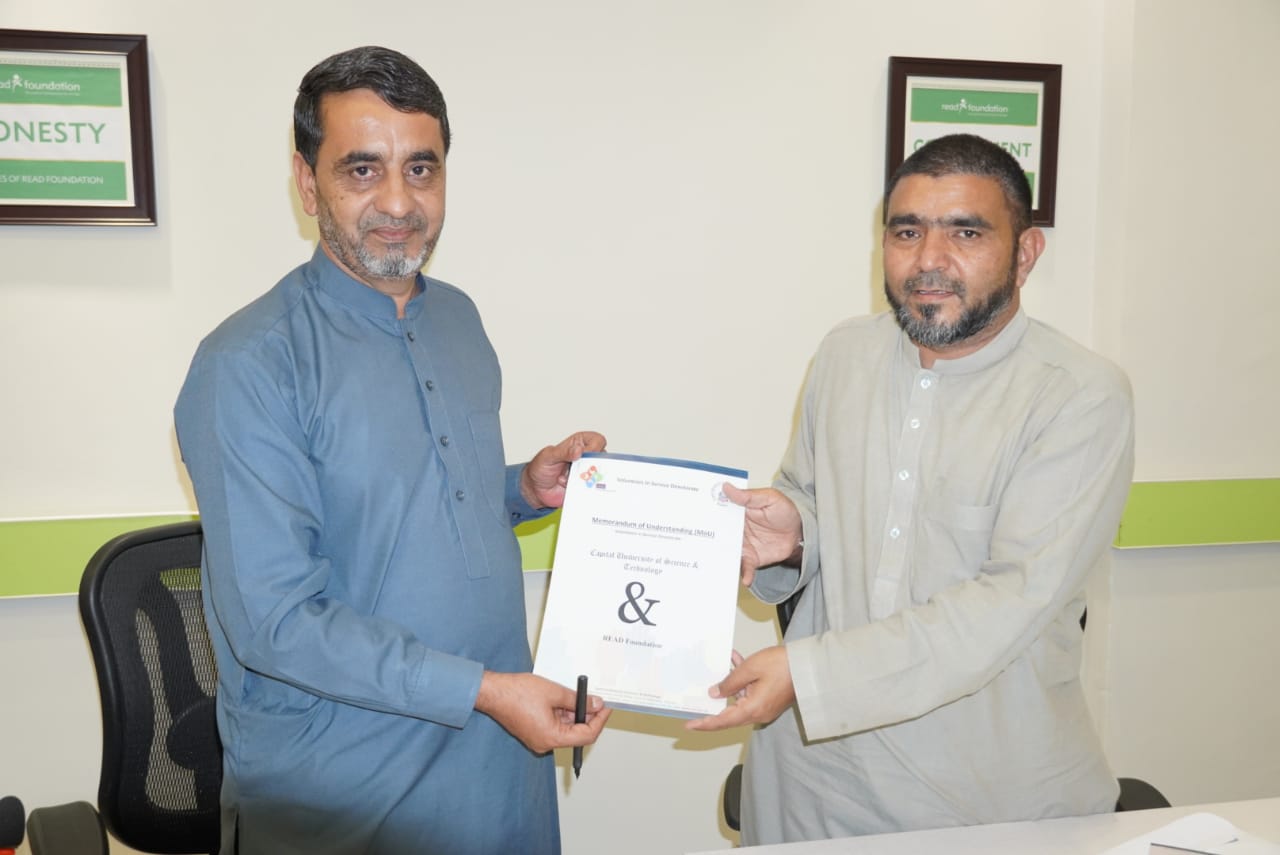 Rural Education And Development (READ) Foundation is a non-profit educational network, located in North Pakistan and runs around 390 schools across Pakistan including Jammu & Kashmir and Gilgit-Baltistan. READ Foundation claim that it is working for provision of quality education and consider a prime educational networks in the country now a today.
Around 165 students successfully completed their VIS community service in READ Foundation from November,2016 to October,2021. READ Foundation has been working with VIS-CUST since November 2016 and consider one of pioneer partner organization of VIS-CUST. As record show that first MoU with READ signed in November 2016.
CUST competent authority approved for renew the MoU with READ Foundation in this month. So a representative of VIS-CUST visited Head office of READ Foundation on Friday October 8, 2021. Mr. M. Shafique Khan, GM Resource Mobilization warmly welcomed representative of VIS-CUST in READ Foundation and appreciated VIS-CUST role in the field of education and voluntarily services. He briefly introduced READ Foundation and its services for community.
READ Foundation requested following points to be care from next semester.
• Around 45 students will be registered for READ Foundation per semester, in three groups. Each group consist of 15 students
• VIS-CUST should plans seminars and workshops in collaboration with READ in future
• For strengthen partnership monthly meeting will be organized physically or online.
• A meeting will be called before placement of volunteers in READ to discuss on mechanism
• Male and female students will be treated equally for placement
Finally, MoU renewal ceremony held between VIS-CUST and READ Foundation. Mr. Naeem Ullah Khan, Deputy Director VIS-CUST and Mr. M. Shafique Khan, GM Resource Mobilization signed the renewal of MoU.